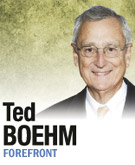 There was a time when Indiana was vigilant in purging voter rolls to the point that people were disenfranchised by being removed simply for not voting recently. But the feds say we've swung too far in the other direction.

Indiana Legislative Insight has an interesting report that I missed in the general media, if it was there at all. The U.S. Department of Justice has "raised serious questions about Indiana's compliance" with federal law requiring timely removal of people on the voter registration list who are no longer eligible to vote.

I have no data on this point, but can offer anecdotal evidence that there are some problems here.

This summer, my wife and I moved after two decades in the same home. From 1992 through the 2011 primary election, we voted at the same address in Washington Township in Marion County. Over that 20-year span, the names of the married couple who sold the home to us in 1991 remained on the voter lists at our address.

I'm pretty sure they didn't reside in our house. I never met the husband, and saw the wife only once when a real estate agent showed us the place in 1991.

Keeping lists current is a more important step to combat voter fraud than Indiana's recently enacted voter ID requirement. Where Indiana has identified voter fraud, it was not people presenting themselves at the polls impersonating somebody else. Rather, it has usually been associated with absentee ballots, which do not require an ID, cast for dead people or those who have moved away.

There is a reason the law requires regular purging of former Hoosiers, living and dead, from the voter lists. If you're looking for a way to get a couple of extra votes, and don't mind risking an all-expense-paid vacation on the government, casting the ballots of the folks who moved to Texas after selling us our house in 1991 offers a real opportunity. You don't have to figure out how to get your fake name on the rolls, and there's not much chance the Texans will show up to complain you've cast their vote for them.

The Indiana Secretary of State's Office responded to the Justice Department that this is not its problem because the state's Election Division and the election boards of the 92 counties have responsibility for compliance with the federal law. Moreover, the Election Board is busy with redistricting, and might not be able to get around to this anytime soon. So it's not clear that anybody is minding this store.

Not so long ago, Indiana maintained its voter lists entirely at the county level, with no coordination to check for voting in multiple counties. Federal law now requires computerized statewide voter lists for federal elections. Of course, as a practical matter, that means all elections because it would make no sense at all to maintain a separate list for state and local elections.

It seems that, without a federal requirement, we would have remained forever mired in a 19th century paper-driven and county-based system that offers lots of opportunity for misuse. We're slowly but surely integrating other systems that support government in Indiana.

Thanks to the statewide court records system being developed and now in place in many counties, police who pull over a driver in one county can now identify immediately whether there is an arrest warrant from another county. Protective orders to prevent domestic violence are available outside the county where they were issued.

These improvements can save lives, and the same technology is available to protect our elections. Statewide voting lists are doable, and modern techniques to keep the lists up to date are at least as valuable in combating voter irregularities as a voter ID requirement.

Rather than squabble with the feds over whose responsibility it is within our state government, we should get about sanitizing this process, not because the federal government wants it, but because it's the right thing to do.•

__________

Boehm is a retired Indiana Supreme Court justice who previously held senior corporate legal positions and helped launch amateur sports initiatives in Indianapolis. Send comments on this column to ibjedit@ibj.com.