Old-school, brick-and-mortar retailers don't come much older and brickier than Stout's Shoes. The family-owned company's 318 Massachusetts Ave. location opened in 1886, when Grover Cleveland was president. That makes it an older landmark than the Soldiers and Sailors Monument, dedicated in 1901.
Yet even this company—which bills itself as the oldest shoe store in the nation—is slowly, belatedly, entering the world of e-commerce.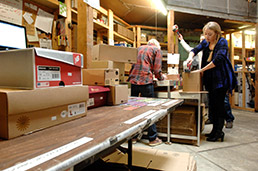 Stout's handles e-commerce from the back of its Massachusetts Avenue store. After an employee drives to the company's various locations to pick up shoes customers ordered, workers package them for shipment. (IBJ Photo/ Perry Reichanadter)
After years of failed attempts to create a viable Web presence, Stout's finally plunged into cyberspace using the route experts say many small companies follow: giving the job to a young, tech-savvy family member with an aptitude for social media.
In this case, the future is named Brady—as in Brady Stout, the 25-year-old son of company president Brad Stout, and the fifth generation to join the business. In January 2011, the site he now oversees, shoestores.com, brought in more than $40,000 in revenue—roughly comparable to the intake from one of the company's smallish satellite stores in Brownsburg or Carmel. E-sales for all of 2011 totaled more than $150,000.
That six-digit figure would be little more than a rounding error at top online shoe seller Zappos.com, but it's a nice chunk of change for Stout's. And it points the way to the future.
"The website is beginning to look, in dollars, like one of our stores," said Brad Stout, 53. "I think that a year from now it will be our biggest store."
It's too simple to say that Stout's so-far-successful Web foray is an example of a digital-minded iconoclast dragging his analog elders into the 21st century. Truth is, the Stouts always have been early adopters. Back in 1886, when most people still bought shoes from cobblers, the family introduced the then-radical concept of purchasing ready-made, off-the-shelf footgear. And the flagship store's iconic Baldwin Flyer chain-and-basket delivery system, installed in 1928, was equally ground-breaking at the time.
"You have to continually evolve," Brad Stout said. "We have an old clock hanging on the wall that I like to show people. It was made by the International Time Company of Endicott, N.Y. That company is now IBM. They started out making clocks and then typewriters and then PCs and now they're primarily a computer services company."
But making his mark on the Internet proved even more frustrating and time-consuming than keeping the store's now-ancient Baldwin Flyer system running. Just consider Stout's URL, shoestores.com. It sounds like the sort of name that should have been snatched up 15 years ago, back in the days of 28.8k dial-up modems—which is exactly the case. Brad Stout bought it in the 1990s but could never figure out what to do with it.
"I took an interest in e-commerce a long time ago," he said. "I understood it as a business and I understood the logistics and I understood the power of the Internet, but I just didn't have the technical expertise. I made several attempts at it and failed."
Stout's was making do with a bare-bones, informational website when Brady graduated from Indiana University with a degree in economics and started casting about for a role in the company. In February 2010, he relaunched shoestores.com as an e-commerce site, mostly selling in-store inventory. The shoestring operation consists of him, his girlfriend and another employee, all operating out of a backroom at the Mass Ave store.
To say things started slowly would be putting it mildly.
"Everybody got very excited when we sold anything online," Brad Stout said. "I think the first month we may have done $250."
There was literally nowhere for sales to go but up. In January 2010, the Web brought in a paltry $14,000. In January 2011, it generated more than $40,000. Brady—who studied economics in college, not e-commerce—had to bring himself up to speed on everything from Web search optimization strategies to page layout and design.
So far, shoestores.com has captured a 27,000-strong list of customer e-mail addresses. The business has farmed out many of its back-office functions, such as credit card processing.
Playing catch-up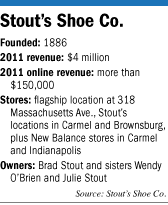 Experts in e-commerce say Stout's tale—old-school family business makes its way into e-commerce on the shoulders of a kid—is as old as the Web itself.
"Many smaller retailers have created Web sites in recent years, often when a younger generation begins to take a bigger role in the business and convinces Mom and Dad that they really do need a website," said Don Davis, editor of Internet Retailer magazine.
The problem for Stout's is that so many operators already are there. And hundreds of sites, from Zappos on down, sell shoes. So many, in fact, that when the Stout family approached some of its longtime vendors about peddling their goods on their site, they initially declined.
"When we started two years ago, there were some vendors that said, 'Sorry we're not opening any new online accounts,'" Brad Stout said. "And I think there are more of them like that now. The Internet is clogged. They're not looking for more online presence. They're looking for less."
Getting noticed amid so much competition is a challenge. Shoestores.com touts the company's long history, but Brady and his father—along with experts on e-commerce—know this counts for little in the relatively anonymous online world.
"It's a myth that customers care," said Richard Feinberg, professor of consumer sciences at Purdue University. "Customers don't care. They just want to get the shoes they want at the price they want."
Feinberg says the only things that matter to disinterested mouse-clickers are price (the lowest, please), quick delivery and (sometimes) knowledgeable service. And though he thinks Stout's is coming late—very close to too late—to the game, he believes they, like other small retailers, have no choice but to play.
"If you want to fence off your best customers, if you want to get new customers, you're going to have to have an Internet channel at some point," Feinberg said. "Stores that are starting today are already five minutes late. It doesn't mean you shouldn't start. It means that you should start as soon as possible."
Making headway
Still, Stout's seems to be making the right moves. The company is slowly getting one major supplier after another, including Ugg and Johnston & Murphy, to agree to "drop ship" their merchandise—in other words, ship items directly to Stout's customers. This puts the company's entire inventory at their disposal.
For now, however, the e-commerce trade still looks just as folksy and old school as the company's downtown store, fitted out with its Baldwin Flyer and presided over by a pet macaw named Ripley. Every day, Brady, his father or a staffer makes a racetrack run around Indianapolis to the company's stores, retrieving shoes that were ordered online.
Then they haul them downtown to be boxed up in the backroom and shipped out. Even professional titles are still up in the air. Ask Brady for his and he hesitantly calls himself, "some sort of general manager, or just operations manager for the website."
Still, his old man is convinced this is the future.
"You don't see people opening family shoe stores right and left, and there's a reason for that," Brad Stout said. "The business is getting tough. But if we get 1 percent of the online shoe business, or maybe even just a sliver of that, it will be very important."•
Please enable JavaScript to view this content.