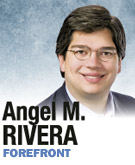 A 2010 article in Automobile Magazine ranked Indiana in the middle of the pack in its Total Driver Misery Index based on traffic density, tolls, cost of fuel and other statistics.
However, Indiana was the most expensive state for car owners. Our high taxes and fees over the first five years of ownership were the most expensive in the nation. Indianapolis charges the maximum vehicle excise tax allowed by state law, and it has been the primary source of almost all the local funding for roads in Indy (other than one-time boosts like Major Moves and RebuildIndy).
The proposed mass transit plan means we not only will continue paying large amounts to the government for the necessity of owning a motor vehicle but may also begin paying higher taxes to subsidize an expanded mass-transit system for the ridership.
It appears the mass transit bill will be postponed until 2013, so we should continue gathering ideas and improving the IndyConnect plan—ensuring that we build the standard for other cities to follow.
The current plan calls for a measured approach. Start with expanded bus service, including rapid routes to the suburbs and connector bus systems within those suburbs. From there, successful lines eventually are upgraded to fixed-rail.
Experts speaking at a 2010 presentation hosted by the Metropolitan Indianapolis Board of Realtors raised cautions about expectations for the system to generate long-term economic development. Namely, development lags in stops near interstates or existing rail lines, so avoid building there. Additionally, mass-transit systems and the referenda used to raise taxes for them tend to be popular. And last, while these systems require major subsidy, the federal government will invest much less than the general public realizes, and it is unlikely to provide funding for operation and maintenance.
So, while this idea may be popular, it will be successful in generating economic activity only if we build a perfect system. We are going to permanently subsidize it (probably to the tune of 70 percent), so why not build it right from the beginning?
There are questions that remain unanswered for me. Are the second-phase rail lines already budgeted within the 0.3-percent proposed income tax increase? How do we ensure that this is not the next coal-gasification money pit with taxpayers on the hook for major cost overruns?
A decent mass-transit system is important to attracting more members of my generation (I turn 30 next month) to this great city and it is a natural step in the growth and planning for Indy and the surrounding counties.
However, new technologies such as automated cars and small, pod-sized vehicles are expected to be production-ready before we complete our system. It concerns me that we might be building outdated technology.
Why not explore cutting-edge alternatives like having an easily expandable fleet of automated small cars (as proposed for Chinese megacities) that can pick you up on command with the press of a button from your smartphone app? A BMW prototype recently drove itself from Munich to Nuremberg on the autobahn, without a driver. The company estimates this technology will be in its cars in 10 years.
We might be designing the ultimate version of a 19th century technology (trains) when the 21st century will use more individualized transportation that takes passengers point-to-point in the most efficient manner, all while requiring significantly less infrastructure than rail.
I am advocating for the best system we can afford. As we look to expand Indianapolis' mediocre mass transit system, our focus must be on long-term economic development and minimizing the tax burden such a system will bring to our citizens.
It is already expensive to own a car here and the proposed plan guarantees that taxpayers will also have to pay for more buses and a train, whether they ride it or not—yet it will still be necessary for most households in Indianapolis to continue to own a car.•
__________
Rivera is a sales consultant and former at-large city-county councilor. Send comments on this column to ibjedit@ibj.com.
Please enable JavaScript to view this content.