Here's a help-wanted ad the Indianapolis Symphony Orchestra probably will never write:
Chief executive needed to reverse three consecutive years of seven-figure budget deficits. Make progress on $100 million campaign to restore endowment. Motivate personnel working for reduced pay.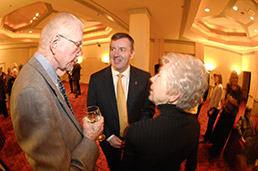 Networking with symphony supporters was a major part of Simon Crookall's job as CEO of the Indianapolis Symphony Orchestra. Crookall stepped down on Feb. 2. (IBJ File Photo)
That is essentially the job from which Simon Crookall abruptly resigned on Feb. 2. The ISO's board insists that Crookall, who would not comment on his departure, left voluntarily.
Whatever the case, the ISO faces lingering financial challenges, and industry experts say the next CEO can't be expected to tackle them alone.
"The people the public rarely thinks about are the trustees, but they are ultimately responsible for running the organization," said Robert Flanagan, professor emeritus at the Stanford Graduate School of Business and author of a recent book on orchestra economics.
Board Chairman John Thornburgh declined to talk about the search for a replacement, saying it's too early in the process.
The ISO, which has $25 million in annual expenses, isn't the only orchestra struggling financially. Sixty-three percent of its peers reported deficits in 2010, according to the latest data from the League of American Orchestras.
Other factors may work in the ISO's favor when it comes to attracting executive talent. Up-and-coming Polish conductor Krzysztof Urbanski joined the ISO as music director in 2010. Musicians—whose pay drives the bottom line—have been largely cooperative. They accepted a 12-percent pay cut in 2009 that was expected to save $4 million.
"I think we have an incredible amount to offer," said Richard Graef, assistant principal horn player and chairman of the committee representing 87 musicians at the American Federation of Musicians, Local 3. "We're looking forward to the ability to move forward and really attract somebody great."
Though the $100 million campaign, begun in 2010, might lead the ISO to look for someone who has a way with donors, Chicago-based orchestra consultant Drew McManus thinks the focus should be on holding down costs.
"They may actually need a transition executive," McManus said. The next CEO could set the stage for a long-term leader, he said.
Crookall, 51, was in the top job for seven years, and his predecessor Richard Hoffert served six years.
McManus said he thinks Indianapolis needs someone to unite different stakeholders.
"That's really what's lacked in Indianapolis is that vision," he said.
The ISO's main financial problem is that it relies on the endowment to cover expenses, a pattern that began before the 2008 financial crisis. Then the endowment took a hit in the market meltdown, so it's now worth about $89 million, compared with a high of $128 million in 2007.
In the latest fiscal year, which ended Aug. 31, the ISO drew $7.3 million. That represented 7.2 percent of the average value, and it was the lowest draw rate since 2001, Crookall said at the annual meeting in November.
The ISO's answer to the endowment has been to start ratcheting down the draw rate to 5 percent, and launching the drive to raise $100 million.
Crookall reported at the annual meeting in November that the ISO had raised $30.8 million so far. That figure might include a major pledge from a doubtful source, Joseph Bilby. Spokeswoman Jessica DiSanto would say only that the figure includes written and verbal pledges.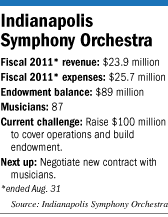 Many orchestras take money out of their endowments at an unsustainable rate, generally seen as more than 5 percent, and they usually try to make up for it by finding more donations, Flanagan said.
But no amount of fundraising, or increase in ticket sales, will ever make up for the fact that orchestras' performance costs continually rise, he said.
"If you fill every seat in an orchestral hall every night, you still won't offset the performance deficit," he said. "No orchestra is anywhere near having the kind of endowment that can do that."
The answer, Flanagan said, is to raise more money and slow the growth of costs, which is mainly musician pay.
Few managers can do all that and keep all constituents happy, he said.
"Boards get impatient because they keep seeing deficits and they think it's some person's fault," he said.
The ISO's board might end up tackling the issue of musician pay before it finds Crookall's replacement. Thornburgh has said he expects the search to last six months to a year, and the current three-year contract expires after Labor Day.
The musicians saw their base salary drop to $70,460 in 2009.
At the same time, Crookall took a 15-percent pay cut, vice presidents took a 10-percent cut, and the rest of the ISO's staff took a 5-percent reduction.
Crookall's total compensation, as last reported in 2010, was $214,150, a big drop from the $269,576 he earned in 2008.
The musicians earned back some of their pay over the last two years, but it seems logical the ISO would resist restoring it completely. The last fiscal year ended with revenue of $23.9 million and expenses of $25.7 million, a $1.8 million gap.
That deficit actually was about $1 million less than in the two previous years, but under Crookall's plans, it would be the end of the 2014 fiscal year before the ISO had a balanced budget.
Graef declined to talk about where the musicians stand on further concessions. Contract talks haven't started, and they'll be confidential when they do, he said.
The ISO's challenges seem manageable next to organizations like the Philadelphia Orchestra, which filed for chapter 11 bankruptcy last year and has lost some top musicians.
Graef thinks executive candidates will be drawn to the ISO's challenges.
"You have a chance to make a name for yourself," he said.
That's not to say the musicians, who hope to have a representative on the search committee, are looking for a splashy administrator.
"A lot of what has to be done, the board thanks you for and the musicians thank you for," Graef said, "But most of the public doesn't see."•
Please enable JavaScript to view this content.