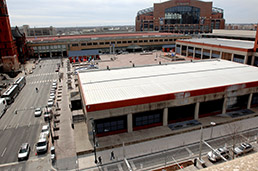 A redevelopment plan for Pan Am Plaza would likely mean the demolition of the ice rinks there. (IBJ Photo/ Perry Reichanadter)
The two entities that control the future of Pan Am Plaza have come to an agreement that could lead to the redevelopment of one of the most valuable parcels downtown.

Forced to work together to make the plaza and the parking garage below it usable for the Super Bowl, locally based Kite Realty Group Trust—which owns the plaza and adjacent ice rinks, and New York-based Dali Associates LP, which owns the parking garage—have crafted a deal company officials say will have long-term benefits for both firms and downtown.

The deal governing the prime parcel at the southwest corner of Illinois and Georgia streets considerably broadens the plaza's development possibilities, which now could include a high-rise hotel, restaurants, retail, office space and even residential, according to Kite officials.

That type of ambitious project was previously off limits because Kite didn't have access to the space under the plaza, which would be needed for the foundation of a multi-story building.

Kite President and Chief Operating Officer Tom McGowan said locally based Ratio Architects has been hired to come up with concepts for redevelopment of the block, which has drawn national interest in recent weeks.

Ratio is the firm responsible for redesigning the three-block stretch of Georgia Street between Bankers Life Fieldhouse, at Pennsylvania Street, and the Indiana Convention Center, on Capitol Avenue, that served as the Super Bowl Village for 10 days leading up to the Super Bowl.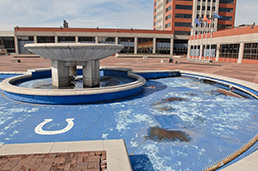 Significant development plans for Pan Am Plaza would require city and state approval, but the site is already zoned to allow a building of almost unlimited height. (IBJ Photo/ Perry Reichanadter)
Georgia Street will serve as an outdoor gathering space for conventions and other events. Its western-most block is the northern boundary of the Pan Am block.

Officials for the city of Indianapolis, Indianapolis Convention and Visitors Association and Indianapolis Downtown Inc.—which is in charge of operating events on Georgia Street—have already been apprised of Kite's development plans.

Chris Cotterill, Mayor Greg Ballard's chief of staff, was instrumental in bringing Kite and Dali Associates officials together, said people familiar with the discussions.

Progress toward the block's redevelopment might not have happened had the city not hosted the Super Bowl.

In September, Indianapolis' Department of Code Enforcement closed the southeastern part of the garage and the entire plaza above after citing safety concerns posed by structural deficiencies. Officials for Kite and Dali Associates were eager to rectify the situation to take advantage of the income-producing potential of events surrounding the game.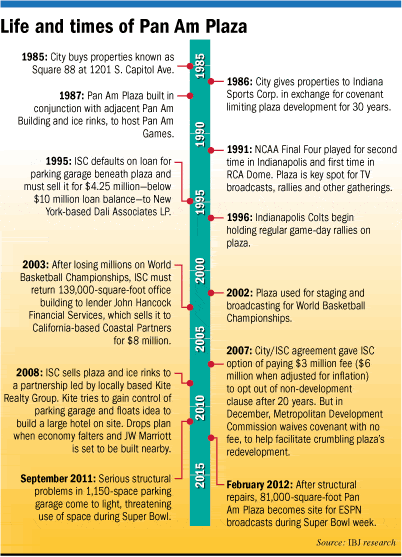 "The pressure of the Super Bowl propelled this negotiation forward," McGowan said. "All sides realized how critical it was to activate this parcel for the Super Bowl. A lot of things got done in a short period of time."

Kite rented the plaza to ESPN, which broadcast multiple daily shows from the site. Officials for Dali Associates said their garage was at capacity during Super Bowl week.

Dali Associates agreed to fix the immediate underlying structural problems last fall, and Kite agreed to install a waterproof membrane—a project that will probably happen this summer—above the garage to protect it from future water damage. McGowan said problems with the plaza existed long before Kite bought the site in 2008.

As part of the discussions to fix the immediate problem, officials for the two companies hammered out an agreement that will let Dali Associates maintain ownership of the garage but allow Kite to build a large-scale development on top of it.

As part of the deal, Kite won't pay to use any of the space under the plaza but will compensate the parking garage operator for any lost revenue during the course of the project, said Armand Lasky, principal of New York-based Northeastern Security Development Corp., a partner in Dali Associates.

"We recognize that whatever is built there is going to help our parking operation in the long term," Lasky said. "Clearly, any development there is going to drive traffic to us."

A large convention hotel might be one of the most ambitious plans for the site.

Developers have eyed Pan Am Plaza for years, and Browning Investments and a partner proposed an Inter-Continental convention headquarters hotel for the site in 2007. But the city opted instead to support development of the JW Marriott hotel four blocks west, near White River State Park.

Pan Am Plaza is adjacent to or within blocks of the Indiana Convention Center, Lucas Oil Stadium and Bankers Life Fieldhouse. The question of when it would make sense to build a hotel there is the subject of some debate.

Former ICVA CEO Don Welsh was in favor of adding another convention-level hotel to the downtown mix within five years. Officials for the National Football League and many of the league's sponsors said the city's chances of landing another Super Bowl would improve if another hotel were added.

But city officials and local hoteliers aren't convinced the demand for rooms merits another hotel so soon after the opening of the 1,005-room JW Marriott last year.

Leonard Hoops, who replaced Welsh as ICVA CEO in May, thinks the city has to attract more conventions and tourism business to increase year-round capacity of the city's existing hotels before considering another large hotel. He said it could be at least 10 years before a new hotel is needed downtown.

ICVA and other local stakeholders clearly have a wish list when it comes to redevelopment of Pan Am Plaza.

"Because of its prime location and because the development of that parcel will affect so many entities, I would expect, in true Indianapolis fashion, that a broad selection of key stakeholders would come together to discuss the development of that site," said ICVA spokesman Chris Gahl. "We'd certainly like to see the needs of the city put first. Kite has been a good partner, so I'm sure they've considered all of that."

Kite principals, who own The Conrad Indianapolis downtown, are uniquely positioned to understand the local hotel market. Tom McGowan is also the son of former longtime ICVA CEO Bill McGowan.

Some city officials think there is at least one other concern as pressing as the need for another hotel.

The overwhelming success of Georgia Street as a linear gathering place during the Super Bowl and plans to host more events there have suddenly made real estate in the area more valuable. Concern has also been raised that some open space may be needed to accommodate overflow crowds.

"I think there are a lot of opportunities for a mixed-use development with the plaza," McGowan said. "We certainly see the possibility of maintaining part of that as a gathering space."

But redevelopment is certain to shrink the plaza. It would also mean the demise of two indoor ice skating rinks that operate there.•