Anthem Blue Cross and Blue Shield has renewed its push to bring online care to the Indiana market, asking the state's Medical Licensing Board to relax a 2003 rule that stands in its way.
Anthem Blue Cross and Blue Shield wants to allow Hoosiers to talk to doctors using online video and chat, but physician groups have concerns. (Image taken from Americanwell.com)
The technology—which allows doctors to make virtual house calls via a Skype-like video and chat portal—would expand access to health care by making physicians available at odd hours and to patients in far-flung areas.

Doctors groups are warming to the idea, but they still worry that it would not allow for full examinations of patients and could be abused, especially if doctors can prescribe narcotics via online consultations.

Anthem tried nearly 18 months ago to win a change in the rules on practicing medicine over the Internet, which require that a doctor first conduct an in-person, physical evaluation of a patient before giving treatment or issuing prescriptions.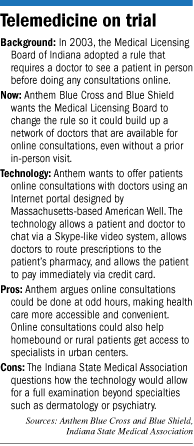 That rule presents a serious hurdle to the online care platform Anthem wants to use, which was developed by Massachusetts-based American Well Corp. Its Web portal allows patients to choose from a list of doctors and then immediately connect to one that is available for a Skype-like video conversation and instant messaging chat.

"It greatly limits use of online consultations," Dr. David Lee, Anthem's vice president of health care management, said of the Indiana rule. He asked the Medical Licensing Board during a presentation on Feb. 22 to at least test a change to the rule.

In October 2010, Anthem asked a few members of the Medical Licensing Board about changing the rule. They told Anthem to first get the blessing of the Indiana State Medical Association, the largest organization of doctors.

The ISMA gave a qualified OK in September when it adopted a resolution to update online practice rules to match changes in technology and to "pursue discussion with third-party payers for recognition and reimbursement for electronic medical patient encounters."

That's far from a full endorsement of Anthem's online care project, said Mike Rinebold, ISMA's vice president of government relations. But the group is willing to OK a pilot test of the American Well technology and then see how it goes.

"There's just no reason to rush into it," he said. "Let's take it slow. Let's study the issues. And let's look at the data."

Digital medicine

The debate over online care is similar to a long-running debate about e-mail communication between doctors and patients. Some doctors do it, but most do not.

That's largely because most health insurers do not reimburse for it. In addition, some doctors fear e-mail is more prone to miscommunication between patients and doctors.

Anthem tried a pilot project five years ago in which it reimbursed for e-mail consultations between doctors and employees of major local employers—including Eli Lilly and Co. and Marsh Supermarkets. But Lee said it wasn't used enough to justify a larger program at that time.

Now, online care is the latest iteration of "telemedicine" in the spotlight, and it seems to be gathering more steam than e-mail has.

Nationally, only 7 percent of U.S. physicians were using online video conferencing to talk with patients last year, according to a survey by Manhattan Research. But adoption is rapidly growing, leading London-based market research firm Technavio to project global growth of the telemedicine industry of 19 percent per year, on average, from 2010 to 2014.

Proponents of the technology say it would address a growing problem in American health care: too few physicians. Getting access to a physician can already be a problem, especially in rural areas.

The problem is projected to get much worse as baby boomer doctors retire right at the time baby boomers are creating a boost in demand for health care. In addition, the 2010 health reform law promised to subsidize health insurance costs so that 32 million more Americans have it.

Patients with insurance tend to consume twice as much health care as those who don't.

Lee thinks online care would appeal to recently retired physicians and those who want to work only part time, such as some female doctors with children.

"It's very attractive to them to see patients online, from their own home or while they're traveling," Lee said. "But they can see patients online and still generate an income and have the satisfaction of taking care of patients."

He added that greater access to physicians at odd hours could take care of minor ailments that now lead patients to hospital emergency rooms—which can easily cost 10 times as much as a physician visit. Avoiding such expenses could save Anthem considerable money.

Anthem's parent company, Indianapolis-based WellPoint Inc., partnered with American Well in 2010 to roll out online health care in its 14 states. It will soon launch the service under the name LiveHealthOnline in two initial states, California and Colorado.

WellPoint is trying to catch up to one of its rivals, Minnesota-based UnitedHealth Group, whose subsidiary OptumHealth is now offering its NowClinic online care service in 22 states, including Illinois, Kentucky, Michigan and Ohio.

Getting docs on board

Anthem has had preliminary conversations with physicians in Indiana about joining its LiveHealthOnline service, but is waiting to see if the Medical Licensing Board rules are changed before starting to sign contracts with them.

It's not clear how Anthem would reimburse doctors for online consultations—if at all. In California and Colorado, online consultations will cost $45 each, with patients entering their credit card information online to cover the bill before the consultation.

That price is roughly half of what Anthem pays for an office visit, which might save Anthem money. But with American Well taking about $20 of that, it doesn't leave physicians with much for their efforts, said Dr. Ben Park, CEO of American Health Network, an Indianapolis physician practice, who has been briefed by Anthem on its plans with American Well.

Park doesn't expect the service to help his physicians bring in more revenue, but it might allow physicians to provide more convenient service to patients, in a way they increasingly want to communicate.

"There's real potential if it's part of an ongoing process of care with your physician. It could accompany things like blood sugar readings, all that sort of stuff," Park said. But, he added, "I don't think you'll be able to see any more patients, unless you're willing to work more hours."

Even the testimonials American Well has from doctors on its website talk about online consultations as an additional offering, not one to replace in-person visits.

The American Well technology generates a record of what was discussed during an online consultation, which then can be submitted to a health insurance company. So reimbursement by Anthem or other third-party payers would be possible.

"They want the claims processing to be simple. Because if it's complicated and the payment is delayed, then it's a question of whether it's really worth [the effort]," Lee said of physicians' attitudes toward having health plans reimburse for online consultations. "But we'd love for it to be a benefit that the patients have."•