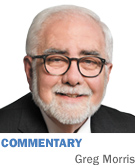 Spring is in the air, as March is nearly half over. For many families, excitement is building about spring break travels. Comments like, "I can't wait to get out of town someplace warm for a week" are being heard across the city. High school and college basketball tourneys are heating up. I have new mulch scheduled for delivery and spring landscape cleanup to be completed in the next two weeks. The grass and trees will be greening up, flowers will be blossoming, and another season starts anew.

The first day of spring is March 20. Daylight saving time has kicked in and the days are getting longer. It won't be long before you'll be able to complete your work day and get a round of golf in before it gets dark. I know some people (and some animals) don't agree, but I love the summer days when it's still light outside at 9:30 p.m. I hear this irritates cows, but I can't confirm this.

Speaking of longer days, it always puzzles me why some retailers don't adjust their hours to stay open later during certain months to take advantage of more people out and about. For example, there's a pizza place close to my house that closes at 9 p.m. no matter what time of year it is. If I ran a restaurant, especially in an area around where people live, I sure wouldn't close while it's still light outside.

Last year at this time, we were ready to bid farewell to a long, cold winter accompanied by an abundance of snow and ice. Simply put, it was miserable. This year, I purchased a new snow blower and it hasn't moved since I bought it. I haven't even picked up a snow shovel.

Yes, I know it's only March and we could still have a snow large enough to put these items to good use, but measurable snowfall is unlikely to stick around long this time of year. We had great weather through the Super Bowl. We've had the mildest winter I can remember in a long time. I'm convinced this is due to the fact I purchased a snow blower. And guess what? I'll buy another one next year if it will help ensure another mild winter like this one.

But even with the mild winter, I continually hear sentiment from folks that they are more than ready for spring and warm weather. Even with a winter that was closer to weather normally experienced farther south—in Knoxville, Tenn., for example—people are eager for the annual rite of spring.

So, what does this have to do with business? Plenty, I submit. Attitude makes a big difference with staff productivity at work. Happy troops are productive troops. Improving weather puts a spring in people's step and a smile on their faces. In addition, most folks tend to buy more things when they are happy and feeling good about life. Selling more products and services makes owners and managers happier. Owners and managers buy more items and hire more people when sales and profits are good and continuing to grow.

Heaven knows we have more than enough to be negative about. You get all the negative news you can possibly consume shoved down your throat every day. You can't think too much about all the insanity going on in Washington and around the world or you'll be depressed all the time. It's important to remember that, unfortunately, you can't control most things. In most cases, you can control only your own actions and reactions to situations and events.

In the meantime, spring is here. It's time for a fresh start. I'm going to embrace the positive attitude Peyton Manning showed in his press conference with Indianapolis Colts owner Jim Irsay. It was an emotional, classy and amazing event that was totally appropriate for the situation. That's a rare thing witnessed in sports today. I felt proud Manning's departure was handled the right way.

Let's be positive as we move forward with our own endeavors the rest of the year. Positive feelings translate to positive business. "Hope springs eternal."•

__________

Morris is publisher of IBJ. His column appears every other week. To comment on this column, send an e-mail to gmorris@ibj.com.