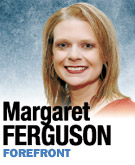 State lawmakers have turned their attention of late to higher education. Legislation awaits the governor's signature requiring all colleges and universities to employ a common numbering system. While this will require a lot of paperwork, in principle it seems sound and appropriate. Gov. Daniels signed another law that places a cap of 120 credit hours on most undergraduate degree programs.

Adjusting to the 120-credit-hour rule will not be difficult for most programs that are just above that target number now. However, this will not likely have much of an effect upon student graduation. Students often graduate with more than the minimum number of credit hours because they change majors.

This legislation is part of a national conversation on student retention and time to degree completion. If one assumes the value of a college education is the degree obtained upon completion (though I could argue this is not the only value), then a student who drops out of college before obtaining the degree has wasted all the money he/she spent on tuition. The state's resources have similarly been wasted since public funds (and not just tuition dollars) power our universities.

Seen that way, we should do whatever we can to get students in and out of school as quickly as possible while expending the fewest resources.

I have reservations about this logic, as I can imagine pressure to lower standards (and not just credit hours). To its credit, the Indianapolis-based Lumina Foundation has strongly emphasized the need to make sure students not only complete college but also obtain high-quality degrees.

That said, creating better coordination among Indiana universities and Ivy Tech Community College is a laudable goal. Most students at my university are transfers, having begun their college studies elsewhere. They often come to us with imperfect information about what courses actually count toward the degree.

Advisers perform Herculean tasks making sure that as many of their hours as possible transfer to their degree plan here. But it is rare that all of a student's hours transfer seamlessly. Making the successful transfer of credits easier and reducing the uncertainty would benefit students and advisers.

Toward that end, Indiana policymakers (like their counterparts in other states) are considering requiring that universities establish a "general education common core." Roughly speaking, these are the foundational courses students take in preparation for the specialization that comes with instruction in their major.

The idea is that every university would define a core of approximately 30 credit hours that students in Indiana can transfer with them as a whole to any other state university and automatically complete that university's general education requirement. Leaders at Ivy Tech have already put together their version of such a transferable core.

The Indiana Commission on Higher Education has provided guidelines to universities for developing such a competency-based, transferable general education core. And a renewed conversation is under way involving faculty across my university to explicitly define what exactly we want our students to know, understand and be able to do when their time with us comes to an end.

In other states, lawmakers and state officials have gone so far as to identify the actual courses that ought to be counted toward a degree in all state universities. Some observers think this might be the next step here in Indiana. This would be disastrous for the students' degrees.

It is imperative for the integrity of higher education that the faculty control the curriculum. We must maintain the responsibility and authority to define what a college degree means because we alone bear the responsibility of conferring those degrees upon our students.

University faculty, lawmakers and state administrators all have a stake in this conversation. State policymakers certainly have a legitimate interest in knowing what is happening in higher education and assuring that we are being good stewards of our students' and the state's money.

But only educators should be in the business of making decisions about an appropriate curriculum.•

__________

Ferguson is an associate professor of political science in the School of Liberal Arts at IUPUI with expertise in state politics. Views expressed here are the writer's. Send comments on this column to ibjedit@ibj.com.