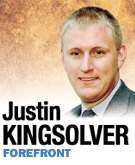 Among the most politically sensitive topics in Hoosier Republican circles today is the hotly contested primary race between incumbent Sen. Richard Lugar and State Treasurer Richard Mourdock. Even as a relatively young politico, I recognize the awkward position in which this campaign has placed many Republicans across our state.

Lugar is the scion of the Indiana Republican Party, nationally renowned for his statesmanship. Mourdock has become an institution in our movement, directly challenging the Obama administration's blatant disregard for centuries-old constitutional principles. Both candidates are men of incredible talent and both have much to offer as a U.S. senator.

However, the campaign I have witnessed does not measure up to the honor I know both of these men to possess. Like many in the Indiana political establishment, I know both candidates on a more-than-casual basis: I was appointed to work for the U.S. Senate by Lugar during the summer of 2006, and Mourdock asked me to give his renomination speech at the 2010 GOP Convention.

These men care more for our state and the future of our nation than anyone I know. But this campaign has not reflected that.

Instead of hearing about Mourdock's valiant challenge to the epically botched Chrysler bankruptcy or Lugar's visionary, almost-Nobel-worthy nuclear nonproliferation program, voters have been bombarded with unimportant issues like residency statuses and attendance records.

It seems that professional political operatives in our state simply do not grasp what the vast majority of voters do: that process issues do not win elections; they merely detract from the important message we as Republicans must be sending to our constituencies—that we are united, that we have more concrete (and more constitutional) ideas than our opposition, and that our candidates are men and women of superior moral character.

When discussing my disdain for this campaign in Republican circles, I am often met with rebuffs of, "Well, that's how the primary process goes."

I firmly contend that this process can change—we absolutely need not sink to these petty depths in order to win a primary fight.

I am not suggesting that pointing out policy differences qualifies as negative campaigning; in fact, I believe quite the opposite. For example, for Mourdock to decry Lugar's support of two of the most liberal Supreme Court justices our nation has ever seen qualifies as a fair, policy-based objection. However, to belittle Lugar's status as a Hoosier, when he's represented us honorably for decades, crosses a line into personal, unnecessary attacks.

Similarly, for Lugar to poke holes in Mourdock's tax plan is a fair objection; but to claim that Mourdock has neglected his duties as treasurer because he sent a proxy—and a competent one—to meetings of state financial boards (as several others, including the governor, do) is unbecoming of a campaign for the Senate.

I am not simply some young idealist—I know this type of campaign is possible.

Take, for instance, the Republican race to replace U.S. Rep. Dan Burton in the 5th District. I serve as a precinct committeeman in Fishers, thus have been contacted by—and added to the e-mail lists of—most of the major candidates seeking the GOP nod.

These men and women—notably David McIntosh, Susan Brooks and John McGoff—have elevated the tenor of the debate by concentrating on their strengths, not disparaging the personalities or characters of their opponents. Thus, I will proudly support one of those candidates.

I do not feel so confident in casting my vote in the Republican Senate primary. If Lugar and Mourdock stick to their laurels, educate voters on their plans to increase economic opportunity and energy security, and speak honorably about their primary opponent, voters will buy into their message and I will be proud to cast a vote for one of them.

If they choose not to, I may choose to cast a write-in vote for Mitchell E. Daniels Jr.•

__________

Kingsolver, a Fishers native, is a senior at Indiana University majoring in political science, international studies and business management. He also is student body president and the former state chairman of the Indiana Federation of College Republicans. Send comments on this column to ibjedit@ibj.com.