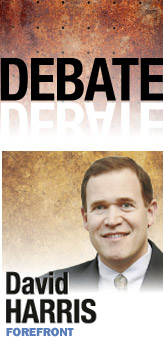 QUESTION: Have the sweeping education reforms passed in Indiana contributed to, or detracted from, teaching as a profession?

ANSWER: Many of the sweeping education reforms passed recently in Indiana elevate the teaching profession to the high level of importance it deserves. By banning seniority-based layoff policies, enhancing teacher evaluations, and altering teacher training, Indiana is creating the kinds of conditions that will draw top-notch teaching talent into the profession. Indiana's students will benefit because great teachers are the most critical factor in students' success in school.

Teaching long has been an undervalued profession in Indiana, with teachers demeaned in both policy and practice.

For example, before the recent law change, seniority played a larger role than a teacher's classroom effectiveness in decisions about hiring, firing and promotions. The seniority-based system failed to recognize and reward excellent performance and too often drove talented, young teachers from the classrooms where they are desperately needed.

Indiana law now prohibits seniority from being the driving factor in teacher layoffs. That change creates a condition akin to other professional work environments, in which high performers are rewarded, and protects effective teachers from losing their jobs. It's a position advocated by some of the nation's most thoughtful education leaders, including U.S. Secretary of Education Arne Duncan, who has challenged states and districts to use teacher performance as a factor in staffing decisions.

Indiana's reforms also have created a better system of measuring and tracking teacher effectiveness so that teachers will receive honest and constructive feedback that will help them improve their practice. As Gov. Mitch Daniels pointed out in his 2011 State of the State address, traditionally, some 99 percent of Indiana teachers have been rated "effective." That is simply not constructive.

Teaching professionals crave feedback that will help them strengthen their work. That's impossible when everyone is told they're doing great, particularly without any meaningful data to back up that assertion. A new law requires districts to ensure teachers are given regular and meaningful feedback informed by data that tracks their impact on student learning.

Another law paves the way for student teachers to gain a mastery of the subjects they teach. Our state's education schools traditionally have focused heavily on instructing teachers in education theory, without empowering them to become content experts. A new law requires colleges and universities to train student teachers more intensively in the subject matter they're teaching before they stand in front of a classroom. That will enable them to more effectively convey material.

As the great historian David McCullough, who has devoted much time to studying this issue, explained, "Far too many teachers everywhere have been trained in schools of education with no concentration on any one subject. … And what you don't know … you can't very well explain or have your heart in."

The new laws help shift the paradigm of the teaching profession in Indiana so that it puts the interest of kids first, attracts our best and brightest into teaching and retains them, and is focused on excellence. A recent study highlights how crucial such realignment is.
Research released last year by experts from Harvard and Columbia universities shows that if we replaced our weakest teachers with average teachers—as measured by student academic growth—the average lifetime income of students in their classrooms would increase more than $250,000.

But it shouldn't take a study to convey the importance of excellent teachers. We hold professions such as law, medicine and engineering in the highest regard and demand the highest standards. Why should we treat teachers, who are charged with educating our future generations, any differently?

Rather, teaching should be our nation's highest calling. Indiana's recent education reforms take us a big step in that direction.•

__________

Harris is CEO of The Mind Trust, a not-for-profit supporting entrepreneurial education initiatives. Send comments on this column to ibjedit@ibj.com.