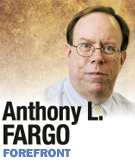 Gather any group of journalists or other advocates for transparent government and one commonality will immediately appear: No one is satisfied with the way government agencies respond to requests for information.

This truth was on display in late March when I had the privilege to meet a group of Ukrainian journalists and government information officers who were stopping in Indiana on a tour of U.S. cities. Their trip was arranged through the U.S. State Department's International Visitor Leadership Program.

The Ukrainians gathered in the Indianapolis International Center conference room were particularly interested in our freedom of information laws, so I met with them along with Gerry Lanosga, a Ball State University journalism professor who is president of the Indiana Coalition for Open Government (ICOG), and Dan Byron, an Indianapolis attorney who also is on the ICOG board. (I'm vice president this year.)

It's possible that some things got lost in translation, but the basic idea I came away with was that the freedom of information law in the former Soviet republic was better on paper than it was in practice. The ICOG trio could relate.

A recent study by Access Info Europe and the Centre for Law and Democracy in Canada rated the 20-year-old freedom of information law in Ukraine ninth for effectiveness out of 88 such laws in the world. The United States ranked 36th. The study focused only on the laws as written, however, not how they worked in practice.

The Ukrainians complained that agencies sometimes tried to second-guess why the records were being requested and then tried to give journalists and other requesters what they thought they needed, rather than what they asked for.

Another journalist said agencies sometimes created fake documents in response to requests. I wasn't clear on how she knew that. I hesitate to relate that story now because I don't want to give our officials any ideas.

Complicating matters is the fact that Ukrainian judges, who can hear appeals from people denied access to records or meetings, are often dependent on officials for their jobs and reluctant to rule against them.

The Ukrainians were particularly curious about the national security exemption in our Freedom of Information Act, which allows agencies to withhold information that might reveal potentially damaging secrets. They wondered who decides what constitutes a "national security" matter. I got the sense that they had the same problem our journalists and citizens sometimes have had—the words "national security" tend to end the conversation, and judges are reluctant to second-guess the administration when it says a disclosure could lead to catastrophe.

The Ukrainians were also curious about ICOG. Such non-governmental organizations that advocate for more openness from government are common in the United States but uncommon in the former Soviet republic. We suggested they might be able to get some guidance from organizations such as Transparency International, which strives to fight corruption around the globe in part by encouraging governments to strengthen freedom of information laws.

The Ukrainians also visited Bloomington, where they met with one of my colleagues at the Indiana University School of Journalism, Shannon Martin. Martin compiled a PowerPoint presentation for the group comparing key components of the U.S. and Ukrainian freedom of information laws. Looking at her slides later, I was struck by how similar in many ways the two nations' laws are, on paper at least.

I was also struck during our meeting with how much journalists in this country and in Ukraine have in common. We're grateful that freedom of information laws exist, but frustrated that the promises on paper often don't match the reality. Lanosga summed up the sentiments best when he noted that all governments tend toward secrecy, so there is always a challenge to make the laws work for the benefit of journalists and the public.

There was vigorous nodding from the Ukrainians. We all spoke the same language, in a way, even if we needed translators to understand the words.•

• Fargo is an Indiana University journalism professor and member of the Indiana Coalition for Open Government. Send comments on this column to ibjedit@ibj.com.