Jake Vernon's 14-month-old ticket sales company is scoring faster than the sports teams it represents.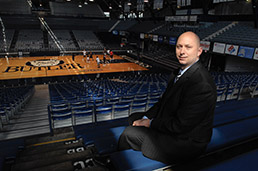 Get Real Sports Sales founder Jake Vernon said his firm brought in five- and six-figure revenue gains for some of its clients. The firm helped Butler boost group sales 35 percent. (IBJ Photo/ Perry Reichanadter)
After a successful first year, Get Real Sports Sales is moving from its Indianapolis office to a bigger headquarters in Carmel on May 1, tripling its work force to 30 employees by July 1, and preparing to sign a handful of new customers to go with its already-high-profile list of clients—which range from the Indianapolis Motor Speedway to the Cincinnati Reds.

"We're in the midst of staffing up because we've got some big new projects coming down the pike," said Vernon, sole owner of the firm. "I think there's a real need for what we provide. The potential for growth is very good."

Vernon projects the number of sports properties his firm sells tickets for will double to more than 20 this year.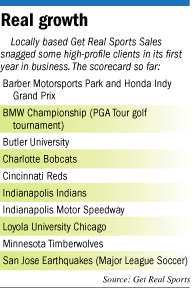 The rapid growth has put Get Real Sports alongside North Carolina-based IMG Ticket Solutions and Georgia-based The Aspire Group at the top of the leader board in outsourced ticket sales.

Vernon finds himself running with some fast company. IMG Ticket Solutions is a division of IMG Worldwide, a New York-based conglomerate founded in 1960 that provides a variety of services to athletes and sports teams.

The Aspire Group works with more than 50 of the biggest sports teams and leagues, including the National Basketball Association, National Hockey League and Canadian Football League.

Already, though, Get Real Sports Sales has swiped some clients from its older brethren.

"Jake and his staff have put together a very aggressive, outbound sales program, and they've demonstrated that it works in this state and out-of-state," said Mike Freeman, associate athletic director at Butler University, which hired the firm last summer to increase ticket sales for its men's basketball program. "We've already gotten a number of calls from other schools interested in working with Jake's company."

Get Real Sports has also shown it can work for a diverse collection of sports properties, signing deals with college and professional teams and in fields ranging from traditional stick-and-ball sports to soccer, golf and motorsports.

Sports properties discovered a decade ago that turning to third-party experts for things like merchandise and sponsorship sales can bring in considerable extra income, but outsourcing ticket sales is relatively new.

"Some schools and sports teams simply don't have the staff or resources in place to pursue this potentially lucrative revenue source," said Andrew Zimbalist, a noted sports economist and professor at Smith College in Northampton, Mass. "Outsourcing ticket sales is a budding trend and that could mean a windfall for the companies that are first to market with this service."

In some respects, what Get Real Sports does is simple. For each client Get Real signs, Vernon brings in two to 10 people to work the phones, usually focusing on group sales or season-ticket packages.

But Vernon emphasizes "we're not a telemarketing firm."

"We do extensive training with our employees on specific sales techniques," Vernon said. "Then we sit down with each client to learn their product and about their target audience."

Vernon said the calls his company makes, some of which are face-to-face, go far beyond a cold sales pitch.

"A big part of what we do is education and promotion in the field," Vernon said. "We show people everything our client has to offer."

Oftentimes, Vernon's staff will work off of a list of former ticket buyers or inactive alumni or other targets a mid-major college or professional sports team simply doesn't have the resources to target.

Part of what has made Get Real Sports successful, said several of its clients, is the experience its owner brings to the table.

Before founding his company in March 2011, Vernon, 37, spent four years as the Indiana Pacers' vice president of ticket sales.

He went to work as one of the Indiana Fever's original employees in 1999 before joining the Pacers staff in 2001. Before that, Vernon worked in sales for the Indianapolis Indians and the Chicago Wolves minor-league hockey team.

"Jake brings in a pro-style sales team," Freeman said. "They're very efficient and very effective."

With the help of Get Real Sports, Butler increased its group sales 35 percent from the 2010-2011 season to the 2011-2012 season. Total men's basketball ticket sales grew from 100,478 to 115,232 during the same period.

Vernon has used the contacts he gained in more than a decade in ticket sales to sign more than a dozen clients.

"Jake was one of the most respected guys in our league at his position," said Ryan Tanke, ticket sales vice president for the NBA's Minnesota Timberwolves. "He knows a lot of people in the NBA and in other sports areas and they know the kind of job he does."

Get Real Sports sold more than 50 season-ticket packages for the Timberwolves in less than a month.

"That's just awesome," Tanke said.

Get Real Sports is one of a few companies specializing in outsourcing ticket sales, a trend that started in college sports within the last three years.

Before starting with Get Real Sports Sales last summer, Butler, which has only one full-time ticket manager, did all its sales in-house.

Each Get Real Sports staffer assigned to a job can make 80 to 100 calls per day, Vernon said, adding that in a typical day his staff makes more than 600 calls for its client.

"After the recent successes of our men's basketball program, we wanted to make a push in ticket sales," Freeman said. "For us, using Jake's company was a better option than investing in the computer hardware and software in addition to hiring the people needed to do that.

"Not too many colleges are adding positions right now, so if you have empty seats, this can be the best way to go," he added.

Get Real Sports charges clients a "small upfront fee," and gets a percentage of the sales it makes. None of his clients have lost money, Vernon said, and the payoff for clients can be significant.

Get Real Sports' staffers are paid $1,000 to $1,500 a month, plus a commission in the 20-percent range, industry sources said. Those numbers are comparable to the average pay for an NBA inside sales representative.

When prospective customers are talking to Get Real Sports staffers, they seldom know they're not talking to a team representative, even though Get Real Sports staffers might not even be in the same state.

In many cases, Get Real Sports' databases are connected directly to a client's database.

"They're completely integrated with us," said Tanke, of the Timberwolves. "They simply act as an extension of our staff."•