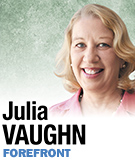 The recent announcement by U.S. Attorney Joe Hogsett regarding the formation of a Public Corruption Working Group to coordinate state and federal efforts to identify and investigate criminal violations of the public trust is welcome news. The need for this effort is evidenced by a recent report that concludes our ethics laws lack teeth and are not strong deterrents.
Earlier this spring, three respected groups—the Center for Public Integrity, Global Integrity and Public Radio International—released an important and ambitious study that examines the "corruption risk" in all 50 states. This ground-breaking, data-driven assessment of transparency, accountability and anti-corruption mechanisms cuts through the political rhetoric about ethics in government and comes to a key conclusion: Most states, including Indiana, fall short of providing real transparency and do not have good systems to identify and root out corruption because the enforcement of these laws is typically inconsistent and often nonexistent.
Simply put, all the ethics and disclosure laws on the books won't make much difference if they are not aggressively and fairly enforced.
Indiana's overall score on the study's Corruption Risk Index is 70 percent, earning us a grade of C– and a national rank of 22nd. Eighteen other states received C grades and no state received an A.
While Indiana got high marks for state pension fund management, procurement and state budget processes, we got F's for public access to information, political financing transparency and regulation, ethics enforcement agencies, and redistricting.
Those failing grades shouldn't be a surprise to anyone who has followed Indiana government and politics in recent years. We've got glaring real-life examples of how a lack of teeth leads to well-meaning laws being undermined or ignored.
Take ethics enforcement. The inspector general and the five members of the State Ethics Commission are the top cops for ethics law enforcement within the state's executive branch and they are all appointed by the governor. Such a set-up creates valid questions about how independently these agencies can function and how free of political influence their decisions can be.
These fears of tainted decision-making and ineffective enforcement are reinforced as the details of the Duke Energy/IURC scandal emerge. Remember that the State Ethics Commission, the agency charged with enforcing the revolving-door law, initially gave its blessing for a key administrative law judge to leave state government for a job with a company he had regulated. It took complaints by two independent groups, Citizens Action Coalition and Common Cause/Indiana to ensure the law was enforced and violators held accountable. Why didn't the ethics commission ask the same questions we did?
And, it's not as if the Storms waiver was an isolated one. An IBJ analysis of Ethics Commission decisions in post-employment rulings shows that they required compliance with the one-year cooling-off period in only three of the 27 cases examined. So, while we may have a revolving-door law on paper, in reality the employment pipeline between state government and private business continues to flow mostly unabated.
Go to www.stateintegrity.org to read the analysis of Indiana's ethics laws and e-mail a copy of the report card to the governor and your state legislators. It's important they recognize what is missing from Indiana's laws and that the public wants reform.
It's particularly important we send this information to the gubernatorial candidates, as well, and demand they outline their plans for beefing up enforcement of these important laws.
The organizations that researched and published the report are eager to work with state-based groups, media and policymakers to share best practices, educate the public and policymakers, and use good old-fashioned investigative journalism to build momentum for real reform that will stem corruption and build public trust.
This is extremely important since, too often, reports are written only to sit on a shelf, forgotten and ignored. Sort of like those ethics laws.•
• Vaughn is policy director for Common Cause/Indiana, a nonpartisan citizens lobbying organization that works for open, honest and accountable government. Send comments on this column to ibjedit@ibj.com.
Please enable JavaScript to view this content.