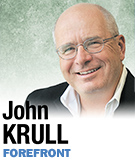 Boy, those school voucher advocates can be touchy.
I recently wrote a column expressing skepticism that vouchers would solve all the problems confronting education in America. I pointed out the market forces that voucher advocates view with dewy-eyed giddiness as the savior of the educational system also had helped put that system under severe strain by disrupting established neighborhoods, undermining tax bases and, in many cases, tearing apart families. I also noted that a free market, by definition, doesn't have a conscience—that's the part we, as human beings, are supposed to supply.
And I said that I halfway hoped Indiana's sweeping voucher law would stand, because testing vouchers in practice instead of arguing about them in theory seemed to be the only way we were going to get out of a deadlock.
Many voucher advocates reacted as if I'd stolen their last cupcake when they were in the midst of a massive sugar binge.
They sent me notes and e-mails accusing me of being a socialist (although they spelled that word in many different ways), of being a union stooge, and of not understanding history. They told me, repeatedly, that the idea of using the power of government to serve as a buffer for the worst effects of a free market was the invention of Lenin.
My favorite of these missives came from a gentleman who told me that my eyes would be opened if I just read Sinclair Lewis' classic novel "Animal Farm."
I wrote him back saying I had read George Orwell's "Animal Farm." If Sinclair Lewis wrote a book by that title, too, then I'll read it, but so far I haven't found it.
I particularly enjoyed the argument that the idea of using government as a protector of the public trust originated with the Soviet Union.
Here in America, the first and most forceful champion for such thoughts was an obscure Republican president named Theodore Roosevelt, who left office nearly a decade before the communists came to power in Russia.
TR made two arguments for using government to check some of the market's worst effects.
The first was an appeal to conscience. He said it was immoral to allow people to suffer when we, as a society, had the means to ease that suffering. There was a reason his campaign theme song was "Onward, Christian Soldiers."
Today, of course, many of the folks who march to that song march in the opposite direction.
The second was a conservative political argument. Roosevelt believed that businesses performed best in stable societies and stability could be achieved best by preventing economic disparities that could lead to revolution. Using the power of government to guarantee a Square Deal was the best way to protect businesses big and small.
The Tea Party would string him up for saying such things now—and, frankly, those statements got him into trouble even in his era.
Despite racking up the biggest Republican triumph in history up to that time, the big business interests pretty much drove him out of the GOP when he left office. He spent much of the last decade of his life a man without a party.
A lot of us feel that way now.
At this moment in Indiana's history, we're going back to a time and philosophy that predates Theodore Roosevelt in regard to education. We're saying that individuals can do better in the education market on their own than with government support.
Fair enough.
Vouchers now are the law and they probably will stay that way. The people who championed vouchers attacked public education on issues of accountability—for not providing enough student achievement and for not containing costs well enough.
Vouchers, they said, would unleash the power of market forces and provide better test scores at lower costs.
The voucher advocates got their way and now have no one else to blame for any failures.
The challenge before them can be summed up in two words.
Prove it.•
• Krull directs Franklin College's Pulliam School of Journalism, hosts the weekly news program "No Limits" on WFYI-FM 90.1, and is executive director of The Statehouse File. Send comments on this column to ibjedit@ibj.com.
Please enable JavaScript to view this content.