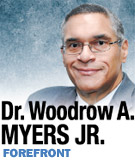 The year was 1966, and my Shortridge High School freshman football coach made it clear to me that, as an interior defensive lineman, I had only one job on each and every play. My job was to evade the offensive lineman and find the man with the football, usually the quarterback or a running back, and then—with every muscle in my 220-plus-pound body—hit him absolutely as hard as I could and try to rip the football from his grasp.
"Myers, you get in there and you ring his bell." The louder the pop of my shoulder pads hitting his, the better. The longer it took for my opponent to stand up after a hit, the better. If my opponent could barely walk and had to leave the game, that was considered a terrific play.
In effect, my coach was asking me, imploring me, to do my best to give my opponent a concussion.
A concussion is a traumatic brain injury. It may occur when the head hits an object or a moving object strikes the head and there is significant movement of the brain. Common causes of concussions include falls, sports activities and car accidents. The result could be a bad headache, altered levels of alertness, or unconsciousness.
However, concussions don't always involve a loss of consciousness. Most people who have a concussion never black out. You can have a concussion and not realize it. It temporarily interferes with the way your brain works, and it can affect memory, judgment, reflexes, speech, balance, coordination and sleep patterns.
How long you remain unconscious may be a sign of the severity of the concussion. Bleeding in the brain (intracerebral hemorrhage) can be a complication of a significant concussion but can be difficult to recognize and can take hours to develop. It is for that reason that a physician with experience in managing concussive injuries should be consulted. (It's even better when a physician is present on the sideline and can examine the athlete immediately after the injury, and track changes over time.)
It gets worse when a player receives a second concussion while still having symptoms from a first one. This raises the risk for brain swelling, which can be fatal. That is why physicians often insist that an athlete with even a mild concussion sit out the rest of the game.
The national news media is paying more attention to sports-related injuries than ever before, prompting major changes in how these injuries are identified and treated in athletes of all ages and levels of competition. As just one example, widespread press coverage has prompted new rules for treating head injuries in the NFL and new state laws to address concussions in high school athletes.
The Indiana High School Athletic Association has adopted the new national standards regarding concussions: Any symptoms require an immediate evaluation by a health care provider and the athlete must be cleared to return to the game. Rules have been changed to better protect players from overzealous tackles and helmet manufacturers are working to improve technology to better protect the brain.
The new rules and technology will help, but football remains a violent game, a game I loved playing and still love watching.
About 15 years ago, I received a phone call while on a business trip overseas. I was proud that my son played football and, like his old man, he was a stocky high school defensive lineman. I was told he had suffered a concussion while playing the game.
When I finally spoke to my son over the phone, I immediately knew he did not sound "normal." I caught the next plane home. When I arrived the next day, he was improved but still having symptoms. He eventually recovered just fine, but his season, and his playing days, were over.
While I remain supportive of the game and the changes being made, I'm not so sure I want my grandson to ring his opponent's bell, or to have another man's grandson ring his.•
• Myers is a former chief medical officer for WellPoint Inc. and served as health commissioner for Indiana and New York City. Send comments on this column to ibjedit@ibj.com.
Please enable JavaScript to view this content.