Over the last year, Indiana's advanced battery and plug-in electric vehicle industry appeared to have short-circuited beyond repair.
The parent of locally based lithium-ion battery maker EnerDel filed for Chapter 11 reorganization after Norway-based customer Think went bankrupt and ceased electric car production in Elkhart.
And Bright Automotive, founded in Anderson to make a plug-in electric delivery van, went out of business this year after prospects dimmed for a $314 million federal loan.

Mitchell
But the advanced battery industry in Indiana is by no means out of juice, said Paul Mitchell, president and CEO of industry initiative Energy Systems Network.
Late last month, Mitchell announced that ESN and industry partners would embark on a $12 million Battery Innovation Center to be built adjacent to the Crane Naval Surface Warfare Center, downstate in Crane.
The Department of Defense's electrochemical power expertise is focused at Crane. But it's often been a bureaucratic hassle for companies and academic researchers seeking to obtain technology transfer assistance from Crane's brain trust.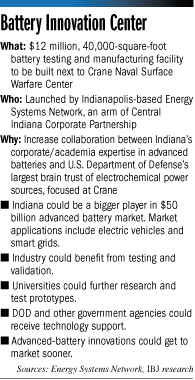 The 40,000-square-foot facility will be just outside the gate at Crane as a sort of neutral zone where interested parties will be able to collaborate.
The new center itself will employ about 30 people. But, "there will be more than 100 professionals at universities and companies tied into the center," Mitchell said.
Among those that could benefit in central Indiana are researchers at IUPUI's Richard G. Lugar Center for Renewable Energy, whose specialties include advanced batteries and fuel cells.
"Batteries are important to the future of our transportation needs," said the Lugar center's director, Peter Schubert.
"An hour and a half away isn't very far," he said of the southern Indiana location of the planned Battery Innovation Center.
Private industry will be able to use the BIC as a way to help test and validate new applications of battery technology as part of product development.
Among what ESN calls "prospective member institutions" of BIC are electronics firms Delphi Corp. in Anderson and Cummins Inc. in Columbus.
A spokeswoman at Cummins, which makes diesel engines and electrical generating sets, declined to comment on the potential involvement with BIC.
Delphi already makes electrical components for electric vehicles, such as charging units.
Tapped to run the Crane battery center is Charles LaSota, who most recently served as the 25th commanding officer of the Crane military facility.
LaSota has said Crane often lacked the resources to manage requests from industry for technology transfer assistance.
Mitchell said some of ESN's industry partners in Japan, which he declined to name, have expressed interest in the BIC facility. "It becomes another arrow in our quiver to attract companies to the state."
Despite the high-profile problems facing some players in the industry in Indiana, "I don't think there's any dispute energy storage is a fundamental building block of our energy future," Mitchell said.
Market challenges of companies like EnerDel are not evidence "that this is a passing fad," he added.
EnerDel parent Ener1 exited bankruptcy as a private company in April, helped by a $50 million investment from longtime investor and Russian industrialist Boris Zingarevich.
He also bought the assets of electric carmaker Think.
EnerDel has been refocusing on supplying battery systems to electric power grids. Last fall, it employed about 250 in the Indianapolis area but was projected to employ upwards of 1,000 people in the region.
While EnerDel is back on the road, Indiana lost the potential of a rolling trophy of alternative power with the demise of delivery-van maker Bright.
The company's plans for a lightweight, aerodynamic van invoked the early days of the auto industry, when Indiana gave Detroit a run for its money. Skeptics said the company would face long odds producing vehicles efficiently at low volumes compared with large, existing automakers.
Bright laid the blame for its demise on the federal government for taking three years to conduct due diligence, thus delaying a federal loan the company was counting on.•
Please enable JavaScript to view this content.