No wonder senior managers in Silicon Valley are famous for jumping from company to company hoping to hit the stock-option jackpot when one of the firms strikes it big.

Many tech companies fizzle out along the way, of course. But when one does become the next big thing—as happened with ExactTarget Inc. this year—the fruits of success are enormous.

Scott Dorsey, co-founder and CEO of the Indianapolis marketing software company, has paper profits on his unexercised stock options approaching $12 million, and that's just a sliver of his wealth. He also holds stock outright worth nearly $37 million.

Chief Administrative Officer Traci Dolan, an early employee of the 11-year-old firm, is sitting on more than $8 million in option gains.

Options give executives the right to buy shares in the future at the price on the date of grant. Dolan received some of her options eight years ago, when the then-privately-held firm valued its shares at 50 cents apiece. Investors in ExactTarget's March initial public offering paid 38 times more—$19 a share. The stock now trades for more than $20.

IBJ's annual review of proxy statements for Indiana public companies found median compensation for senior executives rose 14 percent in 2011, to $808,000. But that analysis uses the fair market value of stock and options awards on the date they were granted. If a company wows investors and its stock price surges, executives can make out far better. It is those grants that can build executives' wealth on a massive scale.

Take Simon Property Group Inc. CEO David Simon, for instance. The Indianapolis-based mall owner's board stirred controversy last summer by granting him $120 million in restricted stock—a retention award aimed at keeping the high-performing executive at the helm until 2019. He can't collect the full amount unless he sticks around. That's an eye-popping award, to be sure, and it propelled him into the No. 1 slot in The Associated Press' ranking of highest-paid U.S. executives for 2011. But if Simon shares over the span of the agreement appreciate as they have over the last eight years, the value of the stock award would more than triple.

Charles Elson, director of the Weinberg Center for Corporate Governance at the University of Delaware, thinks Simon's stock award is over the top—and reflects the reality that executive pay packages simply have become too large.

He blames the exercise companies go through each year to compare their executives' pay to that of peers and then set compensation levels above the median. Since no board wants to consider its executive team below average, the practice creates a "Lake Wobegon effect."

"The numbers have gone up and up, and I think it's because of the mechanical process of peer grouping," he said. "It's an ever-increasing spiral."

All about equity

Critics of Simon's stock award, such as the influential shareholder-advisory firm ISS Proxy Advisory Services, complain that it allows him to build on his already substantial wealth even if the company struggles in the coming years. Still, that group and other pay watchdogs prefer awards of restricted stock or stock options over straight cash awards, since they ensure executives have skin in the game.
ExactTarget is such a staunch believer in options that it grants them to all U.S. employees, company spokesman Mitch Frazier said. He said the practice meshes with one of the company's core values: "Make decisions like an owner."

"I think it is very unusual," Frazier said of the wide dissemination of options, "and it is a large magnet for attracting talent and retaining talent."

The approach means it isn't just top brass who have hit the jackpot from the company's meteoric rise. Securities and Exchange Commission filings show that, companywide, employees are sitting on $170 million in unrealized option gains. Some already have vested, while others will over the next several years.

The biggest beneficiaries are still the top brass. The six senior executives listed in SEC filings are holding vested and unvested options worth $52 million.

The option gains also are huge for top executives of Allison Transmission Holdings Inc., another Indianapolis firm that staged an initial public offering this year.

Private equity firms Onex and Carlyle Group showered top brass with huge option grants when they bought the company from General Motors Corp. for $5.6 billion in 2007. Back then, the shares were valued at $8.44 apiece—well below the $23 investors paid in the company's IPO in March.

CEO Lawrence Dewey alone has more than $18 million in vested and unvested option gains. Chief Financial Officer David Graziosi has $5.6 million.

An Allison spokeswoman declined to comment on the grants, which fit with the typical private equity playbook. Such firms almost always provide management with either a share of profits or an executive compensation package based on the future success of the business, said Doug Conner, director of Periculum Capital Co. in Carmel.
IBJ.COM EXTRA
Click here
for a searchable database of all Indiana public company executives' compensation.
Pulling back

At a certain point, however, executives awash in restricted stock or in-the-money options can become so wealthy that additional awards provide less incentive, said Logan Metcalfe, owner of Arena Consulting, a South Carolina firm that provides chief financial officer services to fast-growing companies.

For some executives, the question becomes, "Do you cash out and go retire?" Metcalfe said.

Some boards, including that of locally based Angie's List Inc., acknowledge that providing additional stock-based compensation to executives who already own large numbers of shares can have diminishing returns.

In its annual report to shareholders this spring, Angie's List's compensation committee praised the performance of CEO Bill Oesterle and Chief Marketing Officer Angie Hicks Bowman. Still, they "did not receive new equity grants in 2011 because the compensation committee felt that their existing equity holdings offered sufficient retentive and incentive value at this time," the committee's report said.

Oesterle owns nearly $40 million in stock, while company namesake Bowman owns nearly $10 million, SEC filings show.

The company—which staged its IPO last November—hasn't granted as many options as ExactTarget or distributed them as broadly. But unlike ExactTarget, it does make restricted stock grants to senior executives. In 2010, Oesterle received $1.4 million in restricted stock and Bowman collected $3.0 million.

Executive compensation consultants and analysts say both options and restricted stock are powerful tools for attracting and retaining talent. But they say the cost—dilution to other shareholders, by increasing the number of shares outstanding—is sometimes overlooked.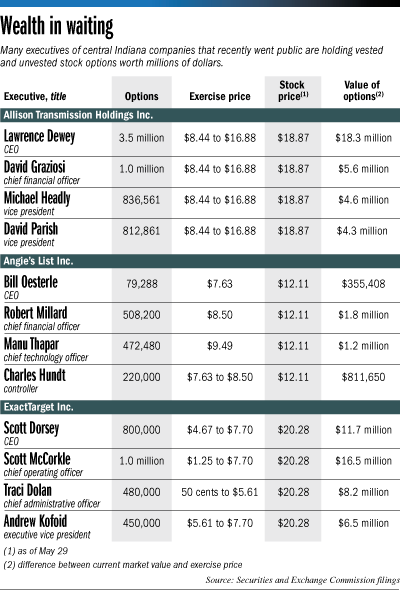 "It is nice to compensate your management team for doing a great job, but at some point you have to realize that in doing so the company is taking a financial hit," said David Menlow, president of IPOfinancial.com in Green Brook, N.J.

Spending the winnings

Pay watchdogs differ on whether restricted stock or options are more effective incentives. Restricted stock, which vests over a number of years, always has some value unless the share price falls to zero. Options, on the other hand, are worthless unless a stock price rises above the exercise price.

Option grants actually can have a demoralizing effect if they're deep underwater, said Metcalfe of Arena Consulting.

Plenty of executives at long-established Indianapolis companies know the feeling, thanks to company-specific challenges or the general economic malaise.

As of early this year, Eli Lilly and Co. CEO John Lechleiter held more than 700,000 Lilly options, but the exercise prices on all of them were at least $15 higher than the current market price.

Fortunately for Lechleiter, Lilly also makes stock awards, and he's received grants totaling more than $25 million over the last three years.

While that's big money, it's the fast-growing, young companies that often provide the greatest potential to build executives' wealth rapidly, Metcalfe said.

Consider ExactTarget, which didn't exist until 2000. It closed 2011 with $208 million in revenue, and its stock market value has swelled to $1.3 billion.

The wealth created in the wake of ExactTarget's and Angie's List's IPOs pave the way for future tech successes, as executives go on to start new businesses or plow their winnings into other local companies, said Scott Webber, chairman of Indianapolis-based Volatus Advisors LLC.

Webber should know. He was CEO of Software Artistry Inc., the city's first publicly traded software firm, which sold to IBM for $200 million in 1997.

Software Artistry talent and wealth have gone on to foster a long list of tech stalwarts since, including Aprimo Inc. and Interactive Intelligence Inc.

In fact, ExactTarget Chief Operating Officer Scott McCorkle was a Software Artistry vice president.

"You can look back at Software Artistry, and so many companies have some sort of connection back to that," Webber said. "The same thing is happening at places like Aprimo and ExactTarget. One begets a number, and a number more, and the pyramid grows."•