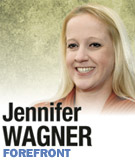 It's safe to say I was born a Republican. My parents were Republicans. My grandparents were Republicans. I always thought I was a Republican.
While I do not appreciate government sticking its nose into social issues, I'm fiscally conservative. I support a robust national defense. I strongly believe in personal responsibility.
But I was always taught that if you are fortunate enough to have, you have a moral duty to give to those who have not.
I always extended that belief to my ideal vision of government. The whole village raising a child thing made sense to me.
But I'm not the only person in my family who made the switch. My parents consider themselves Democrats now, though I haven't noticed any significant changes in their core beliefs.
It took recent polling from the Pew Research Center to help me understand what happened.
In 1987, 62 percent of self-identified Republicans said they believed the government should take care of those who cannot do it themselves. Since then, that number has declined to 40 percent, according to Pew's 2012 American Values Survey released earlier this month.
I was 7 years old in 1987, an age when formative values—charity, giving back, the Golden Rule—begin to take hold.
It's only natural that I would take these principles and apply them to government, finding solace in the concepts of Social Security and Medicare, the promise of quality education for all children and the creation of a safety net for those who fall on hard times.
The American Dream is a powerful narrative, but the American Reality is that we sometimes need a leg up to get there.
It upsets me to hear politicians, many of them Republicans, grandstanding on the decimation of that safety net.
It also makes no sense when you consider some of the arguments you hear for growth in the private sector, a favorite reference point for the GOP.
My favorite axiom? You have to spend money to make money.
Growing a business requires marketing, planning and, most important, human capital. A talented work force often translates into a strong, successful company.
Why, then, do we not apply this same standard to society at large and invest in our nation's basic needs the way a business invests in its workers?
If government commits to a higher minimum standard of living for all Americans, we all benefit.
Somewhere over the past 25 years, Republicans lost sight of the trickling down part of trickle-down economics. It's not acceptable to keep all of the opportunity at the top of the spectrum while starving those trying to climb up the bottom rungs.
The safety net works, but it requires a bit more compassion alongside today's version of conservatism.
Earlier this month, I found myself at my parents' house, the same house in which I grew up believing I was a Republican. They were having a garage sale, and we were selling five years' worth of girl clothes.
An older woman approached me about the bin of newborn pajamas, all marked $1 each.
"Would you be willing to sell these in bulk for 50 cents each?" she asked.
She explained that a number of young women at her church are pregnant but couldn't afford to buy new baby clothes, so she spends her weekends buying up items in good condition at garage sales.
I didn't hesitate to cut the cost of her purchase from $30 to $15.
It wasn't a political decision. It was the right thing to do. In fact, I'd like to think that helping those with less could transcend politics and imbue our governing philosophy as it clearly did decades ago. Until then, I suspect those who used to self-identify as Republicans will continue to move away from the party brand they once believed in.•
__________
Wagner is a lifelong Indianapolis resident and founding principal of Mass Ave Public Relations, a local public relations and publicity firm. Send comments on this column to ibjedit@ibj.com.
Please enable JavaScript to view this content.