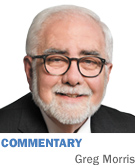 I've decided that most of us don't really share well. It started in our youth as we were taught to share our toys or play nicely in the sandbox together. While well-meaning, these concepts usually met with limited success. Today, we're told we need to share the road with bicyclists. I'm not so sure this is a popular idea, either.
I want to be supportive. I really do. But as I considered participating in "ride your bike to work day" recently, my thoughts turned to the dark side. Instead of actually getting on a bicycle and riding it to work, what I wanted to do was scurry around downtown in my vehicle and send a message to those crazy cyclists that they shouldn't try riding into work again anytime soon. I didn't do that, of course, but the thought crossed my mind.
No matter what cycling proponents say, for better or worse our roads are designed for motorized vehicles. That's an especially important thing to remember when it comes to congested downtown rush-hour traffic. Throw a bike lane on a road designed for motor vehicles and it's still just that.
I'm aware my opinion is counter to a lot of current well-meaning initiatives. But when I discuss this topic with people who work and drive downtown, most agree with me. Bicyclists are generally seen as a major hazard on the roadways. There is little buy-in for sharing the road with bicycles. These are regular folks who are just trying to go to work and get home every day with the least amount of hassle.
One of the biggest problems is that many cyclists routinely disregard traffic laws. I see some pretty crazy and scary things from cyclists from my perch at the corner of Pennsylvania and Washington streets. Many cyclists are considerate, but there seem to be an equal number who are downright dangerous. They go against the traffic. They don't stop at stoplights. They circle around until they see an opening and dart through the intersection. They weave in and out of cars that are stopped or moving slowly due to traffic. They alternate between the road and sidewalk while traveling at a fast clip, "buzzing" pedestrians.
As for motorists, how many of them have any idea what to do with the bike lanes installed downtown? I think 5 percent would be an optimistic number. As you're going north on Illinois Street and approach Fall Creek and want to turn right, are you aware of all the markings on the bike lane and do you know who yields to whom? It scares me to death. Luckily, I've never encountered a cyclist at that intersection.
You can be driving in heavy traffic surrounded by big SUVs, buses, delivery trucks and cars, then you have to worry about bicycles weaving in and out of traffic? It's a frightening proposition. I was driving south on Alabama Street this week and had three bicyclists in front of me. To their credit, all were following the flow of traffic and obeying traffic laws. But, they weren't moving as fast as the traffic. Just to my left was the beautiful and wide Cultural Trail, which has a lane just for them. Why weren't they traveling on that safe passageway?
Don't get me wrong. I'm not necessarily against the cycling initiative. I understand what cycling advocates are trying to accomplish. Cycling is a healthy activity, of course. Healthy is good. We've got to get up out of our chairs and get moving! I understand.
In addition, the city and a lot of great organizations are trying to find ways to facilitate the safe passage of pedestrians, cyclists, motor vehicles and mass transit on the same roadways. The Complete Streets policy initiative being considered by the City-County Council would be just the thing to get this done. I'm all for it. Let's get rolling. The difference will be that the streets will be designed to accomplish these goals and not designed solely for motor vehicles, like they are today.
But we're going to have to live with the way things are now for many years to come. So, as we transition to a friendlier "complete streets" city, let's all stay safe out there. In the meantime, I've got a proposition for cyclists: I'll work on my attitude and try to be more supportive of cycling advocates and sharing of the roadways. In return, I would appreciate seeing a higher percentage of cyclists obeying traffic laws and observing rules of the road while on streets and highways. Fair?•
__________
Morris is publisher of IBJ. His column appears every other week. To comment on this column, send e-mail to gmorris@ibj.com.
 
Please enable JavaScript to view this content.