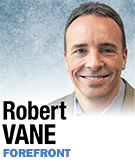 "Down ballot races" is a term often used to describe political offices that, while not unimportant, aren't exactly headline grabbers.
For example, in 2012, the governor's race will garner the most coverage and spend the most money.
But is it the most important race on the ballot this November?
Let me suggest for the purposes of this column that the state superintendent of public instruction's race may be the most crucial contest this fall—or at least 1A.
In 2008, Tony Bennett appeared on the political scene as the crispest breath of educational fresh air in decades. From southern Indiana, Bennett, though a school district superintendent and former teacher and principal, was certainly not part of the Indianapolis education establishment.
He brought not only decades of experience in education, but a Daniels-esque communications style that intermixed a folksy manner with a masterful command of facts and policy.
As Indiana superintendent of public instruction, Bennett has focused on improving student achievement by pursuing three key goals for Indiana schools: a 90-percent graduation rate, 25 percent of high school students taking and passing advanced placement coursework, and a 90-percent pass rate for the state's English and math tests.
Working closely with Gov. Mitch Daniels and the General Assembly, Bennett has implemented programs aimed at ensuring every classroom has an effective teacher.
In 2010, Indiana made changes to teacher licensing standards that ensure all teachers are experts in the subjects they teach and allow more highly skilled adults to change careers and become teachers.
Bennett's other priorities include ensuring Hoosier students can read at grade level by the end of third grade. He and his team place a premium on finding newer, more successful ways to work cooperatively with our state's teachers and other educators. This year, Indiana schools recorded their best-ever performance on state accountability measures, with a record number of schools receiving an A for their performance.
Teachers will be evaluated so their compensation is based on performance, not merely seniority. Under his leadership, more students are graduating from high school, the number of students taking advanced placement courses is growing, and student academic achievement is improving steadily.
Other achievements include:
• In 2011, 13.4 percent of all graduates passed an advanced placement exam, the highest mark in Indiana's history and second in the nation for improved performance.
• In 2011, 85.7 percent of students graduated from high school. Again, the highest percentage in state history.
• Indiana students are making steady gains on English and math tests, marking three consecutive years of improvement (7 percent total increase).
A big reason Bennett is the heavy favorite to win in November is that he would be the first to tell you these aren't his accomplishments, but rather those of students, parents, educators and mentors who believe our education system was long overdue for an infusion of raised expectations and the results that follow.
Simply put, Bennett's push for reforms became a call to action across the state. And, as I can just imagine him saying, the best is yet to come.
And given the strength of the Republican Party in Indiana and Bennett's superb record of achievement during his first term, this winning streak is going to get a little bit longer come this November.•
• Vane, a U.S. Army veteran, has worked for elected Republican officials including Indianapolis Mayor Greg Ballard, and currently owns the public relations firm Veteran Strategies. Send comments on this column to [email protected].
Please enable JavaScript to view this content.