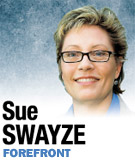 What an exciting time to be an American. While many believe politics is too divisive and wretched, I hear the crescendo of Americans waking up to a stark reality—that the next president will chart the course of U.S. history for the foreseeable future. What we're hearing now is the angst that must inevitably come before a revolution.
The presidential election will be the watershed moment of whether to keep or discard a nationalized health care scheme. Americans clearly told their government they did not want it. They got it against their wishes, the Supreme Court upheld it 5-4 (at least the court called it what it is: a tax), and now the process calls for Congress to vote.
Luckily, they get to elect a new Congress and president in November. Just what the Founding Fathers envisioned; the process is working.
While health care is the divining stick, there are other socialist-leaning issues in play: whether the federal government can refuse to enforce its own laws yet stop a state from enforcing them itself (immigration); whether taxpayers must pay for something they find abhorrent (abortion); whether the government can supersede religious freedom and require churches and faith-based institutions to participate in federal schemes that go against their faith (contraceptive and abortifacient coverage in the federal health care mandate); whether the federal government will uphold the rights of 31 states to set their own marriage parameters in their state constitutions by public vote, or whether it will strike down that protection and usher in homosexual marriage.
These are only a few issues on my dashboard. There are other examples, including foreign policy.
At issue is the role of government in the lives of its citizens, as well as the role of the federal government in relation to the states. It appears many have forgotten the vision of the Founding Fathers and the role of the U.S. Constitution, including our current presidential administration.
And while I, like many conservatives, am disappointed with the Supreme Court ruling on health care, I do appreciate the process and feel the urgency now that it is back in the hands of the voters to elect a Congress and president that will listen to their wishes next time.
So let's look at some bread crumbs voters are dropping along the way to this historic November vote. They rejected the role of unions and retained Wisconsin Gov. Scott Walker, continue to listen to Sarah Palin, and remain active in Tea Parties.
The sleeping giant has awakened in the Catholic Church's bold stand against forced participation in a federal health care scheme that goes against their very foundation, as evidenced by Religious Freedom rallies in over 150 cities around the country in June.
And while there isn't much we can do to soothe uncertainty in the financial markets and encourage businesses to continue to invest and create jobs before November, states are doing what they can to lessen regulations that discourage development, including the assurances of right-to-work, tax incentives and more.
Most in the political industry are continuing old-school tactics and missing a fundamental reality before them: The voters are awake and they want to take it back. They see that the left is trying to protect the turf it amassed while they were sleeping.
But now, to the disdain of the liberal media, many Americans who've never participated in a rally or raised their voices before are trying to reclaim what they've lost.
To this, I say thank you, Barack Obama, for waking us up and bringing us together. We'll make the Founding Fathers proud.•
• Swayze leads the Indiana Family Institute's Hoosier Congressional Policy Leadership Series and has held numerous lobbying positions with not-for-profit organizations. Send comments on this column to [email protected].
Please enable JavaScript to view this content.