Imagine a pipe carrying water pumped from under the Ohio River, in southeastern Indiana, that runs all the way to Indianapolis.

Or how about building a pipeline running 60 miles west, to pull millions of gallons a day from the Wabash River?

Picture those and you'll get an idea of what Citizens Water engineers have been pondering for the years ahead as Indiana's largest metro area struggles with drought and population growth that have strained its water supply.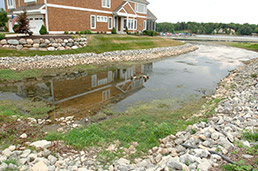 Citizens' reservoirs are all low. Geist, seen here, is down 2 feet. (IBJ photo/ Perry Reichanadter)
"Forty to 50 million gallons per day is the [additional] long-term need, perhaps as early as five years out," said Lindsay Lindgren, vice president of water operations at Citizens.

Tapping new water sources outside the White River watershed isn't likely to happen for at least 10 years. For one thing, building pipelines would be costly: $500 million to $750 million, according to 2010 estimates by the utility.

Citizens won't pursue such expensive public works projects until it has exhausted other options for increasing the local water supply.

Those vary from stepping up conservation programs to dredging existing reservoirs to free up more storage capacity. It could also acquire new places to store water for use when needed, such as gravel pits and quarries. And the utility might build a new water intake on the White River, south of the city.

Those who gripe about water taste will love this near-term idea: Take "highly treated" wastewater from the Belmont water treatment plant and pipe it north—releasing it upstream of Citizens' existing water intake on the White River.

Hard to swallow, perhaps, but reusing treated wastewater currently discharged downstream could be done on the cheap, at around $20 million to $25 million.

That same treated wastewater could be used to "recharge" other streams that lead to water intakes. It could also be used to recharge existing or future well fields from which Citizens draws water. What's used for drinking water would be treated before it arrived at one's tap, of course.

Or, treated wastewater could be used by some high-volume customers in lieu of what they now consume from the water system—for golf course irrigation or industrial processing purposes, for example. Such methods are already in widespread use in water-challenged cities out West.

Citizens' engineers have even more ideas. Imagine scooping flood water (if you can remember a time long ago when it rained here in buckets) from rivers and streams and pumping it into Eagle Creek, Geist and Morse reservoirs.

"We're looking at that right now," Lindgren said.

Water elsewhere

If all of this seems a bit drastic for a city that in some years is awash in water, take a look at your brown lawn.

"The particular location of Indianapolis, kind of far up the drainage way of a fairly minor river, and the limited aquifers in the vicinity, up to now have been adequate," said Jack Wittman, director of Geosciences at Layne Hydro, in Bloomington.

"But with even short-duration dry periods like this, you can see the limits."

Indiana, as a whole, "has tremendous water resources," said Vince Griffin, vice president of energy and environmental policy at the Indiana Chamber of Commerce.

Some of those resources have yet to be harnessed. For instance, there's an aquifer under Charlestown that extends like fingers under the Ohio River, Griffin noted.

Another underused resource, according to the state chamber, is the 282 million gallons per day of storage in reservoirs in Brookville, Patoka and the Lake Monroe reservoir.

Only about 45 million gallons per day, or 16 percent of the 282 million gallons, are committed for water supply through state contracts, according to the chamber. It cites these water resources as part of a plan to improve the state's economic prospects, known as "Vision 2025."

"The challenge is, we need to identify where is the water, where is the water needed, and how are you going to get it there?" Griffin said.

Turf tussle

But proposals to obtain water for Indianapolis from elsewhere didn't go well last time around.

Seven years ago, former Indianapolis City-County Council President Beurt SerVaas proposed a pipeline from Indianapolis to Lake Monroe through his company Aquavisions.

The proposed $200 million project that would have drawn up to 90 million gallons a day drew critics in Bloomington. Griffin remembers one legislator from that area comparing the plan with theft, akin to, "When you pry my cold, dead hands off my pump handle—then you can have my water."

Gov. Mitch Daniels eventually weighed in against it and the idea appears to be kaput, at least for now.

But Citizens has also considered tapping other reservoirs outside the region, including Brookville Lake. The utility also sees potential in tapping the Big Blue River aquifer in Shelby County.

Citizens' Lindgren said the challenge of such potential water sourcing projects is the land acquisition for the pipelines, not the engineering.

"The problem is more political and policy," said Wittman of Layne Hydro. "The people on the other end of the pipe [need to] feel comfortable that you're not out there raiding a resource."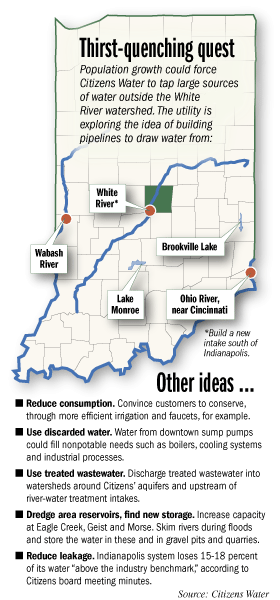 That might take some doing.

"There are going to be a lot of other communities in southeastern Indiana that are going to have an interest in Brookville water," pointed out Tim Maloney, senior policy director at Hoosier Environmental Council.

Talking, plan needed

Given the competition that will exist for water in future years, there's a need for better long-term resource planning on the state level, experts agree.

Indiana has more than 800 water utilities.

"Wouldn't it make a lot of sense to get together and think about this?" said Griffin, who is a proponent of broader water-resource planning.

Severe, periodic droughts dating to the 1950s have sparked a number of task forces over the years. But they've had limited success in developing anything that could be considered a long-term, statewide plan.

Last year, the Indiana General Assembly passed a measure requiring water utilities to provide more information on resource planning to the Indiana Utility Regulatory Commission. The commission, in turn, is to present information it collects to a legislative committee.

Griffin said he hopes the data will ultimately pay off in the form of a comprehensive plan.

"If you don't have water, if you don't have energy, you don't have an economy. Both of these are clearly being challenged today," he said.

"I don't think there's any way around it," Wittman said of water supply planning. "Weather will force it."

He applauded Citizens for thinking long term, saying a diversified source of water is important given how individual watersheds around the state can vary widely in how they're affected by drought.

Wittman said water utilities must also look more closely at the consumption side of the equation, which could lead to more conservation and methods for reusing water.

Conservation for now

The effects of conservation cannot be underestimated.

Earlier this month, Citizens said mandatory water restrictions, including a ban on lawn-watering, reduced usage across its system by 40 million gallons a day.

That's almost as much as Citizens anticipates needing in additional daily supply by 2025.

In fact, usage dropped more than 70 million gallons a day since an all-time single-day usage record on June 26 of 233 million gallons.

The Hoosier Environmental Council also credits Citizens for long-term planning. Maloney said it's premature at this stage, however, to begin work on big-dollar capital projects, such as water pipelines crisscrossing the state, when conservation holds so much promise.

He noted Citizens is working on improving its water conservation and drought planning and that there's talk of implementing a rate structure that would charge less when a customer uses less water.

Citizens also has been working to reduce water system leaks and to improve metering accuracy.

"These are the practices and actions that should be fully explored and implemented before they look at high-dollar capital projects that would increase supply," Maloney said.

Usually, Citizens water production averages about 175 million gallons a day in July. Its system is regarded as adequate for most periods, including summer months, although prolonged drought has caused usage spikes.

A certain amount of water must be discharged, not just to supply downstream water treatment plants but to maintain some level of water flow in rivers. The utility's reservoirs are down, ranging from 2 feet at Geist to nearly 6 feet at Morse.

Citizens plans to submit an updated water conservation plan to the IURC in late August.•