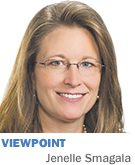 As I drove to the airport recently, I couldn't help but notice all the sprinklers watering lawns in front of houses, businesses and sports fields. That was in complete contrast to what I would see a few hours later in Phoenix.
There were no sprinklers. Instead of lush green lawns, I noticed beautiful groupings of native vegetation, awnings and shade structures that shielded sidewalks and buildings from the glaring sun.
For places like Phoenix, dry summers are a way of life and residents appear to have learned how to make the most of their resources. How do Hoosiers compare? After Indy's water ban is lifted, will Hoosiers go back to watering their lawns? Or, will this summer's drought cause us to consider alternatives?
My hope is that, as a community, we look at water conservation and usage more broadly and determine what we can do to reduce water consumption. While we cannot predict the next drought, we can do a better job of managing our need to minimize the depletion of our water supply.
Yes, we need to take the standard conservation measures of turning off sprinklers, washing fewer loads of laundry, and holding off washing the car. But the bigger issue is the built environment, which can be a major strain on all of our natural resources.
Indianapolis needs to adopt smart growth planning and development, which means building communities designed to preserve the environment, protect water and air quality, reuse already developed land, reclaim historic buildings, and conserve resources by investing in existing infrastructure.
To do this, we need to consider more compact structures on smaller lots, which use less energy and less water. In Indiana, we tend to build expansive structures on large lots that require new infrastructure. Doing so leads to a couple of significant scenarios.
One, we use more water than necessary because sprawling development requires longer transmission systems that are more susceptible to water loss due to leaks and pipe breaks. Consider this: About 25 percent of the total U.S. water usage comes from leaks and breaks. A faucet drip might seem like a drop in the bucket, but all those drops add up. The American Society of Civil Engineers estimates the United States loses 7 billion gallons of water a day from leaks and breaks that occur in the water lines serving our homes and businesses.
Two, Citizens Water estimates that lawn watering accounts for nearly 40 percent of metro Indy's water consumption. The ban has helped reduce that amount, but there are more steps we all need to take—not just for this summer, but long term.
When landscaping, consider native and drought-resistant plants. They don't require as much water and will withstand the heat better than plants cultivated in other parts of the country. Use rain barrels to collect water, then reuse it to water plants. Consider rain gardens and bio swales. Both capture and retain rainwater. Run-off can be collected and reused for everything from watering lawns to flushing toilets. Pervious pavement alternatives allow runoff water to percolate back into the ground, which will help recharge aquifers and groundwater sources. Green rooftops also help conserve water.
Most of all, when the water ban finally is lifted, let's not go back to our old ways of dumping gallons of water on our grass. Let's pause the sprinklers a little while longer and make just one change to how we use water. Let's follow Phoenix's lead and implement ways to conserve water in Indiana's built environment.•
__________
Smagala, an architect, is president of Synthesis Inc. in Indianapolis and a member of the American Institute of Architects.
Please enable JavaScript to view this content.