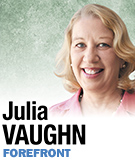 With the Purdue University job awaiting him, Gov. Daniels is apparently taking a Rube Goldberg approach to state government. That's about the only way to explain his remarks following the announcement that the state was on the losing side of the lawsuit with IBM over the Family and Social Services Administration privatization debacle.

According to the governor, "it's all been well worth it," even though countless vulnerable Hoosiers were wrongfully denied and/or delayed in receiving vital human services, and even though taxpayers will be forking over the $52 million legal judgment as well as paying nearly $10 million for Daniels' hand-picked and pricey private lawyers from Barnes & Thornburg who lost in court.

I guess he can take a cavalier attitude when it wasn't his family member denied services or his money at stake, but for someone nicknamed "The Blade" to claim this disaster has been "well worth it" is astonishing.

This entire mess could have been avoided had the Daniels administration listened to the human service advocates who warned them of the perils of privatization or read the reports from Texas, which was terminating a welfare privatization project just as Indiana was embarking on its ill-fated journey.

The straightforward solution would have been to hire more caseworkers and invest in modern technology to help them do their jobs. Instead, we got the Rube Goldberg privatized solution that was abandoned after a couple of years without ever being fully implemented.

This whole idea was horribly misguided from the start, as is the concept that any private interest should profit from the administration of public welfare benefits for the elderly, poor and disabled. There are some jobs that government is obligated to do and that are simply inappropriate for profiteering; determining who gets public assistance is one of those.

The warning signs that trouble lay ahead were obvious from the start of this boondoggle. For example, only two companies responded to the state's privatization request for proposals and one eventually dropped out of the process. That should have given state officials the clear message that they were starting down an extremely slippery slope. Yet they forged ahead and shared the details of their plan with the public only days before inking the 10-year, $1 billion deal with IBM.

Of course, key individuals in the Daniels administration had real motivation to make it happen. Privatization of eligibility gave the governor another opportunity to stick it to the public employees union, since the county-level caseworkers were often active union members. And the FSSA secretary at the time, Mitch Roob, had worked for ACS Human Services, which was the primary IBM subcontractor.

In his decision, Judge David Dreyer notes the Roob/ACS conflict of interest and points out that many of the problems that surfaced centered around their poor performance, not IBM's failures. This conflict is particularly troubling when considering that ACS remains in place to this day and that it just happens to also be represented by Barnes & Thornburg, creating yet another conflict of interest.

And while I understand the state's need to settle this dispute in court, its insistence on hiring the much-conflicted Barnes & Thornburg instead of using the Attorney General's Office was an expensive and bad decision that shouldn't be compounded with an appeal. It's time to cut the losses to the state's bank account and the public trust. This whole affair smells of inside deals and cronyism.

I'm glad that, since firing IBM, the state has improved its ability to efficiently and accurately get public benefits to needy Hoosiers. That's particularly important since recent reports indicate the poverty rate continues to grow in our state.

But the process was made far more complicated, expensive and painful than it needed to be. Rube Goldberg might be proud of the convoluted route we took, but anyone else should be disappointed.•

• Vaughn is policy director for Common Cause/Indiana, a nonpartisan citizens lobbying organization that works for open, honest and accountable government. Send comments on this column to ibjedit@ibj.com.