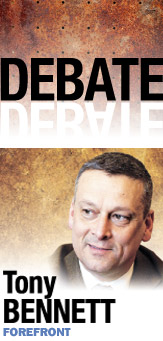 QUESTION: In the past four years, the state has taken control of five underperforming schools; urged that all third-graders pass a reading test before advancing to the next grade; limited collective bargaining rights of teachers' unions; and required districts to conduct annual teacher evaluations. How have the reforms affected local control of schools?

ANSWER: When I took office in 2009, the Indiana Department of Education set high expectations for our children. My staff and I set ambitious goals for student achievement: improving ISTEP+ pass rates and high school graduation rates, having more students taking Advanced Placement exams, and increasing the number of college credits and technical certifications students earn in high school.

To reach these goals, Indiana required new policies that would empower local school leaders to make decisions based on the needs of their students and to give all families access to high-quality educational options. We required a new focus on reading, the foundation for success in school and life. Finally, we required new ways to recognize and reward some of the most important adults in our students' lives, their teachers.

During my tenure, DOE and Indiana's lawmakers have worked diligently to accomplish these policy goals. By every measure, students are performing at higher levels today. More students are passing state assessments, graduating from high school and passing challenging Advanced Placement exams than ever before in our state's history.

These gains are the result of efforts as a state to improve the educational environment for our children, their families and the educators working hard to teach them.

Research tells us that, after the third grade, children must begin to use their reading skills to learn in every subject area. Indiana now has policies to identify those students who do not have the basic reading skills required for success after third grade. Instead of passing these kids along, local educators are making sure they receive targeted instruction so they can learn to read.

For the first time, Indiana enforced state law and intervened in our state's lowest-performing schools. These are schools that failed year after year to give students the most basic skills required for success in college and the work force. And to help struggling schools before they need drastic intervention, DOE awarded millions in grants to support locally developed plans to produce rapid gains in student achievement.
Finally, we believe students succeed when great teachers are in the classroom. Recent changes to state law require locally developed, annual evaluations for teachers and principals that are based, in part, on student performance. This makes it possible for local school leaders to recognize the best teachers, identify struggling teachers and provide meaningful feedback for improvement.

No longer will pay increases, promotions and layoffs be based solely on seniority. Local leaders are now empowered to attract and retain highly effective teachers.

Together, these changes mean local districts have more opportunities to ensure every classroom has an effective teacher.

We have set ambitious goals for our students and for our state. We've increased flexibility across the board for local school districts to make decisions in the best interests of students. We are enforcing strict accountability and offering unprecedented support. Indiana is setting the bar high as we focus our efforts on providing all students an education that is the best in the nation and competitive with countries around the world.

Our bold plan is working for Hoosier schoolchildren, and we look forward to the opportunity to continue this work on their behalf.•

• Bennett, a Republican, is running for re-election as state superintendent of public instruction. Send comments on this column to ibjedit@ibj.com.