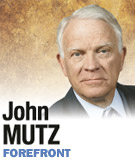 Indiana school corporations no longer have a monopoly on public school programming because the charter movement has given families a choice. But charter schools do not have financial support from state or local government to build, remodel or lease locations for their schools.
A charter school receives a grant for each student enrolled on a specified date equal to the amount given "regular" public schools in the district where the charter school is located. However, state aid or property taxes are not provided for charters while public schools receive support for transportation of students and for construction of school facilities. This money comes from property taxes and the auto excise tax in each county.
Since charters are now being accepted as a desirable alternative, some form of assistance for school facilities should be part of the mix. Right now, charter sponsors must raise the money to build or remodel facilities or find a landlord who is willing to lease or build a building. In addition, money is not available for transportation of students.
Nationally, of the 42 states that have charter schools, 11 offer some support for school buildings. However, Indiana does have a law that gives chartering organizations a preference when existing buildings become available in a school district.
Three forms of support for charter buildings are possibilities in Indiana.
The state could create a single authority that would own all school facilities. It would sell bonds to finance the facilities and then lease the buildings to local school districts. This authority would be granted property taxes from each county. Since the local property tax levy is a decision made by officials in each county and made on the basis of local preferences, it is unlikely this idea could even be considered seriously by the Legislature.
The second option would be a local construction authority, which would have the same powers as the state authority except that its decisions would apply only to a particular county. This might work in Indiana if the authority could adjust to the needs of an individual district. Questions would arise about new basketball arenas and argument could pit one school system against another.
In addition, there is a lot of pressure on local county officials to use the property tax for other governmental functions such as public safety. It is unlikely this idea would pass the Legislature because property taxes are capped, making it difficult to add another use.
The third option would be through legislation to make it easier for school districts to privatize or lease from outside investors. Many charters use this option now, but the opportunities are limited, particularly in communities that do not have large philanthropies or willing investors.
Unlike regular school corporations, charters cannot use the property tax base to secure bond issues. The Legislature could provide a credit-enhancing process that would make it easier to entice banks, investors and philanthropies to provide capital for land, buildings and improvements to existing structures.
For example, the Indiana Finance Authority could be given authority to guarantee transactions involving buildings for charter schools This option is probably the most politically feasible, and tax money is not used for the building, only the credit rating of the state authority. For taxpayers, the cost of charters would still be considerably cheaper per student than the traditional public schools because construction and transportation funding would not be required.
Now is the time for Indiana to be more aggressive in pushing the charter movement forward as the rest of the country pushes harder for this option for parents. Nationally, the number of charter schools grows at a rate of 7.5 percent a year and the waiting list totals more than 600,000 parents.•
• Mutz has held leadership positions including lieutenant governor and president of Lilly Endowment and PSI Energy. Send comments on this column to ibjedit@ibj.com.
Please enable JavaScript to view this content.