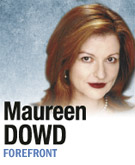 At a fundraiser for the president at his Westport, Conn., estate recently, Harvey Weinstein spoke in a softly lit room shimmering with pink dahlias, gold Oscars, silvery celebrities and black American Express cards.
"You can make the case," Weinstein said of Barack Obama, "that he's the Paul Newman of American presidents."
Mr. President, except for the eyes, you are sort of like Paul Newman.
"I've been accused of being aloof," Newman told me once. "I'm not. I'm just wary."
The star scorned the hoops he was expected to jump through in his profession and did not like feeling beholden.
"If people start treating you like a piece of meat or a long-lost friend or feel they can become cuddly for the price of a $5 movie ticket, then you shut them out," he told me.
Just so, the president does not think people should expect too much in return for paying $35,800 for an hour of his time, as they did at the Weinstein affair, or in return for other favors.
Obama smashed through all the barriers and dysfunction in his life to become a self-made, self-narrating president. His brash 2008 campaign invented a new paradigm to upend the mainstream Democratic powers.
So it's understandable if Obama, with his Shaker aesthetic, is not inclined to play by the rococo rules of politics.
Yet, as the president struggles to stay ahead of Moneybags Romney, his selective insensitivities may be hurting him.
Stories abound of big donors who stopped giving as much or working as hard because Obama never reached out, either with a Clinton-esque warm bath of attention or Romney-esque weekend love fests and Israeli-style jaunts; of celebrities who gave concerts for his campaigns and never received thank-you notes or even his full attention during the performance; of public servants upset because they knocked themselves out at the president's request and never got a pat on the back; of VIPs disappointed to get pictures of themselves with the president with the customary signature withheld; of politicians disaffected by the president's penchant for not letting members of Congress or local pols stand on stage with him when he's speaking in their state watch from the audience and sometimes have to lobby just to get a shout-out.
Care and feeding has been outsourced to Joe Biden, who loves it, but it doesn't build the same kind of loyalty as when the president does it.
"He comes from the neediest profession of all, except for acting, but he is not needy. And he doesn't fully understand the neediness of others; it's an abstraction to him," says Jonathan Alter, who wrote "The Promise" about Obama's first year in office and is working on a sequel. "He's not an ungracious person, but he can be guilty of ingratitude. It's not a politically smart way for him to operate."
Obama wants to be a policymaker, not a glad-handing pol. Sometimes after political events, even small meetings, he requires decompression time. Unlike Harry Truman or George Bush Senior, he prefers not to mix relaxing with networking. He sticks mostly to golf with his male aides.
"Needy politicians, like Bill Clinton, recharge at political events," says Alter. "But, for Obama, they deplete rather than create energy."
From the first time he made a splash with an anti-apartheid speech at Occidental College, says David Maraniss, the author of "Barack Obama: The Story," he has been ambivalent, even perverse.
"He realized that he could stir crowds while also thinking to himself that it was all a game and posturing," the biographer said.
What will save him, Maraniss believes, is his fierce competitive will. "His is cool and Clinton's is hot, but they burn at the same temperature inside," he said. "So he does some of what he finds distasteful, but not all of it, and not all of it very well."•
• Dowd is a New York Times columnist. Send comments on this column to ibjedit@ibj.com.
Please enable JavaScript to view this content.