Ramon Loucks would be thrilled if IOM Grain could load its corn and soybeans aboard a train in Indiana bound directly to West Coast ports and on to his customers in Asia.
Instead, the Jay County exporter shells out $650 to $1,350 to truck a load to rail terminals in Columbus, Ohio, or to delay-prone Chicago, where additional charges often stack up. Even if IOM could afford to ship by train in Indiana, the loads would go through the Chicago bottleneck.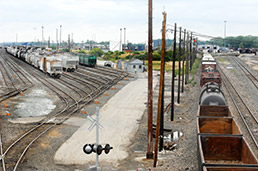 CSX's Avon rail yard handles only about 36,000 containers a year, but an INDOT study says it has capacity to handle 100,000 or more if it were upgraded. (IBJ photo/Perry Reichanadter)
"We need to have a gateway to the world" in Indiana, said Loucks, IOM's president. "Deals are made and broken by pennies."
Central Indiana's rail terminal to the world is CSX Transportation's Avon yard, in Hendricks County. But don't look for much in the way of rail shipments from here directly to the West Coast. The yard operates well below capacity. Meanwhile, CSX has been investing hundreds of millions of dollars in infrastructure upgrades to terminals in Ohio and farther east.
Central Indiana appears to have missed the proverbial train when it comes to freight rail development, especially to the West. It comes at a time when China, Japan and other parts of Asia have become more important trading partners than ever.
The Avon yard does have a connection to the West Coast. But it's mainly for freight that arrives here from Los Angeles for a clothing retailer in Indiana.
The freight comes via the Union Pacific to St. Louis, where CSX picks it up and brings it east. CSX operates east of the Mississippi River.
But local logistics leaders hope for additional connections with western railroads by which CSX would haul freight to and from Avon.
They also are looking at ways to reduce the cost of shipping freight west via the main gateway of Chicago.
The bottom line, said Mark DeFabis, president and CEO of Plainfield-based Integrated Distribution Services: "How can we make it cheaper and faster from the West Coast?"
Avon a mere siding
The ideal situation would be the long-talked-about expansion of CSX's Avon yard.
According to the 2011 Indiana State Rail Plan study, commissioned by the Indiana Department of Transportation, Avon handles about 36,000 containers a year, "although the yard has the capacity to handle 100,000 containers with little additional investment."
Contrast that with the $850 million, CSX-led effort to expand and build new rail freight terminals under the so-called National Gateway program. CSX is improving its processing of freight between the Midwest and East Coast ports. Part of the project included the construction of a northwestern Ohio terminal, in North Baltimore, Ohio.
That Ohio hub, built on 500 acres and employing 200 people, allows CSX to bypass choke points like Chicago. It can handle nearly 2 million containers and trailers a year—dwarfing the Avon yard.
The Indiana State Rail Plan states that terminals CSX is building in Ohio don't overlap as much with its Chicago operation, while Indiana is closer to Chicago.
"The primary reason for the relative modesty of Indiana's intermodal terminals is the state's proximity to Chicago," the report says.
"I don't agree with that," said IOM's Loucks, who contends Avon is plenty far away from Chicago rail operations.
"I don't think CSX is that interested in Indianapolis," Loucks added.
CSX officials did not return phone calls.
David Holt, a vice president of logistics initiative Conexus Indiana, was more diplomatic. He noted that CSX has a broader strategy; its network involves some 23 states east of the Mississippi.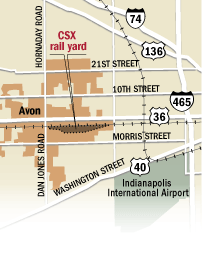 While Ohio won the big economic development prize, Hoosier logistics leaders hold out hope for additional Avon connections to the West.
The current connection involves shipping goods from Los Angeles to Avon for TJX Inc., parent of TJ Maxx and Marshalls. Service began in 2008, with Union Pacific shipping the freight eastward to St. Louis, where it is transferred to CSX trains.
Previously, TJX had shipped goods via Chicago, then trucked it to Indianapolis. The Avon direct service eliminated so-called detention charges on shipments into Chicago. It also meant TJX could have goods unloaded at its west-side warehouse just two hours after the train arrived in Avon.
Holt said there are prospects for additional service between the West Coast and Avon, although it was too early to elaborate.
Making do for now
DeFabis wonders, "How can we get the railroads to cooperate to get direct service in here?"
Until that happens, his Integrated Distribution Services and other logistics providers are looking for ways to shave costs of shipping west, through Chicago.
"It gets very expensive to bring 40-foot containers directly into Indianapolis," DeFabis said of sea containers that come off of ships, are placed onto trains, then eventually trucked here from Chicago.
Steamship companies are reluctant to see their containers move far inland, and sometimes there are shortages of equipment in Chicago needed to truck the containers here.
So transferring three container loads to two, standard, 53-foot trailers bound to or from Chicago might be a way to reduce the cost of shipping west.
One could put containers on existing rail lines between Chicago and Indianapolis, but for smaller volumes that's costly compared with truck.
CSX operates 1,027 miles of track in Indiana.
About 40,000 steamship container loads that now go from the West Coast to Chicago and then to central Indiana each year might be suitable for conversion to direct rail service, according to the state's rail report.
It says there's likely enough space for the Avon yard to handle perhaps even 150,000 containers per year.
"The increased capacity would enable sufficient container volumes to justify direct service to/from the West Coast, which would bypass Chicago," said the state report prepared by consulting firm Wilbur Smith Associates.
One big caveat, though, said Loucks: "You can't make a railroad do something they don't want to do."•
Please enable JavaScript to view this content.