No, I don't dress as an elf (although there's nothing wrong with that), stay up all night playing Pathfinder, or paint miniature dragons. But I still love GenCon, the annual, hard-to-resist takeover of downtown Indy by game players of all sorts.
My quest every year is to find great new board and card games that you don't have to be a hardcore gamer to enjoy. That is: Games that are relatively easy to learn and enjoyable even for those whose experience is limited to Eucre and Scrabble.
Here's the best of what I found at this year's convention.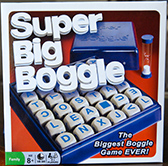 (IBJ Photo/ Perry Reichanadter)
Let's ease in with a variation on one you probably know. Super Big Boggle (Winning Moves Games) is such a good idea that I'm shocked that nobody thought of it earlier. As a reminder, the standard game of Boggle features a four-by-four array of letter cubes. Once they are shaken and settled in place, you form as many words as you can, scoring points for words that you find that aren't on your opponents' lists.
Super Big Boggle upsizes the grid to six by six and is great fun to play. The downside? You feel even lamer when you can't come up with many words longer than four letters.
With the awkwardly named Pathagon (Maranda Enterprises)—which I first read quickly as Pathogen—you and an opponent may find yourself playing rematch after rematch. The goal is simple: Make your octagons connect the top and bottom of the board while your opponent is trying to connect the left and right sides.
A few simple rules for trapping make it difficult and fun in a nicely designed wooden game that forces you to always think a step or two ahead. A great game to play while you wait for the rest of your gamers to show up.
If that seems too simple, then consider another game, Dotzee, from the same company. This one features a four-by-four grid of heavy, oversized dice.
The bulk of the game is spent removing a die, rolling it, and then deciding whether to put it back in the same space or slide the other dice in its column or row and placing the rolled die in the now-empty spot. The mission is to form as many straights, flushes, two pairs and/or four-of-a-kinds as possible. It's playable for 2 to 6 players, but the wait time between turns makes it best to keep it to two or three.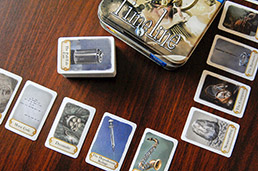 In Timeline, the goal is to figure out the order in which inventions/discoveries happened.(IBJ Photo/ Perry Reichanadter)
Timeline (Asmodee) isn't the most original idea for a game. But it's easy to learn and compulsively replayable. I tried the Inventions version (there are others that can be played independently or combined), in which an invention card is played in the center of the table with its creation year showing.
The first player has to take one of his invention cards and put it with the first card in chronological order, guessing whether his invention came before or after the displayed one. If correct, the next player has to fit one of his inventions into the order. Miss one and you trash it and take another card. First player out of cards wins. Think it sounds easy? Then tell me which came first, the tuning fork or the encyclopedia?
I was resistant at first to Dixit, a 2010 hit that spawned this year's Dixit Journey (Asmodee). And you may be, too, given the fanciful artwork on its cards and the seemingly arbitrary nature of its game play.
But I was soon won over. As a player, you come up with a word, phrase or sentence regarding one of your cards. The other players try to find one in their hands that also pertains to whatever you said. These are then mixed up and another player has to try to guess which is yours. The trick is finding a clue that will get some but not all of them to identify your card. Trust it and you'll have a good time.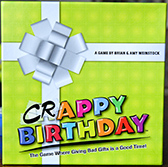 (IBJ Photo/ Perry Reichanadter)
Crappy Birthday (North Star Games) is another in the Apples to Apples style of games where you try to guess other people's preferences. Players are dealt a hand of birthday gifts. When it's your turn, the other players each give a gift to you and you decide which is the worst. Of course, one person's treasure is another's junk. Or, to be specific, for some, an ice fishing weekend is far preferable to a hairless cat, 20 tanning sessions, or a two-week stay at a gymnastics camp.
Looking for a good game for kids that has some educational value? 5th Gear (Talicor) is a colorful newbie in which players roll a pair of 12-sided dice to determine where they can place gears on a grid. Roll a 24 and you can either put one on 24 or one on 14 and another on 10. The goal is to link five gears so that they rotate together. Of course, young kids may find themselves just playing with the gears independent of the game. And that's OK, too.
Given what's going on in pop culture lately, it's no surprise that zombie-themed games were big at GenCon this year. I didn't have time for them all, but had fun with Eaten by Zombies: In Cahoots (Mayday Games), a card game in which players confronted with the undead choose to fight or flee. The problem is, when you flee, the creatures return during the next round, two at a time. Then three. The ratcheting up of the tension—and the cool mini-ammunition box the game comes in—help this one stand out.
And, finally, yes, Dominion: Dark Ages (Rio Grande Games) is an expansion of the popular Dominion games I've talked about in previous years. But since this is the GenCon acquisition I'm likely to play most often, I would be remiss if I didn't tell you about it. Everyone starts with the same set of cards, but each hand becomes unique through the acquisition of action and treasure cards. The goal is to eventually buy up provinces, duchies, etc., but doing that too early clogs your hand with useless cards. In this version—which can (and probably should) be combined with others, times are very tough and succeeding in your goals is a struggle requiring smart buying, patience, and avoiding rats, pillagers, etc. I can't wait to play again. And again.•
____________
This column appears weekly. Send information on upcoming arts and entertainment events to lharry@ibj.com.
Please enable JavaScript to view this content.