WellPoint Inc. CEO Angela Braly wouldn't have half the headaches she's battling these days if not for UnitedHealth Group Inc.
The giant Minnesota-based rival of Indianapolis-based WellPoint appears to have done just what the doctor ordered leading up to and after the passage of the 2010 federal health care reform act that will transform the health insurance business.
As a result, UnitedHealth has been enjoying healthy profits, growing customer rolls and a rising stock price—things that WellPoint has been unable to match. That tough comparison lies behind some of the investor ire that has boiled over against Braly in the past month.
Braly, 51, is now building up areas of WellPoint where UnitedHealth already excels. That includes the business of serving Medicare and Medicaid recipients, a segment that's expected to grow rapidly in the coming years, and programs keeping patients healthier and in need of less health care.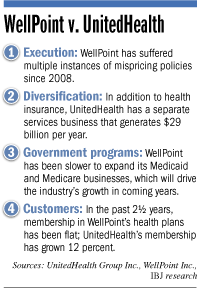 But she has a long way to go. UnitedHealth has taken 10 and in some cases 20 years to assemble the pieces of its business that are now helping it thrive in the post-reform environment, which features smaller profit margins and greater government involvement.
WellPoint designed its business primarily to serve employers and individuals buying insurance with their own money—and it was arguably more successful than anybody at doing that. But now those commercial segments aren't growing, and employers are pushing back harder than ever on premium rate increases.
"WellPoint has been very, very commercially focused up until now," said Ana Gupte, an analyst of health insurance companies at Sanford C. Bernstein & Co. in New York. "They've taken awhile to diversify."
Both WellPoint and UnitedHealth issued statements in response to questions for this story, but neither made executives available for comment.
Investors and analysts like Braly's game plan for the future—even if they feel it was late in being developed. What they don't like is all the fumbles that keep happening along the way.
WellPoint has mispriced its business three times in the past four years—which is the health insurance equivalent of not holding on to the football. In addition, it has fallen short of its profit forecast in two of the past three quarters.
"We have lower confidence in WLP's execution after another earnings disappointment," wrote Morgan Stanley analyst Melissa McGinnis, using WellPoint's ticker symbol, when she lowered her rating on the company on Aug. 17. "We do not advocate waiting for better execution, given compelling investment opportunities elsewhere."
It's not clear that the blame for these mistakes should fall to Braly, other than because she is the CEO. WellPoint is a massive organization, with 38,000 employees operating Blue Cross or Blue Shield health plans in 14 states. The company insures 33.5 million people.
But Braly's critics blame her for the companywide miscues. In addition, they point to at least two recent moves that fall squarely on her shoulders.
First, after WellPoint unveiled a widely praised deal this summer to buy Virginia-based Amerigroup Corp. for $4.9 billion, it was revealed that Braly raised the offer for the company from $83 per share to $92 per share even though, according to Amerigroup's narrative of the deal, no other company made a formal competing bid.
"Come on, Angela. Where's the responsibility to shareholders. You've got nobody bidding against you and you got bid up?" said Sheryl Skolnick, a health care analyst at CRT Capital Group LLC in Connecticut.
In Braly's defense, a shareholder lawsuit indicates there was a competitor to fend off. The suit, filed against Amerigroup's board of directors, claims that there was another bidder in play talking about—but never formally offering—an even higher price.
Braly, who has been WellPoint's CEO for five years, also lost credibility with investors and analysts in July after WellPoint missed its profit targets and lowered its full-year profit forecast—just two weeks after affirming them publicly.
And to make matters worse, Braly insisted in a July conference call with investors that WellPoint was the first company to see consumers going in for more surgeries after a three-year slowdown during the recession. But nearly all of WellPoint's main competitors reported that rise nine months ago, and adjusted their 2012 outlooks accordingly.
"I don't buy it," Gupte said of Braly's explanations, and most other analysts that follow WellPoint say the same.
Harsh words
The string of blunders has many investors calling for Braly's head.
Royal Capital Management LLC, a hedge fund that owns nearly 839,000 WellPoint shares, called for Braly's ouster in an Aug. 22 letter obtained by Bloomberg News.
"We believe there is one—and only one—explanation for WellPoint's underperformance: well-deserved investor antipathy toward Ms. Braly as a result of a regular cadence of managerial blunders that has plagued her term as CEO," wrote Royal Capital partners Robert Medway and John Lancefield.
Two WellPoint board members have spoken publicly in vigorous defense of Braly—but the unusual fact they did so has only confirmed the intensity of the criticism she faces.
Braly and WellPoint board members have had numerous private meetings with investors and analysts to try to smooth over their concerns.
Skolnick said she has had multiple conversations with investors who either want the CEO of Amerigroup, Jim Carlson, to replace Braly or who are actively looking for qualified candidates they could suggest to the board—either informally or, if that's unsuccessful, through a formal proposal at WellPoint's shareholder meeting next year.
"I'd be surprised," Skolnick said, when asked if Braly will be CEO of WellPoint a year from now. "A lot of things have to go right for her. She has to become a woman of far more substance."
It's the kind of situation that UnitedHealth CEO Stephen Hemsley can relate to. He barely survived the investor backlash against UnitedHealth in 2006 after it was revealed that the company had backdated stock options to generate inflated payouts to executives.
Hemsley, who had been president, replaced company founder Dr. Bill McGuire as CEO and began trying to fix the company's many problems—not the least of which was its troublesome integration that same year with California-based PacifiCare Heath Systems Inc.
UnitedHealth had many assets with which to orchestrate a turnaround, primarily the broad array of IT businesses that McGuire had acquired and successfully integrated. Those include the well-known Ingenix database of health care provider charges, as well as disease management and financial services units.
They now operate under the brand name Optum, and account for nearly one-third of UnitedHealth's total business.
In addition, UnitedHealth has been growing its government business since the 2002 acquisition of AmeriChoice, which launched UnitedHealth strongly into the business of managing low-income Medicaid patients. Now, a decade later, WellPoint is doing the same thing with Amerigroup.
The acquisition of PacifiCare greatly expanded UnitedHealth's presence serving seniors in the Medicare program.
"United has had a decade to make mistakes in businesses," and WellPoint is just now gaining that expertise, Skolnick said.
Gupte noted that, except for the PacifiCare troubles, smooth integration of acquired companies has become a "core competency" at UnitedHealth that she does not think is matched to the same degree at WellPoint.
UnitedHealth still has weaknesses, not the least of which is its bad reputation with health care providers. In a recent survey of hospitals about contract negotiations, UnitedHealth ranked worst in the industry in four out of six categories. WellPoint ranked lowest in just one.
But since the 2010 passage of President Obama's health reform law, UnitedHealth has zeroed in on fixing the broken relationship between health insurers and health care providers that was not sustainable for either side.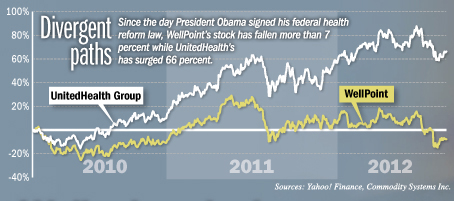 In early 2011, UnitedHealth acquired a 400-doctor practice in California to help bridge the gap between insurers and providers and is developing new financial structures that reward keeping patients healthy, not just doing more tests and procedures.
UnitedHealth separated its suite of wellness, disease management, provider price databases and electronic medical record tools into a separate business unit. Those companies already served numerous outside customers—more than 2,000 health plans, 6,000 hospitals and 240,000 doctors—and are on pace to generate $29 billion in revenue this year.
They also give UnitedHealth a boatload of data that can be fed back to UnitedHealth's health insurance plans and used to address specific areas where costs are spiking.
"If costs were running high, you could see what employer, what county, what procedure or category was driving this," wrote Sarah James, a health care analyst at Wedbush Securities in Los Angeles, after a tour through UnitedHealth's "command center" of data it can provide to employers.
United then created locally targeted interventions based on its data insights to head off large costs.
For example, in one geographic area where the rate of mammograms was significantly below average, James wrote in her Aug. 6 report, UnitedHealth held a health care fair and deployed mobile screening vans that caught three early stage cases of breast cancer.
UnitedHealth seems to be benefiting from its efforts. While both companies have grown their customer rolls in Medicare and Medicaid recently, UnitedHealth has been able to hold its membership steady in its commercial business, too, while WellPoint—which is loathe to squeeze its profit margins to hold onto accounts—has suffered losses.
Controlling costs
WellPoint has not in most cases been able to count on savings from its disease management and wellness efforts to significantly discount its premiums, according to analysts and former WellPoint employees. It has relied instead on its well-known Blue Cross brand name, its broad network of providers and its deep discounts on provider prices.
But WellPoint is running hard to match UnitedHealth on its key strategies for controlling the cost of health care. It has partnered with physician groups in California to create care arrangements that financially rewards doctors for keeping patients healthy and in need of less care.
In addition, WellPoint a year ago bought CareMore Group Inc., which had started its own health plan for Medicare recipients to find ways to make money by cutting off big health problems before they appeared. WellPoint is now replicating that concept at 30 or more locations around the country.
And earlier this year, WellPoint launched an initiative to boost payments to primary care providers in an effort to help them coach patients through chronic diseases before they lead to expensive hospitalizations.
WellPoint's purchase of Amerigroup will vault it past UnitedHealth as the largest provider of health benefits for low-income Medicaid patients. That program will be expanded by Obama's health law to cover as many as 16 million additional people.
Vanessa Brown, a human resources consulant at Apex Benefits Group in Indianapolis, said she doesn't see UnitedHealth offering anything that WellPoint isn't. Employers change from one insurer to the next frequently, she said, but it's usually because they find a better fit for their particular needs, not because one is far and away better than the other.
"They both are doing exactly what they need to be right now," Brown said.
And that's how Braly sees it, too. While WellPoint has seen some rough patches recently, she is confident the company is making the right moves to re-merge as the preeminent health insurer in the future.
"We believe our decision to maintain pricing discipline and to continue investing in our strong growth opportunities despite difficult market conditions will lay the groundwork for improved performance over time," she told investors during a July 25 conference call. "We have a strong foundation, brand, and market footprint and expect to deliver greater value to the marketplace in the future."•
Please enable JavaScript to view this content.