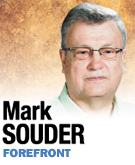 Among news people in Indiana there is an excited buzz: Mourdock may be in trouble in his Senate race against Donnelly. Indiana Democrats were swamped in the 2010 elections.

This is a disaster for the news business that likes to cover politics like it is a NASCAR race. No one believes that President Obama will come close to winning Indiana. Mike Pence has established himself as Mr. Indiana and aggressively promoted job creation while his opponent is still trying to establish name identification.

This leaves Joe Donnelly versus Richard Mourdock to generate some excitement.

Donnelly has gotten out first with general election ads and they are good. He has a strong staff. He is making a direct appeal for Lugar voters. He is likable, not just on television but in person.

But I believe that Mourdock will have a solid win. Here is why:

1. Indiana people don't seem to understand that the Lugar-Mourdock fight was part of a national war within the Republican Party over its future direction. We were not unique: The anti-establishment won some, the establishment won some. Republicans have one side or the other mad and pouting almost everywhere in America.

2. After divisive primaries, polling then is soft for the candidate who won. The primary divisions matter in states that are toss-ups, like Wisconsin and Missouri. Indiana is currently only slightly less Republican than Nebraska and Texas. If Mourdock is even extremely close, the Democrats will likely easily control the Senate because it would mean the Democrat trend is national. Republicans understand that would mean that ObamaCare would never be altered and certainly not repealed.

3. Joe Donnelly chose not to run for re-election in the newly re-drawn 2nd Congressional District against Jackie Walorski. Walorski is a strong candidate, but slightly less so than Mourdock, who has won statewide several times. Each congressional district has the same number of people. The Republicans hold six of them. If they add the 2nd District, it is 7-2. Where exactly is the Donnelly coalition going to come from?

4. It is very likely that Pence and Romney-Ryan will also win seven of nine congressional districts. If the top three slots on the ballot go Republican, it is extremely likely that those voters will split heavily for the fourth one regardless of what they are telling the pollsters.

5. The critical decision in polling is the split of R's, D's and "independents" polled. Garbage in, garbage out. This is a historical fact missed by most pollsters: Whichever party is "trending positive," the independents who lean their way again proudly identify themselves with that party. In 2010, independents skewed Republican; in 2012, independents will skew Democrat. That means most pollsters will over-sample Democrats this year and had the 2010 elections under-stated for Republicans. This will inflate Donnelly's polling numbers.

6. Few are saying that Mourdock has run a great campaign or will maximize the Republican vote. But he's no "bumbler" as some media tries to claim. Mourdock has some quirky issues, but arguing about the application of Lincoln quotes, whether senators should be directly elected, and rights of bondholders is not the same as questioning the definition of rape.

7. August polls, and even those in September, are just a bunch of noise. I was called "dead meat" multiple times from polling. My five supposedly closest races out of 16 wins averaged a victory margin of over 15 points.

The current close polls and the strength of Donnelly as a candidate does mean that Mourdock has little room for error. But if Mourdock executes his likely strategy of reminding voters of what is at stake, he should have a solid win in spite of all the press desire for excitement.•

• Souder, a former business owner and Republican representative of the 4th Congressional District, is a political commentator living in Fort Wayne. Send comments to ibjedit@ibj.com.