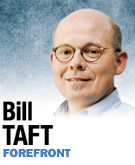 I admit it. Even though I was a political science minor in college, I did not watch one minute of the Republican or Democratic national conventions. But I am not alone. In some very informal polling, I have learned that lots of engaged local leaders also skipped these television events.

Why? National political debate is increasingly disconnected from challenges local citizens are working to overcome in Indianapolis.

While this fractured perspective is a problem for national political vitality, its byproduct seems to be that people are focusing on solving challenges here regardless of national currents.

The national debate swirls around divisive issues such as Medicare, foreign military campaigns, abortion, education, social and class divides, the national debt, and unemployment—essentially repeating themes heard for decades.

Meanwhile, there seems to be a growing sense that the things most critical to the vitality of our city and state aren't really part of this conversation.

People increasingly shrug their shoulders at national politics, roll up their sleeves, and get down to work on a local agenda. For every gridlocked national issue, a group of local citizens is addressing our version of the underlying issues our country faces, but in a much more positive and localized way.

While the foreclosure crisis weighs down our national economy and political debate, local not-for-profits are returning hard-hit homes and neighborhoods to positive use. Thanks to support from Lilly Endowment and local banks, the Indianapolis Neighborhood Housing Partnership provides no-cost homeownership counseling to lower-income buyers. Community development corporations like Indy East Asset Development and Mapleton-Fall Creek are using a tiny fraction of the bank bailout funding to return neighborhoods devastated by foreclosure and neglect to attractive places.

While federal funding for neighborhood revitalization declines, the $152 million renewal of the near-east side spurred by the Super Bowl Legacy Initiative has inspired ideas for expanding this partnership to more neighborhoods.

While the political parties attack each other over who is responsible for the growing number of children living in poverty, not-for-profits and faith institutions are pushing hard to implement programs that will give hope to working-poor families.

Shepherd Community is mobilizing churches from around the region to support prenatal health care, tutoring, disciplined sports training, financial counseling, and educational enhancement programs. With help from funders like the Indianapolis Foundation, Flanner House community center has created a Center for Working Families to empower unemployed residents to find jobs, improve budgeting, advance education, and build income and assets.

While policy wonks wring hands over the decline of American education, local leaders are gaining national recognition for their unprecedented push to create quality schools.

Groups like The Mind Trust and Lumina Foundation are supporting a bipartisan, informal group of local leaders who are overcoming long-standing special interests in public education to create schools that actually prepare children to compete in a global economy. Excellent schools such as the Christel House Academy and Herron High School are educating hundreds of at-risk children to the highest academic standards on fewer dollars than failing traditional schools in the same neighborhoods.

These examples show us that we can change the direction of our country, but maybe it has to start where we can individually make the biggest difference.

So don't despair if you are frustrated by the disconnect between what you care about and the campaign rhetoric of the next 60 days. Instead, renew your hope in our country by joining your neighbors in repairing this community one challenge at a time.•

• Taft is Indianapolis executive director of Local Initiatives Support Corp., a not-for-profit that invests in neighborhood redevelopment projects. Send comments on this column to ibjedit@ibj.com.