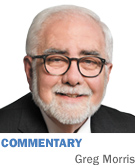 I've avoided talking politics for several weeks now, but I just can't avoid it any longer. The election is only about 45 days away, and, in spite of polls that tilt toward the incumbent, there's still a lot of ground to cover before Nov. 6. So, here's my first installment of various thoughts to ponder before casting your vote.
I've gotten to know a Florida-based journalist and newspaper executive, Matt Walsh, professionally over the past few years. Matt is editor and publisher of the Gulf Coast Business Review in Sarasota. He's also a co-founder, owner and CEO. Matt has been with the Miami Herald and Florida Trend magazine and was the southeast bureau manager for Forbes magazine.
Matt wrote a column several weeks ago that inspired me to buy several copies of Edward Klein's book, "The Amateur." I sent a copy to about 30 family members, friends and business associates. Here's a brief portion of Matt's writing, which carried the headline, "It's cast in bronze: Obama rejects who we are" and reflects on the now-infamous remark from Barack Obama: "If you've got a business, you didn't build that. Somebody else made that happen."
[Obama] unequivocally rejects what Hoover Institution senior fellow John B. Taylor calls "the first principles of economic freedom upon which the country was founded." As Taylor writes in his new book, "First Principles: Five Keys to Restoring America's Prosperity":
"At its most basic level, economic freedom means that families, individuals and entrepreneurs are free to decide what to produce, what to consume, what to buy and sell and how to help others. The American vision was that those decisions would be made within a predictable government policy framework based on the rule of law with strong incentives derived from the market system and with a clearly limited role for government."
Obama rejects this. His words and actions over the past three and a half years definitively confirm that his vision is that of a collectivist, a deep-rooted statist. His words and actions have shown that he believes the job of the state is to intervene in greater and greater scope, arbitrarily if necessary (i.e. health care, immigration, scrapping the great welfare law); to pick winners and losers (Solyndra versus Keystone Pipeline); and to redistribute wealth to achieve more equal outcomes (tax the rich).
And that is a rejection of the soul of the United States, the first principles.
This is not right-wing ranting. You should read the New York Times bestseller by Edward Klein, "The Amateur." Klein is the former editor of the New York Times Sunday Magazine, a former foreign editor for Newsweek and a contributing editor to Vanity Fair — all unambiguously liberal publications. Based on his interviews with nearly 200 people who have worked closely with Obama, many who have known him for more than 20 years, and with people inside and outside the White House, Klein presents 259 pages of scathing facts and true stories. So stunning, they will trigger your adrenaline.
One that captures the essence of Obama's grand vision is Klein's telling of a June 30, 2009, gathering in the family quarters of the White House. Obama "invited nine like-minded, liberal historians" to a private dinner. Obama unveiled his vision for his presidency: to be a "transformative" president.
According to Klein, Obama self-confidently told the historians he intended to bring permanent peace to the Middle East; he would open "constructive dialogues" between the U.S. and Iran and North Korea; he would revolutionize the nation's health care system and energy policy; and he "would inject the regulatory hand of the federal government into the American economy in an effort to create 'a more just and equitable society.'"
When some of the historians recalled for Obama the difficulties Lyndon Johnson had with similar intentions, "Obama grew testy," Klein writes. Klein summarized the dinner's conversation as "a breathtaking display of narcissistic grandiosity," with Obama revealing "his ideological bent as a far-left corporatist."
There's a lot more. Click here to read Matt's full opinion piece. Thanks to Matt for allowing me to include some of his writing in my column. I recommend you pick up a copy of "The Amateur" and read it before visiting your polling place. It should scare you to death, if you're not so inclined already.
Until next time.•
__________
Morris is publisher of IBJ. His column appears every other week. To comment on this column, send e-mail to gmorris@ibj.com.
Please enable JavaScript to view this content.