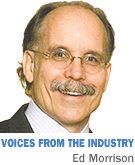 A friend recently asked me, "What's the connection between healthy communities and economic development?"
I set out to explain why no community can compete in today's economy without healthy brainpower.
By now, we all know that we are in a global competition, a race to create a more prosperous future for our children and grandchildren. None of us have run a race quite like this before. After all, our parents and grandparents handed us an economy in pretty good shape. When we were growing up, our future was clear. And, for many of us, we have enjoyed an economy with a solid foundation.
Until recently.
We now face a struggle to build a new prosperity, a prosperity that we can hand to our next generation. We're not quite sure how, but it's pretty clear where to start: building brainpower. After all, that's the starting point for the competitive advantage of any region.
In an age of global competition, goods move around the globe. Free land and available infrastructure are everywhere. Technology leaps borders, and capital flies around with the click of a computer mouse.
And that's the connection to healthy communities. Our unique competitive advantage, in any community or state, starts with brainpower.
We cannot build our brainpower, we cannot innovate, we cannot compete, if too many of us are hobbled by chronic, preventable disease. Or if we forget that work-force development begins with a pregnant mother. Or if we ignore the brain development that happens in early childhood. Or if too many people living in food deserts have never experienced the joys of healthy eating. Or if too many of us rack up huge health care bills because we are unwilling to change our unhealthy habits.
If all this sounds a bit abstract, it isn't. It all comes down to dollars and cents: productivity.
Our competitiveness is directly tied to our productivity. And our productivity is directly tied to the health of our work force.
Employers are starting to figure this out. To companies competing globally, health care costs have become a lodestone around their neck.
In the years ahead, a community's obesity rate will become a factor as businesses decide where to invest.
In fact, if you believe Rena Sharpe, vice president of Westport Axle, a Louisville company, it's already happening. A supplier to Mack Truck, Sharpe told a newspaper in Lehigh Valley, Pa., where her company recently expanded, "We do always look at [the health of a region]."
It stands to reason. Health care is a huge cost for any company and, according to Sharpe, having a healthy work force keeps health care costs more manageable. At the very least, it cuts down on lost work days.
Multiply this across a regional or national economy, and we are looking at some real numbers. According to the Integrated Benefits Institute, poor health adds $576 billion in costs per year to the U.S. economy. Of this total, 39 percent—or $227 billion—comes from lost productivity. Employees are either absent from work or they are at work but not performing at their peak because of illness.
Ramp those figures down to Indiana, and we are looking at $3.8 billion a year in lost productivity from missing work days and sub-par performance. This is a narrow, but direct measure of the cost of poor health to employers.
We can look at costs from a different perspective. Indiana has a relatively high obesity rate among adults: 30.8 percent.
Obesity matters, because it is tied to chronic disease: type 2 diabetes, heart disease, arthritis.
Researchers at the National Heart Forum project that Indiana's adult obesity rate will be 56 percent by 2030, if current trends continue. This work, sponsored by the Trust for America's Health and the Robert Woods Johnson Foundation, also shows that Indiana can significantly reduce health care costs by improving nutrition and exercise.
By 2030, Indiana could reduce health care costs associated with type 2 diabetes by $5.2 billion with a 5-percent improvement in weight management among adults. Cost savings from coronary disease and stroke could be reduced $5.9 billion. Savings from arthritis could total $1.2 billion.
And that's the message. Indiana companies can compete far more effectively globally—we can compete far more effectively as a nation—if we all take small steps together.•
__________
Morrison is an adviser at the Purdue Center for Regional Development. Views expressed here are the writer's.
Please enable JavaScript to view this content.