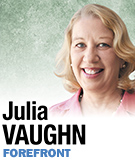 With Republican super-majorities in both Statehouse chambers and a newly elected governor eager to make his mark on state government, the upcoming legislative session could get controversial real fast.
Unfortunately, because of poor judgment by Speaker of the House Brian Bosma and the incoming Pence administration, the legislative process has already been smeared with an appearance of impropriety that will linger all session.
The speaker's decision to hire former legislator-turned-lobbyist Matt Whetstone as House parliamentarian and the decision by the Pence administration to employ the just-retired chairman of the House Ways and Means Committee, Jeff Espich, as a state budget "adviser" indicates that certain Statehouse leaders need a refresher course in Ethics 101.
Although technically not a violation of either the legislative or executive branch one-year "cooling off" requirement, these hires reek of cronyism and simply look bad.
The Whetstone case is particularly disconcerting because it creates a troubling precedent and represents a major malfunction in the speaker's otherwise carefully calibrated ethical compass. Of the legislative leaders I have observed over the years, Bosma seemed to understand better than most the need to pay attention to appearances and always avoid situations that compromise the integrity of the legislative process.
For example, on his Statement of Economic Interest, the document legislators are required to file to shine a light on possible financial conflicts of interest, Bosma has always gone above and beyond what the law requires him to disclose, listing clients of his law firm that also lobby the General Assembly, something other attorney-legislators refuse to do.
Whetstone terminated his status as a legislative lobbyist one day before being named House parliamentarian but unbelievably, he remains director of government affairs for Krieg DeVault, a law firm lobbyist with a long list of clients whose interests run the legislative gamut. We are supposed to believe that no conflict of interest exists with this arrangement because Whetstone has signed an agreement that forbids it.
I'd feel better if, instead of signing a contract that's impossible to actually enforce, he had ingested some substance to erase his memory, since that's really the issue here.
The parliamentarian operates as a kind of legislative traffic cop, making decisions about what happens to bills and amendments and arbitrating disputes over rules on the House floor. It is naïve to believe that Whetstone's past and future lobbying experience won't affect those decisions. No wonder so many of Krieg DeVault's law firm competitors are crying foul.
In the 2010 lobbying and ethics reform legislation authored by the speaker and supported by former-Rep. Espich, the General Assembly decided it's proper to create a one-year buffer between legislators' leaving the chamber and reappearing as paid advocates for private or public interests. Although Espich's new role as Pence's "senior legislative adviser for legislative affairs" does not legally violate that policy, it certainly tramples all over the spirit of the law.
The purpose of attempting to slow the revolving door between the legislative chamber and the lobbying world is to assure the public that legislators are not trading on their public service, and the close collegial relationships they formed while inside the process, for a lucrative job as a lobbyist once they leave state government.
It's an important gesture because personal relationships are a vital part of the legislative process and past roles can't be erased with the adoption of a new title. All the law requires is a clear and too-short one-year buffer between public official and paid persuader.
It's disappointing that, despite reform, the revolving door continues to spin.•
__________
Vaughn is policy director for Common Cause/Indiana, a nonpartisan citizens lobbying organization that works for open, honest and accountable government. Send comments on this column to ibjedit@ibj.com.
Please enable JavaScript to view this content.