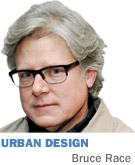 Indiana will grow by almost a million people by 2040, with over half of that population in the 10-county Indy metro area. We will add more than 500,000 people.
This seems like a lot. But Indiana is losing ground to Western and Southern states in terms of its prime working-age population. We sometimes refer to this as "brain drain." Well-educated young people who create and make stuff feel the pull of areas whose social and cultural vibe they can relate to.
What does this have to do with urban design? Everything. If we do not think about whom we are designing the Indianapolis region for, we will, by default, turn design decisions over to speculators and partisans.
This is not an elitist attitude—it's an inclusive one. Read the quality-of-life plan for any neighborhood in Indianapolis that has one, or for downtowns in Noblesville and Carmel, and you will find a universal desire for beauty, for an environment that enhances quality of life.
Using a traditional demographer's projection, Marion County will add 140,000 people by 2040. The quality of the city we deliver will make that number higher or lower. The same rationale can be extended to other areas in the region. So, think of urban design as a central part of a regional economic development strategy.
Our region will have to anticipate what will make us competitive in 2040. We will need to address climate-change planning and adaptation, higher energy costs, an aging but more diverse population, and a transformation of energy and transportation infrastructure.
Assuming Indiana does not want to be left behind like a 1980s version of Bulgaria, these larger trends need to be part of our planning.
What does this mean for the Indianapolis region's emerging urban form? How will we show that we are a city and region striving to compete in the new economy? Here are six urban design outcomes we must pursue:
• Indianapolis metro cities will need to be easily navigated on foot, bike and transit. Development will be higher-density and clustered around transit. Essential neighborhood commercial and institutional services will be within walking distance. On average, Americans are ambulatory for seven years after we are done driving. So, as we age, our independence will be contingent on a safe and navigable pedestrian environment.
• We should repopulate our historic neighborhoods. There are 16,000 empty houses in Indianapolis and many more vacant lots. This represents the capacity to re-energize our traditional neighborhoods with at least 60,000 new residents. The added population would support six new full-service grocery stores. Many of these people will live in neighborhoods adjacent to downtown where they can walk and bike to play and work. Seem crazy? If you can buy gas in 2040, it will cost over $20/gal. These neighborhoods will be in demand.
• Metro Indy needs to raise the bar on educational attainment. Is this a design goal? Absolutely. Indiana is 44th in educational attainment in terms of bachelor's degrees or higher.
You want employers and graduates from our universities to choose Indianapolis over San Jose? Then build and energize a city and region that retains knowledge workers by providing places where they want to spend time, and can meet a mate and raise a family that goes to college.
• Development should be carbon-neutral. Locate and design buildings to be energy-efficient and connected to renewable energy sources. Some developments will be energy-positive by sharing their surplus power. We must also emphasize reusing existing buildings rather than demolishing them.
• Make public infrastructure dual use. Streets and parks will be integral to managing storm water and the use of energy. District heating and cooling, energy production and distribution, and storm water detention/retention will be woven into neighborhoods, business centers and industrial districts. Ground-source geothermal, localized wind and solar sources will augment regional power grids. Public buildings will be designed as carbon-neutral, energy-positive facilities. Cities and universities will lead by example.
• We should once again be a city of trees. Our streets and parking lots will be lined with shade trees, reducing their contributions to heat islands. Smaller parking and street surfaces that have permeable paving and landscaping will reduce storm water runoff. We need to start planting trees now and make changes to our infrastructure standards to have a greener system in place by 2040.
Does this seem too ambitious? Pace-setting cities and regions in the United States are already doing this. They are employing Purdue-trained engineers; Ball State-trained architects, planners and landscape architects; and IU-trained MBAs, bioscientists and doctors. I'd rather have more of them working here with us. Wouldn't you?•
__________
Bruce Race, FAIA, FAICP, is an award-winning architect and urban planner, owner of RaceStudio, and recipient of the Indiana Sagamore Planning Award. He lives in a historic Indianapolis neighborhood and teaches urban design at Ball State University's Downtown Indianapolis Center. His column appears monthly. He can be reached at br@racestudio.com.
 
Please enable JavaScript to view this content.