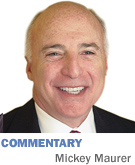 Guys love to quote "The Godfather." It's no wonder, with lines like "I'm going to make him an offer he can't refuse" and "Leave the gun—take the cannolis." These and other memorable movie quips are relevant today, just with new voices.
Witness these updates of famous lines:
• "Frankly, my dear, I don't give a damn." "Gone with the Wind" (1939) UPDATE: Not Clark Gable but Simon Property Group CEO David Simon when asked about his stepmother, after the settlement of a bitter lawsuit over his late father's estate.
• "You don't understand! I coulda had class. I coulda been a contender. I could've been somebody instead of a bum, which is what I am." "On the Waterfront" (1954) UPDATE: Not Marlon Brando but Richard Mourdock after engineering his own election defeat due to inappropriate comments on rape.
• "Who's on first?" "The Naughty Nineties" (1945) UPDATE: Not Abbott and Costello but Barack Obama after staggering off the stage following the first 2012 presidential debate.
• "Attica! Attica!" "Dog Day Afternoon" (1975) UPDATE: Not Al Pacino but beleaguered financier Tim Durham, expressing his preference after being sentenced to 50 years in prison.
• "Toga! Toga!" "National Lampoon's Animal House" (1978) UPDATE: Not John Belushi but high-living Secret Service agents vested with the responsibility of protecting President Obama in Colombia.
• "Badges! We ain't got no badges! We don't need no badges! I don't have to show you any stinking badges!" "The Treasure of the Sierra Madre" (1948) UPDATE: Not Alfonso Bedoya but the National Rifle Association's Wayne LaPierre, advocating broad access to assault weapons.
• "I'm mad as hell, and I'm not going to take this anymore!" "Network" (1976) UPDATE: Not Peter Finch but Pennsylvania Gov. Tom Corbett after filing suit against the NCAA over sanctions imposed upon Penn State University, including a bowl ban and a $60 million fine.
• "La-dee-da, la-dee-da." "Annie Hall" (1977) UPDATE: Not Diane Keaton but Syrian President Bashar Assad after slaughtering 60,000 of his citizens.
• "After all, tomorrow is another day!" "Gone with the Wind" (1939) UPDATE: Not Vivian Leigh but basketball coach Tom Crean after his No. 1-ranked Indiana University team was upset by Butler University.
• "Elementary, my dear Watson." "The Adventures of Sherlock Holmes" (1939) UPDATE: Not Basil Rathbone but Brad Stevens in response to questions about his outcoaching Crean.
• "Greed, for lack of a better word, is good." "Wall Street" (1987) UPDATE: Not Michael Douglas but Ponzi schemer Keenan Hauke.
• "Well, nobody's perfect." "Some Like It Hot" (1959) UPDATE: Not Joe E. Brown but Duke Energy CEO Jim Rogers after being reprimanded and forced to resign at the end of this year for his role in the ousting of Progress Energy CEO Bill Johnson.
• "Of all the gin joints in all the towns in all the world, she walks into mine." "Casablanca" (1942) UPDATE: Not Humphrey Bogart but basketball coach Rick Pitino explaining his coupling in a bar with Karen Sypher and her subsequent threat to extort him.
• "I feel the need—the need for speed!" "Top Gun" (1986) UPDATE: Not Tom Cruise but Lance Armstrong explaining his drug use after being stripped of his Tour de France titles.
• "I'll have what she's having." "When Harry Met Sally" (1989) UPDATE: Not Estelle Reiner but Arnold Schwarzenegger's maid.
• "Today, I consider myself the luckiest man on the face of the earth." "The Pride of the Yankees" (1942) UPDATE: Not Gary Cooper but Hugh Heffner at age 86 after marrying playboy bunny Crystal Harris, 26.
• "Hasta la vista, baby." "Terminator II: Judgment Day" (1991) UPDATE: Not Arnold Schwarzenegger but Richard Lugar after learning that Mourdock lost the Indiana senatorial election.
And my personal favorite: "There's No Place Like Home." "The Wizard of Oz" (1939) UPDATE: Not Judy Garland but yours truly upon settling down in a nice easy chair to watch a favorite classic movie.•
__________
Maurer is a shareholder in IBJ Corp., which owns Indianapolis Business Journal.  His column appears every other week. To comment on this column, send e-mail to mmaurer@ibj.com.
 
Please enable JavaScript to view this content.