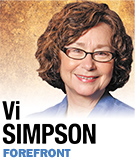 Daily, I see politicians arguing, reciting their talking points, without facts. I hear political pundits repeating those talking points, urging on the political rhetoric.
Is it any wonder Congress is at its lowest point in the polls? Is it a shock that citizens are voting less, learning less and caring less about who serves them in public office?
During my years of public service, I have seen a decline in civility by officials toward the public and one anther. I have witnessed deterioration in the quality and transparency of debate.
In Indiana, some of the debate has disappeared altogether, and public comment has been replaced with last-minute amendments. Important public policy matters such as the defunding of women's health programs are amended into legislation without public input or testimony.
When government works best, it is a living part of the community, playing an essential role in the fabric of our society. Abraham Lincoln said, "The legitimate objective of government is to do for a community of people whatever they need to have done, but cannot do for themselves … ."
Government must serve us all—people of different backgrounds, incomes and religions. That is especially true of legislatures. A good legislator must identify a problem, then find solutions by seeking input and weighing alternatives. A great legislator must build consensus.
At government's core, it is transparency, negotiation and compromise.
That's why I am alarmed at a political system that has turned to shouting instead of listening. Our politics have become uncivil and sometimes dysfunctional, a game of winners and losers in which each side sees itself as right and the other side as uncaring, unpatriotic.
I fear our politicians no longer feel the need for conversation and compromise. We are becoming a nation where compromise is a sign of weakness, not the foundation of democracy.
I fear we have become a nation of citizens who want to speak only with others who already agree with them. We seek out news that does not inform, but rather reinforces what we already believe. When we are fueled by those who agree with us, we rarely question what we think we know.
Politics has always been a tough business. So, what makes today different? Access to technology has certainly made a difference; our news—and our rhetoric—is more instantaneous, touching thousands, even millions, in just seconds.
Yesterday, there were no bloggers, no texting, no e-mails, no 24-hour TV news. We have gone from the written word to a new world of Facebook, Twitter and YouTube.
Technology has expanded our reach to the world and has inspired revolutions. Perhaps it has also expanded the impact of our own incivility and helped to bring about greater polarization of our politics. Our anger and cynicism are right there for all to see.
We as citizens have the opportunity to reach across the political divide and change our direction. In today's world, we have the responsibility to question how we will engage in political discourse in the future, to be passionate in our own beliefs but be willing to learn, understand and tolerate those who may differ.
President Obama, speaking after the tragic shooting in Arizona, said, "Rather than pointing fingers or assigning blame, let's use this occasion to expand our moral imaginations, to listen to each other more carefully, to sharpen our instincts for empathy, and remind ourselves of all the ways that our hopes and dreams are bound together."
It begins with you and me.•
__________
Simpson, a former state Senate minority leader, ran for lieutenant governor in 2012. Send comments on this column to ibjedit@ibj.com.
Please enable JavaScript to view this content.