"Planning should be comprehensive. Even though a grand urban design could only be realized in bits and pieces, and over a long period of years, still we should always know where we are going."
–George Kessler
At the core of Indianapolis' extensive park system is the visionary Kessler Park and Boulevard Plan. George Kessler's 1908 vision was the foundation for Indianapolis' neighborhood building and metropolitan-park planning. The nearly 3,500-acre Kessler legacy is on the National Register of Historic Places.
Kessler and his successor, Lawrence Sheridan, practiced in the era of civic works, when city planning and landscape architecture were aligned professions. Cities hired landscape architects to design cities to improve their livability and, by extension, their competitiveness. It was important enough to Indianapolis business leaders that they hired Kessler to develop the plan that included 12 parks with more than 1,100 acres, 35 miles of parkways, and 15 miles of boulevards.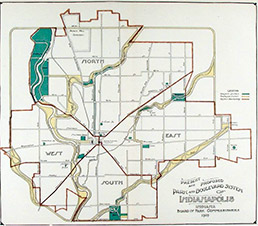 This 1909 map shows George Kessler's green vision that was embraced by city planners. (Photo courtesy of Bruce Race)
However, you would have to be more than 70 years old to have experienced the scope and beauty of Kessler's system, because after World War II we neglected our beautiful parks. We were not alone. Many cities shifted their public investment to building roads to the suburbs. We entered an era of public works, when engineers replaced landscape architects as city-builders. Efficiency and cost-driven standards for facilities replaced landscapes.
From 1940 to 1980, we failed to take care of our parks, bridges and waterways. We let them turn into ruins and overgrown drainage-ways. We largely wrecked the wonderful driving and recreational experience of some important parkways and boulevards by dividing them with interstates, widening them, stripping them of landscape, and encouraging auto-oriented land uses.
Our peer cities are rediscovering their Picturesque and Romantic Period landscapes. They are restoring them, adding recreational opportunities, and enhancing their contributions to storm-water management.
Buffalo, N.Y., and Louisville have beautiful park systems designed by Fredrick Law Olmstead, the designer of New York City's Central Park. Buffalo has prepared a master plan and design guidelines for the system's restoration. The Buffalo Olmstead Conservancy supports the programming, funding and restoration of the city's extensive park system.
Olmstead designed 18 parks and six parkways in Louisville. The Olmstead Parks Conservancy is working with Louisville's Metropolitan Parks Department to rally volunteers, raise funds and restore the city's historic park system. Louisville has a beautiful set of master plans for each park. Louisville's Olmstead park system is also on the National Register of Historic Places.
Before coming to Indianapolis, George Kessler designed the grounds for the 1904 World's Fair in St. Louis. He also designed park systems for Kansas City, Memphis, Cincinnati, Dallas, Houston, Salt Lake City, Denver and Mexico City.
As the City Landscape Architect in Kansas City, Kessler marshaled the design and development of the city's park and boulevard system. Besides celebrating Kessler's parks, Kansas City has developed a detailed set of design standards and guidelines for the boulevard and parkway systems. Kansas City is protecting and repairing its connecting thoroughfares.
Cincinnati has a city parks plan developed by Kessler in 1907. In 2008, the city prepared the Cincinnati Centennial Parks Plan, which builds on Kessler's open-space framework with a focus on hillsides, streams, greenways and trails. As with Kessler's, the new plan develops natural corridors, parkways and boulevards that connect the city.
Like the business leaders who hired Kessler to begin with, people in our peer cities are recognizing how their historic parks and civic boulevards enhance livability and make them more competitive. Remember, it was the Commerce Club, the precursor to the Indianapolis Chamber of Commerce, that hired Kessler.
Now is an especially good time for Indianapolis to prepare a comprehensive parks and boulevards plan that reinvests in our landscape traditions. Consider the work already taking place. The $1.6 billion combined sewer overflow project, to prevent sewage from flowing into our rivers, is to be completed by 2025, making boating and water contact safer. And Reconnecting Our Waterways, funded by Lilly Endowment and co-sponsored by more than 100 organizations, is working on how to turn our streams and rivers into recreational and community assets.
The city partnered with the Indiana Division of Historic Preservation and Archaeology and the State Historic Preservation Office to place the Kessler Plan in the National Register in 2003. The nomination process provided a treasure trove of documentation we can use to repair and enhance our parks and boulevard legacy.
We need a landscape design plan for reconnecting the park and boulevard system's fragments, re-establishing its identity, and restoring views and access to our cultural landscape.•
__________
Bruce Race, FAIA, FAICP, is an award-winning architect and urban planner, owner of RaceStudio and recipient of the Indiana Sagamore Planning Award. He lives in a historic Indianapolis neighborhood and teaches urban design at Ball State University's Downtown Indianapolis Center. His column appears monthly. He can be reached at br@racestudio.com.
Please enable JavaScript to view this content.