For years, I've advocated for an increased Indianapolis presence for productions coming out of Indiana, Purdue and Ball State universities.

Imagine how much stronger our cultural lives would be if we had those schools' dance, theater, music and other offerings showcased here. Even those of us who occasionally hit the highway to visit those places would benefit from, say, a vibrant performing arts center at IUPUI.

Ah, a boy can dream.

But it's not all fantasy. We'll get a taste of what could be when Indianapolis Opera, for the first time, presents an Indiana University Opera production at Clowes Hall: Philip Glass' "Akhnaten," March 8-9.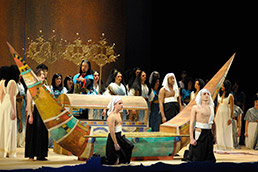 "Akhnaten" prepares to take over the kingdom after the death of Amenhotep III in Philip Glass's opera. (Photo courtesy of IU Opera Theater)
Facing challenging financial times over the past few seasons, Indianapolis Opera has chosen not to simply retreat and try to rebuild but, rather, to explore different cost-effective ways of bringing opera to Indy. Previous cases included offering smaller-scale operas at the Basile Opera Center. This time, it's Mayflowering a full IU production here, sans a few stagehands.

The "Akhnaten" to be staged here is pretty much the same as the production Feb. 22 to March 2 in Bloomington. And I couldn't resist heading down there for a look. Now, after having seen the piece, I'm anxious to see how Indy audiences more accustomed to "Carmen" and "Turendot" react.

True to his reputation, Glass isn't a composer whose work is easy to warm up to. As demonstrated here, his relentless repetition can strike some as hypnotic and others as infuriating. The music inches forward like a series of waves on the beach, steadily moving the shoreline while offering little to surf on. It makes Ravel's "Bolero" seem like a roller-coaster ride.

"Akhnaten" is named for the pharaoh who threw out the pantheon of Egyptian deities, replacing them with a single sun god—thus, briefly, promoting monotheism. We see his ceremonial rise to power after the funeral of Amenhotep III. We get a love song with wife Nefertiti based on an ancient poem. We see the building of his would-be utopian city, Akhetaten (imagine a massive summer camp Jenga game). And we flash forward 17 years to his neglect of his country's needs, leading to his overthrow.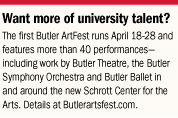 Glass' opera isn't terribly interested in constructing an inner life for the leader. He doesn't even let the countertenor sing until he's been onstage for what seems like 20 minutes. Often, his performers have nothing to do while the music flows. Sometimes, they sing in sounds rather than words. And in the middle of the second act, we suddenly aren't in ancient Egypt at all but, rather, surrounded by a chorus singing (stunningly) an Old Testament psalm in Hebrew.

The nearly three-hour production is framed with a lengthy display of oversized slides of more recent unrest in Egypt. The specificity and duration of the images hurt its potential timelessness. They also seem to push for audience identification with the mob that overthrows Akhnaten, which doesn't seem to jibe with the intent of the composer.

Whatever the intent, the production doesn't have a clear point of view. Did Akhanten pave the way for future monotheistic faiths? Or is he just an anomaly—a footnote in religious history? Clues are scarce.

The real hero of the piece, though, is the outstanding—and sizable—violin-free orchestra, speaking Glass' difficult language fluently. You might find yourself distractedly pondering, with awe, the concentration required to address Glass' musical challenges. And maybe that's the key. Embracing "Akhnaten" as a piece of music rather than a full-blown opera leads to different rewards … for the patient, well-rested and open-minded.•

__________

This column appears weekly. Send information on upcoming arts and entertainment events to lharry@ibj.com.