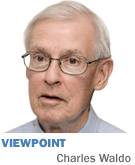 Years ago, Murphy observed, "If anything can go wrong, it will." Murphy's law has endured because, although we might chuckle, it rings of truth.
Over the years, I have studied the phenomenon of why so many change projects go wrong and have uncovered hundreds of other laws, axioms, postulates and corollaries that add perspective and substance to Murphy's original law.
By all accounts, Murphy was staunchly Irish so, in honor of St. Patrick's Day, these corollaries to Murphy's original law are offered:
• Nothing is as easy or simple as it looks on the surface.
• Everything takes longer than originally thought. To project how long a job might really take, use Westheimer's Rule: Estimate the time you believe the task should take, multiply by two, and change the time measure to the next-highest unit. Thus we allocate two days for a one-hour task.
• If there is the possibility of several things going wrong, the one thing that will cause the most damage will occur first, followed by the second most damaging, etc.
• If you perceive four possible ways by which a procedure can go wrong and circumvent each, a fifth way will promptly develop.
• Every solution breeds a new set of problems. Thus, you may run out of solutions but never out of problems.
• It is impossible to make anything foolproof, since fools are so ingenious and plentiful.
• Nature always sides with the hidden flaw.
Additionally, consider:
• The Murphy mind-set: Smile today, for tomorrow will be worse.
• Boling's postulate: If you're feeling good, don't worry. Bad things will soon happen to get you over it.
• Chisholm's Second Law: When things can't possibly get worse, they will. (Also known as Gattuso's Extension of Murphy.)
• Finagle's Fourth Law: Once a job is fouled up, anything done to try to improve it will only make matters worse. Start over with a new job.
• Gumperson's Law: The probability of anything happening is in inverse ratio to its desirability.
• Ginsberg's Theorem: 1. You can't win. 2. You can't break even. 3. You can't even quit the game.
• Sturgeon's Observation: Ninety percent of everything is definitely crud; the other 10 percent is suspect.
• The Non-Reciprocal Laws of Expectations: 1. Negative expectations yield negative results. 2. Positive expectations yield negative results.
• Osborn's Laws of Design Revision: 1. Information necessitating a critical change in design will be conveyed to the designer after—and only after—the plans are complete and approved. 2. The more innocuous the change appears to be, the further its influence will extend and the more plans will have to be redrawn. 3. If/when design completion is imminent, field dimensions are finally supplied as they actually are—instead of as they were meant to be—it is wiser and simpler just to start over from scratch. (See Finagle's Fourth Law.)
• Biondi's addendum to Osborn: If your project goes astray, look first at the part you thought was least important.
• Finnegan's Law: The further away the deadline on a project, the more doable it looks. The inverse is also true.
• The Final Law: If several things that could have gone wrong did not go wrong, it would have ultimately been beneficial if they had.
• Authenticity: Finally, some researchers suggest Murphy did not really invent Murphy's law. It was actually originated by someone else with the same name.•
__________
Waldo is a retired professor of marketing at Anderson University's Falls School of Business. Send comments on this column to ibjedit@ibj.com.
Please enable JavaScript to view this content.