USA Swimming's decision to torpedo a bid to host the 2016 Olympic Swim Trials at Lucas Oil Stadium casts doubts on the venue's chances for future big-time, non-traditional events.
The stadium lacks the intimacy and energy USA Swimming had sought for the event, officials for the sport's national sanctioning body explained. But two other large stadiums—in St. Louis and San Antonio—remain among four finalists vying for an event expected to deliver an economic impact in excess of $30 million.

Melangton
The criticism is a sharp blow given that the stadium, home to the Indianapolis Colts, was built specifically to accommodate a wide variety of both traditional and non-traditional events. That was one of the key selling points city and state planners made when pitching the 63,000-seat facility to taxpayers.
Officials for the Indiana Sports Corp., which headed up the local bid, said they considered the city's first attempt to bring a swimming event to the 4-1/2-year-old stadium a learning experience.
"We knew we had challenges to make it intimate," said ISC President Allison Melangton. "As time goes on, we'll take a look at this and dig into that challenge a little bit."
Indiana has a long history as a swimming hot bed, having hosted numerous national championships—and the 1984, 1992, 1996 and 2000 Olympic Trials in the 4,200-seat IUPUI Natatorium. But as stars like Michael Phelps, Ryan Lochte and Missy Franklin have increased the sport's popularity, the biggest swimming events are looking for bigger venues.
The local swimming community took the rejection especially hard.
"I was surprised and disappointed," said Arlene McDonald, Indiana Swimming event director who has worked at the last two Olympic Swimming Trials. "I felt we had the most modern facility with the most and best amenities. That, combined with the Indiana Sports Corp.'s experience, and it makes this decision really hard to understand. Indiana Swimming was ready to get behind this in a big way."
Putting two Olympic-size swimming pools in Lucas Oil Stadium would have been no problem for local officials, who put portable pools in Bankers Life Fieldhouse for the 2004 Short-Course World Swimming Championships, McDonald added. The fieldhouse didn't offer enough floor space for two 50-meter pools needed for the Olympic Trials.
"Lucas Oil Stadium is a fabulous facility and, while the space is flexible to accommodate a number of sports and events other than football, it has proven to be challenging for creating an intimate swimming setting around the pool at this time," said Mike Unger, USA Swimming assistant executive director.
Apparently, there are other large stadiums that can make the accommodation. St. Louis' 66,000-seat Edward Jones Dome and San Antonio's 65,000-seat Alomodome are still competing with smaller venues in Omaha, Neb., and Greensboro, N.C.
Colorado-based USA Swimming will announce its selection at its board meeting the last week of April.
Double-edged loss
Beyond the lost economic impact for the eight-day event—which would have been on par with the top three conventions the city hosts annually—USA Swimming's decision could also be a serious ding to Lucas Oil Stadium's reputation, hampering efforts to lure other major sporting events beyond football and basketball, where Lucas Oil has already proven its merits.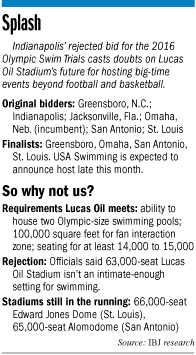 "It does say that other people looked at it and saw the size of the facility as a problem," said Jim Grinstead, publisher of Tennessee-based trade publication Revenues from Sports Venues. "Clearly, the issues there were big enough to cause USA Swimming to walk away from that facility and [Indianapolis officials] will have to address that."
The exact nature of the issues isn't clear. Officials for USA Swimming declined to elaborate beyond Unger's statement about intimacy.
"This was a situation where the vision that the Indiana Sports Corp. and Indianapolis had was slightly different from that of USA Swimming's," said Dale Neuburger, former ISC president and an ex-officio member of USA Swimming's board of directors. "There was no deficiency and no one screwed up."
ISC had a vision of a grand event, whereas USA Swimming's vision emphasized venue intimacy, Neuburger said. USA Swimming wanted to maximize the experience for the competitors as much as for the fans, he added.
"Lucas Oil Stadium is a fantastic venue," Neuburger said. "It's just a big venue. It's like trying to huddle up in an Escalade. It's still a big vehicle."
The stadium's large feel could be a big problem going forward, Grinstead said.
"There are simply fewer mega-events, huge concerts, the types of events that would require a stadium, these days," he said. "Bringing in diversified events and more revenue is a challenge for all stadiums, not just Lucas Oil Stadium."
Dealing with doubters
USA Swimming's decision, he said, will give any event organizer who wants spectators close to the stage—especially where crowd noise and interaction with the competition or performance is an important part of the atmosphere—reason to think twice before selecting Lucas Oil Stadium.
The $750 million stadium was built specifically with the flexibility to host events of various sizes, said Stadium Director Mike Fox.
He remains confident Lucas Oil can continue to compete for varied events, pointing out that it's already hosted an NCAA Final Four and Super Bowl, in addition to motocross competitions, monster truck pulls and even band competitions. The venue is also set to host major lacrosse and soccer events.
Fox also pointed out that the NCAA men's basketball regional held this weekend has almost the identical setup as was proposed for the swimming trials, with a curtain running down the middle of the football field and the court, like the proposed competition pool set at the south end of the stadium perpendicular to the football field. A warm-up pool would have been on the other side of the curtain, on the stadium's north end.
"We feel we have one of the best, most advanced curtain systems and other features in the stadium, including things like movable seats, that make this venue one of the most flexible in the country," Fox said.
"Bidding for events is super-competitive," he added. "We lost this one. That doesn't mean we're not going to be aggressive about going after the next one. And I think this venue stacks up well."
Amenities aside, Grinstead said he doesn't think Lucas Oil Stadium is as intimate as even the RCA Dome. It's simply too big and too wide-open, he added.
Fox said there's no comparison between the two facilities.
"The RCA Dome just had very little flexibility," he said. "It had no curtain system; 57,000 permanent, unmovable seats; and unmovable concrete walls on all sides."
The months-long failed bid process won't slow the efforts of Melangton, the former 2012 Super Bowl Host Committee CEO who took over for Susan Williams as ISC president last year.
"I remain confident the stadium can host a variety of events," she said. "It's just that, for events we hold for the first time, we need to figure out the optimal setup. We don't shy away from challenges. We never have. And we never will."•
Please enable JavaScript to view this content.