Anyone who owns a smartphone knows all too well that it has become an attractive tool for advertisers.

They may have even sent to your phone a coupon for that store you just entered—a clever trick enabled by reading your phone's GPS coordinates.

Those same devices are increasingly being used to get inside your head long before digital marketers make that pitch to your iPhone.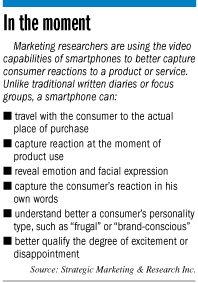 Carmel-based Strategic Marketing & Research Inc. is among firms tapping the capabilities of the newer generation of video-enabled smartphones to gain better insights into consumers' thoughts and emotions.

They're doing this by having consumers use their phones to shoot a video diary of their product experiences.

These real-time observations ultimately could be used to create more effective ads and to improve a product or service.

"In essence, our research travels with them," said Katherine Simmermon, a research analyst at SMARI.

"This is relatively new technology. It has been known that the use of mobile phones in research is going to be a must for the future, but that actual implementation with success is new."

Among the research firm's most recent uses of the devices was to obtain the "emotional drivers" from Hoosier Lottery scratch-off game customers.

"Right before I scratch, I am excited and hope to win a good prize. I never win. Or so it seems," a man named Phil, from Fort Wayne, says in a video diary he shot of himself.

"But today is the day. I really feel it. I love the excitement. Honestly, this is why I play. Let's do this," he says.

"Here, the consumer is talking in his own words," said James Ittenbach, president of SMARI. "It becomes a very powerful internal document" for marketing.

But how is this tool any better than traditional research methods—such as written diaries or focus groups—that have served the marketing industry over the last century?

One advantage of the video diary is that it captures nuances such as facial expressions and tone of voice, Simmermon said. These kinds of visceral reactions can say more than words.

The video shot "in the moment" also captures details a consumer might otherwise forget to later jot down on paper or type into a computer.

Ittenbach said the phone-based video diaries by the lottery scratch-off players provided a surprising amount of insight into the "excitement of the unknown in the moment" of playing the game.

His team learned that, even if scratch-off players didn't win, they often enjoyed the anticipation of that moment when they'd rub a coin across a ticket.

"We can capture the voice, the sentiment and the visuals in one video experience," Ittenbach said.

Researchers also are excited about the potential for using video-enabled smartphones to help build personality profiles of consumers.

One of Simmermon's recent projects was working with University of Kentucky students who shot phone videos of their grocery-shopping experiences.

They'd walk the aisles of competing stores, recording observations about what they liked and didn't like. The video showed precisely which features of a store the shoppers were scrutinizing, such as signage or aisle width.

The observations allowed researchers to put shoppers into categories, such as those with healthy lifestyles and those who viewed stores from the prism of organic food offerings.

"How do you communicate that personality to your ad people? You make it real for the creative department," Ittenbach said.

The power of consumer-shot smartphone video hasn't been lost on marketing/advertising firms.

Last year, Indianapolis-based Borshoff launched a website—Buzzfunnel.me—to collect videos consumers shot on their smartphones, along with tweets about their experiences.

"It's basically a social media aggregator," Borshoff Art Director Megan Houck said.

More recently, Borshoff used the site to gather reactions of people who attended the annual DigIN food event at White River State Park.

The effort gleaned information that will help Borshoff's client, the DigIN Foundation, refine the mix of food offerings. Attendees told Buzzfunnel, for example, that they'd like more vegetarian dishes.

Firm principal Myra Borshoff said she, too, sees the power of video diaries.

"When someone is saying something, the video image of the face can add or detract from what they say" and help determine credibility, she said.

Cook's firm is looking at using the site to gather consumer input for other clients.

Bringing consumers together for a traditional focus group meeting is becoming less relevant these days, she said. "It's so much better to go where people are."

Tom Denari, president of Indianapolis ad agency Young & Laramore, agrees.

Y&L isn't asking consumers to shoot their own video diaries on their smartphones. But Denari's team shoots its own video of them during interviews at their homes.

One advantage of going to consumers' homes is that a family member or friend will be there to help, as Denari puts it, "rat out" those being interviewed when perhaps they're being less than honest or forthcoming.

It's a better dynamic than the artificial environment of a focus group, where those with dominant personalities in the group might influence the responses of others, he said.•