Attend a rock, pop or country concert and, chances are, you already know a fair number of the songs. That's how it works: You go because you've been exposed to the material and have liked what you've heard. And so have those around you.
Theater is different. Even at an oft-produced show like "Arsenic and Old Lace" or "Guys and Dolls," you are likely to find a high percentage of audience members who don't know what's going to happen next. Even in "Hamlet," you should give a spoiler alert before mentioning that most of the characters shuffle off this mortal coil before the curtain call.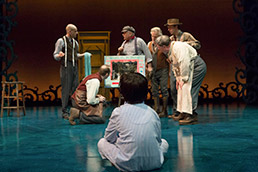 This "Midsummer Night's Dream" takes the title literally. (Photo/ Zach Rosing)
I was reminded of that while attending the Indiana Repertory Theatre's production of "A Midsummer Night's Dream" (through May 12), where I was surprised and pleased to hear a mixed audience of students and adults react with surprise when they found out where pesky fairy Puck was mistakenly applying magical eye drops. Their joy at Shakespeare's plot twists added an extra layer of pleasure to an already pleasant production of a show I've seen too many times to count (including one earlier this season at Butler University).
Not that I'm complaining, mind you. I love the "Dream" and am happy to re-experience it when I'm in good hands—as I was here.
For those of us who have seen the play before, the IRT's take still offered some surprises. Director Peter Amster (who has also helmed "Dracula" and "The 39 Steps" here) has taken the title literally: The action occurs not in a faraway fantasyland but in the dreams of a young boy (Ethan Halford Holder), who is silently present through most of the action.
As with most worthy directorial concepts, this one filters the material in interesting ways. The histrionics of the play's quartet of lovers makes a different kind of sense when seen through the eyes of a pre-pubescent child. The battling king and queen of the fairies echo the conflict he's overhearing from his own combative parents. Elements in the boy's bedroom transform into the wider dreamscape—magical flowers take the shape of his Victrola, the play-within-a-play echoes his toy stage. And, in perhaps the production's smartest move, troublemaker Puck (an energetic if obvious Gerson Dacanay) becomes a doppelganger extension of the boy himself.
(Of course, if you are one of those people who don't believe William Shakespeare wrote his own plays because of his lack of education, you'll probably have trouble buying that this kid dreams in brilliantly nuanced lines, but that's neither here nor there.)
Not that "Dream" needs added concepts. As hundreds of years of theatergoers know, smart casting and brisk direction are the primary ingredients needed to make this soufflé rise.
The best choices here have been made with "the Mechanicals," the group of characters who are unsophisticated tradesmen crafting an amateur play. Henry Woronicz finds a fun balance of ego and cluelessness for Nick Bottom. Rob Johansen brings sly traces of Tim Gunn into his Robin Starveling. And what a pleasure to see Scot Greenwell, in his IRT debut, shine as Francis Flute, the bellows-mender who, in a wonderful instant, turns cross-dressing farce into the show's deepest, most tender moment.
While accomplished, other actors seem a bit miscast. There's an "aw, shucks"-ness about Ryan Artzberger that takes weight away from both his Theseus and his Oberon. Alex Hugh Brown is a lackluster Lysander. And too much work is required to try to make the necessary case that Sarah Price's Helena is less appealing to her potential suitors than Kelsey Brennan's unpleasant Hermia.
On the other hand, here's hoping we see more of Alex Goodrich who, in another IRT debut, makes the seemingly thankless role of Demetrius into one of this "Dream's" many charms.
__________
So this little white guy gets arrested and thrown into a jail cell with a big black man …
Got your attention? So does "Clybourne Park," a play not about two guys in a jail cell but seven people (well, technically 14 people—I'll get to that), trapped in a loop of prejudices, miscommunication and misinterpretation. The jail-cell joke is in there. And so are some other doozies. But who says them and why and the reactions of the others in the room is the source of the comedy and drama in this show, which I also saw on Broadway before its local debut at the Phoenix Theatre (through May 5).
Here, as there, "Clybourne Park" starts off as a comedic sidebar to "A Raisin in the Sun" (but you don't need to know that play to appreciate this one). In the first act, a white neighborhood in 1959 is shaken by the impending arrival of its first "colored" family. Post-intermission, it's half a century later and the house has been sold again, this time to a white couple about to demolish it to make room for their new home in what has become an all-black neighborhood.
Bruce Norris' play gets a more grounded production from the Phoenix than it did in New York, with the absurdist edge of the characters seemingly sandpapered away. That, I would have thought, would make the situation seem even more combustible. But the opposite happens. On Broadway, these seemed like characters who could never connect and much of the humor came from seeing them hopelessly try. Here, Norris doesn't seem as nihilistic—which makes the play seem less ground-breaking. •
__________
This column appears weekly. Send information on upcoming arts and entertainment events to lharry@ibj.com.
Please enable JavaScript to view this content.