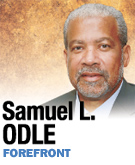 A study by the Violence Policy Center reveals shocking statistics about Indiana. More Hoosiers were killed by gun violence than traffic accidents in 2009—735 gun deaths versus 715 traffic deaths, according to the Washington, D.C.-based center.
Only nine other states had more deaths from guns than traffic—Alaska, Arizona, Colorado, Michigan, Nevada, Oregon, Utah, Virginia and Washington.
The United States ranks among the worst countries in the world for gun violence, with more than 30,000 deaths a year. The United Kingdom, which interprets gun rights differently, has fewer than 100.
America has more guns per capita than any other country, even though our need for guns to protect ourselves from invasion is almost nonexistent. We have an estimated 320 million firearms, many of which we know are in the wrong hands.
The debates abound, with little evidence that we are coming to a national consensus on what to do about gun violence. As many states have loosened gun restrictions as have increased them.
The majority of Americans want a way to keep our Second Amendment rights, but they also want to prevent the senseless killing we see in our communities. Indeed, I doubt the founding fathers thought the Second Amendment would be interpreted in a way that actually made us less safe.
How about a new idea? Drop the debate on guns and start to regulate bullets the way we do drugs. If we can't restrict guns, let's track bullets.
We know drugs in the wrong hands can cause harm and even loss of life, so we regulate them and assure that manufacturers track every pill. We know where it's manufactured and require a chain of custody so that, in the event of an untoward act, we can find out who's responsible, who mishandled it, and whom we will hold accountable.
Maybe some ammunition, like for squirrel hunting, could be over-the-counter. High-volume ammunition that could do large-scale damage could be sold only to those authorized and trained to handle it, just as we do with dangerous drugs and doctors.
We produce billions of drugs a year and billions of rounds of ammunition. Surely we can devise a system to track both.
The proper registering and tracking of lethal items is not unheard of in America. The recent tracking and capture of the Boston bombers was partly because we require the tracking of gunpowder and other explosive substances. Law enforcement was able to find the source of the gunpowder used in the bombs and follow it back to the purchasers.
I believe this level of tracking will make sellers more concerned about whose hands these dangerous products get into.
Background checks are also a good tool, and if manufacturers have to be responsible for whose hands bullets get into, we are likely to see them come out in overwhelming support for universal checks.
We also know that large-scale gun shows are part of the reason guns get into the wrong hands. Tracking ammunition would help this problem, as well.
Don't get me wrong. I know this won't be simple and will increase the cost of ammunition. But that is not all bad, either, because cost can be a deterrent to the wrong people getting dangerous products.
Indiana's political establishment has a history of going against the grain in Washington. Maybe this is an area where we can actually outperform Washington and move Indiana and the nation forward on making citizens safer and reducing the opportunity for a Newtown incident in Indiana.•
__________
Odle is the former chief operating officer of Indiana University Health and CEO of Methodist and University hospitals. Send comments to ibjedit@ibj.com.
Please enable JavaScript to view this content.