Riding to his next meeting in the front passenger seat of a Chevy Malibu, Joe Swedish spoke slowly and softly—but with a clear tinge of frustration—about the key difficulty he faces as the new CEO of WellPoint Inc.

"We're not sure where the old rules end and the new rules begin," he said, talking about the coming overhaul of the health care industry from President Obama's 2010 health reform law.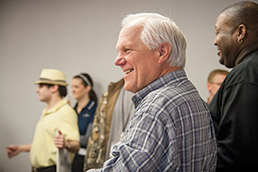 CEO Joe Swedish joined WellPoint employees who volunteered at Gleaners Food Bank. (Photo courtesy of WellPoint Inc.)
"Quite frankly, there's not a lot of clarity in terms of regulatory changes," he said, noting that the Obama administration has been delayed in finalizing some key rules, which has then pushed back decisions by states and employers. "It's just speculation on how positive or negative it's going to be."

This, however, is the kind of challenge Swedish lives for, say those who know him. From his career history to his hobbies, Swedish is a man who thrives on complex environments.

Swedish, a career hospital executive, is now two months into his job at the helm of Indianapolis-based WellPoint, the nation's second-largest health insurer. In his first interview since starting work, Swedish indicated he's taking his time to learn the people and the culture of the vast organization he now leads.

But he also said he is convinced that, rather than occluding WellPoint, Obamacare's changes will render the company more important than ever.

"It's not like the old days, and the old days were like yesterday," Swedish said on a Saturday morning while watching WellPoint employees volunteer at Gleaners Food Bank. He expects WellPoint to leave behind its older model of negotiating discounts and processing claims, and instead play a far more active role helping patients choose health care and helping health care providers coordinate care for patients.

And he believes that his 40 years of experience running hospitals can help him "create a common language" between hospitals and health insurers to pull off this transition.

Even though WellPoint faces key decisions right now on how to compete under Obamacare's new rules, which officially take effect Jan. 1, Swedish has been methodical, even slow, about ordering any changes at WellPoint.

He has focused his time on one-on-one conversations with employees—especially high-level managers. WellPoint employees say he does more listening than talking in meetings. He has announced no new initiatives, but instead endorsed the strategy already in place at WellPoint.

"It's the how. That's what I'm trying to figure out," Swedish said.

But recently he has started making decisions. On May 20, WellPoint announced the departure of Lori Beer, executive vice president of specialty businesses and information technology, who had been a rising star under previous CEO Angela Braly. A week earlier, WellPoint announced the surprise resignation of three board members—although it's unclear if Swedish played a role in those decisions.

And now, Swedish said, he's turning his attention to assessing middle-level managers within WellPoint's organization.

In spite of his career as a hospital executive, Swedish said WellPoint associates have not regarded him as a fox in the henhouse.

"Everyone has been very receptive," he said. "They know the world is changing."

Swedish has drawn praise from Wall Street analysts and investors, who initially expressed skepticism when WellPoint announced his hiring on Feb. 12. Investors, who had revolted against Braly because of repeated operational errors, preferred a veteran of publicly traded insurance companies.

It doesn't hurt that WellPoint's stock price has risen 17 percent since Swedish arrived—only even he admits he has been riding a wave begun by John Cannon, WellPoint's general counsel, who made many key changes while serving as interim CEO.

Rob Medway, a partner at Royal Capital Management LLC, reduced his firm's holdings of WellPoint stock when WellPoint selected Swedish. But now, he acknowledges, that was a mistake.

He listened to Swedish on May 20 at a UBS health care conference in New York, and liked what he heard.

"WellPoint now has an adult in the room. It's as simple as that," Medway said. "While he came from the not-for-profit world, this guy is all business, which I think is refreshing."

Fly fishing

When Swedish does take time off, he heads to a river in Colorado or Idaho—preferably with no cell phone service—to fly fish for trout.

"The bigger the fish, the better," he said.

The challenge in fly fishing is to throw a thin line, something that typically doesn't want to move in one direction, 20 yards or more through the air. The goal is to do it with such finesse that the fly on the end of the line settles gracefully on top of the water, appearing to trout like something from its natural habitat.

It's not unlike the challenge Swedish faces at Indianapolis-based WellPoint.

He leads a $70 billion organization, with 38,000 workers operating 14 Blue Cross & Blue Shield health insurance plans, spread from California to Maine, all with distinct histories and cultures.

And he also must help WellPoint adjust its business strategy in ways that, somehow, settle naturally amid the turbulence wrought by health reform.

"We are truly facing some incredible challenges, looking out to the future," Swedish told WellPoint shareholders during their annual meeting on May 14 in Indianapolis.

John Short, who is Swedish's fly fishing companion, said Swedish's career has taken on ever-increasing complexities.

"Joe likes living in uncertain homes. That's what gets him up in the morning," said Short, a longtime health care consultant and former CEO of St. Louis-based long-term-care provider the RehabCare Group Inc.

He added, "That has been the thing that has led him to make a job change: more complexity, more uncertainty, more capital to throw around, more opportunity to make a difference."

Short met Swedish in Florida while Swedish was a division CEO for Tennessee-based HCA Inc., the largest chain of for-profit hospitals in the nation. Short was consulting for the not-for-profit Orlando Regional Medical Center, and he was talking with Swedish about combining the organizations.

The deal never came together, but Short and Swedish did. They also have been fly fishing together all over the world, including a trip to Patagonia in February, just two weeks after WellPoint hired Swedish.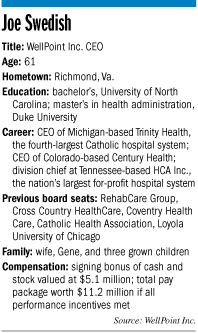 They have also worked together. Short put Swedish on the board of RehabCare Group for a few years. And Swedish hired Short as a consultant at his next two jobs—as CEO of Colorado-based Centura Health and as CEO of Michigan-based Trinity Health.

At Centura, Swedish was tapped for a turnaround. The hospital organization had been formed just three years earlier as a joint venture of a Catholic hospital group and a group of hospitals sponsored by the Seventh-Day Adventist Church.

As if getting the two very different religious organizations to work together wasn't hard enough, Centura was also losing money rapidly—especially from two ailing insurance plans.

"He had to do a variety of balance-sheet and staff reorganizations, and he pulled it off quickly without a lot of breakage," Short said. "And that included keeping the Catholics and the Adventists from killing each other."

After five years at Centura, Swedish took the top job at Trinity, which is the nation's fourth-largest Catholic hospital system. There, he had to balance the competing demands of various Catholic orders that had merged their hospitals over many years.

In his first two years, Trinity's operating income more than tripled—much of it because Trinity streamlined purchasing and reduced other expenses.

"He and his team always focused on what they could do to maintain that margin and keep expenses in line," said Kevin Holloran, a hospital credit analyst at Standard & Poor's who covers Trinity Health.

Culture eats strategy for lunch

Swedish said he will turn his attention in the next 60 days to WellPoint's finances and operations. But Short also expects Swedish to stay focused on people and culture.

"His style, it's very people-focused and it's very culture-focused," Short said. "His view is, culture eats strategy for lunch. So you've got to get the culture right to have any hope of implementing the strategy."

Already at WellPoint, Swedish has been talking about constructing a loose group of 200 or so employees—from all levels of the organization—who could talk about the kind of culture and common purpose WellPoint needs, then help "bubble up" a culture throughout the company.

He has also expressed a preference—though not a mandate—that his executive team work out of Indianapolis. Under Braly and her predecessor, Larry Glasscock, it has been common for WellPoint's executives to be spread around the country.

Short also expects to see more WellPoint managers leave in the next few months because Swedish places a high value on having the right people in the organization and the wrong people out of it.

But Short said Swedish has a way of moving people out of the company that leaves everyone else with confidence instead of fear.

"He does a very good job of telegraphing whether or not he believes you've got a future, with career aspirations, with his team. He'll say, 'This is where I'm taking this organization with respect to your specific responsibility and I don't think it meshes well with your career aspirations. Let's take three to six months to figure out where you would be happier.'"

And Swedish even at times will tap his own Rolodex to help an employee find a new job, Short said.

"That solution has worked well for him, rather than just walking in and saying, 'You're toast.'"

'Marathon, not a sprint'

Swedish expects Obamacare to create several years of great upheaval until things settle down into a new normal.

"We view this process as a marathon, not a sprint," Swedish told investors during his May 20 presentation, while speaking about government-run insurance exchanges that will start next year and will offer taxpayer-funded subsidies to help individuals and small businesses buy private insurance.

WellPoint, which insures more than 36 million Americans, is trying to shift from its historically strong focus on employers and individuals buying insurance with their own money to a world in which government-funded health plans are the ones poised to grow.

WellPoint acquired Virginia-based Amerigroup Corp. last year to beef up its business managing state-run Medicaid plans, which will expand as part of Obamacare. In 2011, WellPoint acquired California-based CareMore Group, which runs health clinics and health plans for seniors covered by the federal Medicare program.

Analysts are intrigued by Swedish's background at health care providers, and think it might make sense for WellPoint to acquire physician practices.

WellPoint, "with its local market share concentration, is uniquely positioned to pursue vertical integration with doc practices in select markets, and the provider background of the new CEO may place him well to drive that," Ana Gupte, a health insurance analyst at Dowling & Partners, wrote in an email.

Swedish poured cold water on this notion in April, when he said the economics of insurers and health care providers are too different for their mergers to make sense. But he is committed to expanding WellPoint's nascent efforts to form new kinds of contracts with health care providers—ones that pay doctors more when they improve patient health while also holding down costs.

WellPoint's Patient Centered Primary Care program does exactly that, and Swedish said May 20 he wants to "at least double" the number of physicians participating—currently about 10,000—by the end of the year.

"There's a convergence of the two sectors happening," Swedish said of health insurers and health care providers.

Obamacare's expansion of health insurance and its enhanced regulations of the industry were initially perceived as a boon to hospitals and a threat to health insurers.

But asked at the end of the interview where he'd rather be during this period of rapid change, Swedish said, "You know where I made my bet."•