Indianapolis-area hospitals are undergoing such profound and permanent changes that eventually the four major hospital systems will merge and shrink down to two.
That's what Dan Evans, CEO of the Indiana University Health hospital system, expects to happen—at least sometime in the next 25 years.
"It'll probably be IU Health and the Catholics," Evans said in an interview in which he also disclosed that IU Health is trying to trim more than $1 billion out of its annual expenses over the next four years.

Evans
Evans is hardly the first to make that prediction. But financial pressures and changes stemming from President Obama's health reform law give Evans' comment a bit more weight this time around.
Indeed, national trends suggest mergers might happen soon.
In 2012, there were a slew of mergers of hospital systems with greater than $1 billion in revenue. In Chicago alone, three mega-mergers of hospital systems came together.
"A billion-dollar transaction like that used to be a rarity, and in one year you got three of them in one city," said Kevin Holloran, a hospital bond analyst at Standard & Poor's. He also noted similar mergers in Texas and California.
And he expects the pace to continue for a few years.
"Everybody's talking to everybody," he said.
Whether the major hospital systems in Indianapolis are talking to one another isn't clear. Community Health Network CEO Bryan Mills declined to comment for this story. Executives at Franciscan St. Francis Health did not respond to messages seeking comment by press time.
Vince Caponi, St. Vincent Health's CEO, issued a written statement, saying, "As health systems understand and navigate the changing landscape, we will have to re-engineer the way we deliver care to patients and families with special attention to the poor and vulnerable."
In the past, the strong rivalries among the Indianapolis-area hospitals has kept the executives of the respective systems from having the kind of casual, chummy conversations that often are key to starting merger talks.
"We've not seen consolidation of systems in Indiana because in general it's very competitive, because it's emotional and sometimes gets personal between board members and CEOs," said Ed Abel, a hospital accountant at Indianapolis-based Blue & Co.
In 2007, members of the board of IU Health, which was then named Clarian, approached board members of Community Health Network about a merger, according to Bill Corley, who was then Community CEO.
"They approached us, and our board of trustees basically said there was no interest in a merger," Corley told IBJ in a November 2008 interview.
At the same time, Evans predicted there would be a cross-town merger by 2016 or 2017.
That hasn't happened yet, even though IU Health, St. Vincent and Community have all been busy acquiring smaller hospitals around the state.
All the Indianapolis-area hospital systems have also acquired physician practices.
Also, Franciscan St. Francis Health teamed up with American Health Network, the largest independent physician practice in Indianapolis, to operate an accountable care organization for seniors on Medicare.
And rather than outright mergers, some big partnerships have been struck among Indianapolis-area hospitals. In September, Community, St. Vincent and the Suburban Health Organization formed an accountable care consortium, an entity that will negotiate contracts with insurers and employers on behalf of all hospital systems involved.
In February, Community also signed a joint-operating agreement with Wishard Health Services, the county-owned hospital system in Indianapolis.
Even Evans said these kinds of partnerships might be better than mergers, although he still expects more mergers to occur—especially between large hospital systems and smaller players.
"Not a week goes by where we don't get called," he said.
Deals come in waves
There have been other waves of hospital consolidation. Back in the 1980s, Abel recalled, chains of hospitals such as HCA Inc. and American Medical International Inc. were acquiring hospitals so rapidly, some experts were predicting that, by the 1990s, the entire country would have only four hospital systems.
That didn't happen, but the brief popularity of health maintenance organizations, or HMOs, forced hospital systems to try to get bigger.
IU Health formed under the name Clarian in 1996 when Methodist Hospital, Indiana University Hospital and Riley Hospital for Children joined forces.
That deal was partly a response to a joint operating agreement signed between Community and St. Vincent in 1994. But the partnership fell apart after two years because of disagreements over leadership and whether Community should become a Catholic hospital.
Community then agreed to a merger with St. Francis in 1998 and, when that didn't work, pursued a deal with St. John's Health System in Anderson. St. John's eventually merged with St. Vincent.
That history, which still left most Indianapolis-area hospitals separate and fiercely independent, led Alex Slabosky, a retired health insurance executive, to doubt Evans' prediction.
"I've been hearing that for 25 years," he said. "I don't see it happening any time soon."
Reform drivers
What Evans thinks is different this time is that reforms to the health care system are going to stick.
HMOs faded in popularity, especially after President Bill Clinton's attempt at health care reform died in Congress.
But this time around, federal laws are driving changes. The biggest for hospitals is that Medicare—the nation's largest health insurance program—is forming new kinds of "accountable care" contracts with hospitals, which will pay them to keep a specific population of patients healthy.
In other words, keep them out of the hospital as much as possible.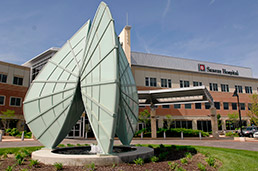 IU Health Saxony Hospital, which opened in 2011, contributed to the $1.9 billion debt load IU Health now carries. Other hospitals also built facilities recently.(IBJ photo/Perry Reichanadter)
Also, Americans have been using less health care recently as high-deductible insurance plans have proliferated, putting patients on the hook to pay for more of their health care.
And last, Evans noted, the aging of baby boomers will generate a higher bill for their health care needs than can be supported by younger workers—meaning the health care system will be forced to care for more people while getting paid less per patient.
That means hospitals need to find ways to deliver less care per patient, and do so at lower costs. That's a problem, since they've built a slew of facilities in the last decade to handle a higher and higher volume of lucrative procedures.
IU Health alone has $1.9 billion in debt, according to its 2012 audited financial statements. The 20-hospital system paid more than $155 million last year in debt service.
If its patient service revenue fell more than 7.5 percent—without any corresponding reduction in expenses—IU Health would no longer generate enough cash to service its debt.
And that was in a stellar financial year, in which IU Health generated operating income of nearly $549 million on record revenue of $5.6 billion. That represents an operating margin of 10.6 percent—far higher than that of most other hospital systems in Indianapolis.
Community Health earned operating income of $47.7 million on record revenue of nearly $1.7 billion. But its operating margin, even after excluding a nearly $18 million debt payment, tumbled from 5.7 percent the previous year to 4 percent last year.
Like IU Health, Community is looking to cut expenses, about 20 percent. It has cut out $100 million per year since 2009, but is looking to slash $200 million more by 2015.
Franciscan Alliance, which operates three hospitals in the Indianapolis area, also saw its operating margin shrink last year, to 4.5 percent from 5.2 percent the year before. Franciscan, which is based in Mishawaka, earned nearly $110 million in operating income, excluding an accounting charge for an asset impairment, on revenue of nearly $2.5 billion.
St. Vincent Health will also cut expenses by laying off an unspecified number of employees by June 30, the Indianapolis-based hospital system announced in May. In St. Vincent's most recent fiscal year, which ended June 30, 2012, it earned nearly $158 million from its health operations, and generated a healthy operating margin of 7.2 percent.
Its revenue from operations was nearly $2.2 billion.
But now, the 22-hospital system is worried that neither the government nor patients are going to pay as much for health care as they have in the past.
"We understand that other health systems are facing similar challenges and making difficult decisions as well," said Caponi, CEO of St. Vincent, in a prepared statement. "To sustain our health system's service to patients and families across the state, we must re-imagine the way we provide holistic care—body, mind and spirit."•
Please enable JavaScript to view this content.