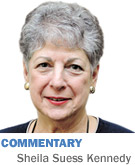 A study recently published in Archives of General Psychiatry has linked the growing incidence of autism to early-life exposure to pollution. According to the study, children with autism are two to three times more likely than other children to have been exposed to car exhaust, smog and other air pollutants during their earliest days.
"We're not saying that air pollution causes autism. We're saying it may be a risk factor for autism," says Heather Volk, lead author on the study and an assistant professor of preventive medicine at the University of Southern California. "Autism is a complex disorder and it's likely there are many factors contributing."
Now, I'm not a doctor and I don't play one on TV. (Nor do I have a subscription to the Archives of General Psychiatry—I came across a reference to the study while reading another journal article and looked it up.)
I'm not a climate scientist either. So, just like the deniers who prefer to believe that climate change is a big myth, I do not possess the ability to independently review the evidence and judge its persuasiveness.
But here's what I don't understand.
Let's assume that the deniers are right, that 99 percent of climate scientists are wrong, and the other 1 percent are right. Wouldn't it still make sense to clean up the air and water?
As far as I know, even the people who most emphatically reject evidence of global climate change aren't arguing that pollution is good.
We have plenty of evidence linking air pollution to a variety of respiratory diseases, and there are these growing links to autism and other disorders. Recently, there have been disquieting reports that hormones in the water supply are affecting male fertility, and in a survey begun in 1999, the U.S. Geological Survey examined 139 streams around the country and found that 80 percent of their samples contained residues of drugs like pain killers, hormones, blood pressure medicines or antibiotics. The consequences of that contamination are still being studied.
Here is the issue as I see it: On one hand, there is no doubt that continuing our polluting ways negatively affects both public health and quality of life. On the other hand, there is no benefit whatsoever from continuing to pollute—unless you're a company whose profits depend upon having the public pay for your production effluents.
So what is the calculus if we decide to invest in cleaning up the environment?
On the upside, cleaner air, healthier people, lower medical costs, green jobs and—if those pesky climate scientists turn out to be right—the possibility of saving the planet. On the downside, reduced bottom lines for some of our most immensely profitable companies.
This seems like a no-brainer, so I'll admit to being mystified by a recent study in the Proceedings of the National Academy of Sciences of the United States of America. Investigators found self-identified conservatives less likely to buy a product, even if the purchase was cost-effective (better price or longer-lasting product), if it carried a label indicating the item was good for the environment. This was true even if they had previously purchased the identical item when it didn't carry the environmental endorsement.
I understand skepticism, particularly when the science involved is complicated, and its message is unwelcome.
I don't understand being so hostile to science and concern for the environment that you are willing to spite yourself.•
__________
Kennedy is a professor of law and public policy at the School of Public and Environmental Affairs at IUPUI. She blogs regularly at www.sheilakennedy.net. She can be reached at skennedy@ibj.com. Send comments on this column to ibjedit@ibj.com.
Please enable JavaScript to view this content.