Lebanon inventor and entrepreneur Larry Durkos had a dream in 2002. He wanted to open a manufacturing operation. He thought he had a unique product to build—and lots of money to make.
Durkos and a handful of Hoosiers invested $3.5 million in labor and money developing his invention, a machine that attaches metal bed box springs and coils to wood frames. The machine replaced a painstaking manual process, slashing the cost of production.
He enlisted his son, Duane, who, like his father, was an experienced engineer, to help get the invention to market.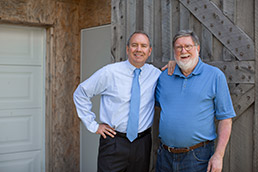 Larry Durkos, right, and his son, Duane, developed a ground-breaking invention in a barn in Lebanon. Then, Durkos claims, a much bigger company stole his idea. (IBJ photo/Aaron P. Bernstein)
Instead of spending their days overseeing his growing manufacturing plant, Durkos and his son have spent the past 2-1/2 years in court battling Leggett & Platt Inc., a Missouri-based company that makes metal box spring components and sells them to almost every major U.S. bed manufacturer.
In the past 18 months, Durkos—who runs Imaginal Systematics LLC out of a barn at his Lebanon home—has scored two stunning victories.
In January 2012, the U.S. District Court in the Central District of California ruled that Imaginal is owed $5 million for patent infringement. In February 2013, a federal appeals court in Washington, D.C., upheld that ruling. In May, the father-son duo received their first payment for past damages from the defendant.
"Our attorneys keep telling us they've never seen anything like this—two guys working out of a barn in Indiana taking on a conglomerate this big—and winning," Duane Durkos said.
Officials with Leggett & Platt, a New York Stock Exchange-listed company with $3.7 billion in revenue, did not respond to requests for comment. In court papers, the company's attorneys argued Imaginal's patents were invalid, in part because they covered "simple adaptations" of stapling technology others had pioneered.
These types of legal battles aren't easy for small firms to tackle, much less win. Legal experts said patent infringement cases, which are often highly technical and lengthy, cost each side about $1.5 million. The Durkoses found a California law firm with experience battling Leggett & Platt that was willing to take the case for a percentage of the award.
Bigger payday coming?
The best news for the Durkoses might be yet to come. Next month, a U.S. District Court judge is expected to determine how much in interest Imaginal Systematics is due and how royalties for future use of Imaginal's technology are to be calculated.
Because Imaginal's patents extend through 2022, patent attorneys think the royalty fees could be massive. The interest owed is likely to be a six-figure sum.
"We expect many tens of millions of dollars over the life of the patent," said Duane Durkos, 51, who is owner and CEO of BCD and Associates, a local medical-devices engineering and manufacturing firm.
The Durkoses say a huge award is justified for a simple reason.
"The machine we invented creates a huge cost saving for bedding manufacturers," said Larry Durkos, 73, who studied engineering at Rose Hulman Institute of Technology and Purdue University.
The father and son are seeking a royalty of 80 cents to 88 cents per box spring—the entire rectangular unit that lies under a mattress—that the machine is used to help construct. Larry Durkos said his invention, the Auto Stapler 2000, will save bedding makers $1.50 in labor and a total of $2.50 per box spring.
About 25 million mattresses and box springs are sold each year in the United States, according to the International Sleep Products Association, and tens of millions more are sold worldwide—figures that remain relatively stable during economic ups and downs.
"With nine years left on the patent, the size of the royalty could potentially dwarf the size of the sum awarded for past damages," said Don Knebel, a partner with local law firm Barnes & Thornburg and the former chairman of its intellectual property law department.
"The amount for royalty is almost always more going forward because the value of the [machine] has been proven. That gives the plaintiff bargaining power," said Knebel, who is not involved in the case.
The Auto Stapler 2000 does the work of five to six people, Larry Durkos said.
Leggett & Platt, the Durkoses contend, was supplying machines to its clients that mimicked the technology of their Auto Stapler 2000.
"[Leggett & Platt] wanted to sell more wire, and they used [the machine] as an inducement to do that," Duane Durkos said. "This technology helps Leggett & Platt secure its place atop a big market."
Reds game outing stirs idea
The Durkoses won this David vs. Goliath battle after traveling an unlikely path to get into this business in the first place.
Neither man had any experience in the bedding industry when the elder Durkos went to Cincinnati in 1994 to watch a Reds game with his friend, local furniture retailer Richard Bennett.
Durkos had honed his creativity working on medical products for BioDynamics, which later became Roche Diagnostics, and at the now-defunct American Monitor Corp.
When Durkos and Bennett took an impromptu public tour of a Serta bedding manufacturing facility in Cincinnati, Durkos was immediately fascinated by the building process.

Durkos said he has "a gift God gave me" that allows him to envision a machine to do a manual process.
"It's just like a photograph in my mind," he said.
He noticed that the most difficult, time-consuming job in the bed-making process seemed to be affixing metal coils to wooden box spring frames.
In 1995, Durkos began raising capital to turn his vision of the Auto Stapler 2000 into reality. He filed the first of four patents for the technology behind his creation in 1997. The U.S. Patent Office issued Durkos his first patent in 1999. He applied for three more from 2002 to 2005, with the last issued in 2008.
In 2002, the father and son debuted the invention at the International Sleep Products Association trade show in Denver.
The Durkoses weren't alone in seeing potential in the invention. The grueling manual stapling process had bogged down the bed-making process for more than 100 years.
"It's an area of work in most bedding factories that is the most stressful, leads to a lot of injuries, requires a trained work force, but carries a high worker turnover rate," said Paul Leber, who headed research and development for Simmons bedding products for 22 years. "This was an area ripe for automation."
After seeing Durkos' prototype more than a decade ago, furniture retailer Bennett declared: "This is one of the biggest manufacturing innovations in this industry in a very long time."
Skeptic turns copycat
About the same time the Durkoses were beta-testing their product in 2004, they saw a video of a similar machine built by Leggett & Platt.
"The minute I saw it, I knew there was going to be a problem," said Duane Durkos, who graduated from Purdue University with an electrical engineering degree.
The Durkoses—and their investors—were crushed.
"Coming up with the idea is easy," Larry Durkos said. "Getting it to the marketplace is a mountain to climb. As we were climbing the mountain with difficulty, Leggett & Platt just stepped on us like an elephant."
Larry Durkos was galled even more because, he said, he had talked with Leggett & Platt officials about his idea and they "said it was impossible."
After years of trying to work things out with Leggett & Platt and their clients that were using the Durkoses' machines, the father and son took legal action.
"They said there were significant differences between their machine and ours, but they wouldn't even let us see their machines," Larry Durkos said.
Because they didn't have the financial wherewithal to take on Leggett & Platt themselves, the Durkoses searched for a law firm experienced in patent infringement that would work for no upfront money. They settled on Sheppard Mullin Richter & Hampton in Costa Mesa, Calif., which filed a lawsuit against Leggett & Platt in early 2011.
The case could be appealed to the Supreme Court, but that's not likely.
"On appeal, it was summarily affirmed without an opinion," said Barnes & Thornburg's Knebel. "That typically indicates it wasn't a very difficult decision to affirm. Basically, the game is over."
The Durkoses say they are willing to do business with the company that stole their idea, but maintain Leggett & Platt must be willing to pay what the machine is worth.
"We think they can pay us a fair amount and Leggett & Platt and their [bed-making] clients can still save money," Duane Durkos said. "We are very clear on the value of our technology. If they pay $20 million, $30 million or $40 million [to us], it's still a bargain."
If Leggett & Platt isn't willing to play ball? The Durkoses say it might be time for Act Two of this David vs. Goliath saga.
"If we can't come to an agreement with them, we'll consider partnering with another wire supplier," Duane Durkos said. "And we'll go head-to-head with Leggett & Platt."•
Please enable JavaScript to view this content.