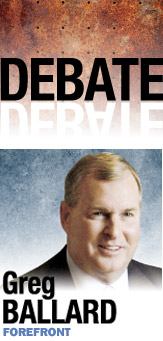 Question: Does Indianapolis get more than its fair share from the General Assembly?
Answer: In modern politics, the term "fair share" has endured more than its fair share of political contortion. I've never enjoyed engaging in that kind of debate. What I've always enjoyed are facts.
Financially, the data clearly show that Indy is a donor community. We give more tax dollars to the state than we receive back from state government.
According to a 2010 study by the Indiana Fiscal Policy Institute, Indy generates $419 million more in taxes than it receives from the state. That number is larger than most other cities' budgets.
Indy's remarkable hosting of Super Bowl XLVI also highlights how we contribute tax revenue to the state. The Super Bowl generated $22 million in state tax revenue that will mostly be spent in counties, cities and schools outside of Indy.
In addition to being a donor county, Indy supports over 180,000 people who work in Indianapolis but live outside its borders. Those commuters expect low crime and adequate police and fire protection. They want smooth and snow-free streets, sidewalks and other amenities of a modern urban city.
They also don't pay for any of it due to the way the state calculates local income taxes. Indianapolis residents pay for all those amenities, while the commuters' tax dollars go to support their communities that ring Indy.
In fact, Indy's sustained effort at job creation is in no small part why four of our surrounding counties are also donor counties. People don't make choices on where to live based on lines on a map. People do choose to live where there is opportunity, and Indy provides those job opportunities.
Indy is proud the rest of the state benefits from our success. In 2011, 70 of Indiana's 92 counties received more in tax revenue distributions from the state than paid by their county's residents. If not for Indy's success, the rest of the state would not have as much money spent on their schools, parks, roads and so much more.
I understand why people mistakenly believe Indy gets more than its "fair share" from state lawmakers. Indy is by far the largest city in the state. The population of Indy is more than three times greater than the second-largest city. Forty percent of the state's households live in the Indy television market.
Every day, their news is dominated by Indy-focused reporters who cover bills affecting Indy more than those involving other areas.
Finally, Indy is the only city with consolidated government, so naturally bills that affect consolidated government are uniquely Indy-focused.
As mayor, I will always fight for my city, but I also understand that Indy must contribute to the overall health of the rest of the state.
Indy needs a healthy Indiana as much as Indiana needs a healthy Indy. Our city needs Hoosiers visiting Indy to experience our museums, dine in our restaurants, cheer on our sports teams, and support our hospitality industry. Indy needs business leaders from around Indiana welcoming potential clients to our city and using our stunning airport.
Our city has been and will continue to be a good partner to the overall success of our state.
Now, "Does Indianapolis receive more than its fair share from the General Assembly?" That's a debate for pundits. What I can guarantee you is that a greater investment in Indy will certainly result in an even greater return for the rest of the state.•
__________
Ballard, a Republican, is mayor of Indianapolis. Send comments on this column to ibjedit@ibj.com.
Please enable JavaScript to view this content.